Lou's Views
News & Views / September Edition

Calendar of Events –

October 6-7               U.S. Open King Mackerel Fishing Tournament, Southport

Thirty-eight (38) years ago a small group of community leaders met and decided that they needed an event to showcase the great fall fishing Southport-Oak Island area has to offer. The prizes and expenses for the first tournament were guaranteed by those community leaders signing a promissory note at a local financial institution – thus the U.S. Open King Mackerel Tournament was born. The U.S. Open King Mackerel Tournament now attracts almost 400 boats annually and is held in high esteem by the community and anglers.
For more information » click here
October 7-8              Riverfest, Wilmington

Wilmington's Riverfest is celebrated in October and runs from the foot of Market Street to Cape Fear Community College over a half mile of free family entertainment. Riverfest began in 1979 and is now a three-day event.
For more information » click here
October 21-22                N.C. Oyster Festival, Ocean Isle Beach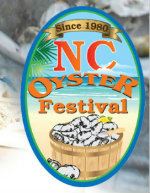 This is the thirty-seventh (37th) annual North Carolina Oyster Festival. The coastal waters of Brunswick County provide an abundance of the marine mollusks each year bringing over 30,000 people to Ocean Isle Beach to celebrate the tasty treat. The beach center becomes a walking district that offers something for everyone: local cuisine, arts and crafts, children's activities, live music, Oyster Stew Cook-off and the Oyster Shucking Contest.
For more information » click here
October 28-29                                                     N.C. Festival by the Sea, Holden Beach


Hosted by the Holden Beach Merchants Association this two day festival occurs on the last full weekend in October. This two day event is kicked off with a parade down the Holden Beach causeway. There is a fishing tournament, horseshoe tournament, and a sandcastle building contest. Vendors provide food, arts and crafts, amusement rides and other activities. There is live musical entertainment both days at the Holden Beach's Pavilion.
For more information » click here
Events


Discover a wide range of things to do in the Brunswick Islands for an experience that goes beyond the beach.
For more information » click here
---
Calendar of Events –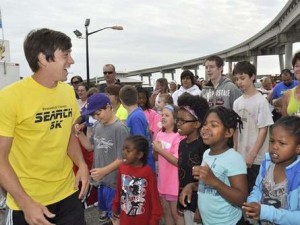 SEARCH 5K Run        
See Every Athlete Run for Conditional Health. The purpose of the program and of this event is to work on reducing childhood obesity by promoting healthy, active lifestyles into adulthood. This year the event is scheduled for Saturday, October 14th.
For more information » click here

---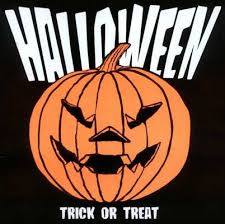 Boo at the Beach
Mark your calendars. Boo at the Beach will be held on Friday, October 20th from 5:30 – 7:30 p.m. at the Holden Beach Pavilion. This free event features booths with carnival games for children, sponsored by organizations, business and residents. This event is free of charge! If you are interested in sponsoring a booth or would like more information on this event, contact Christy at (910) 842-6488. 
Parks & Recreation / Programs & Events
For more information » click here
---
Reminders –



Mosquito Control
.
Town will be as proactive as they can, monitoring the situation and aggressively spraying as needed
Current EPA protocol is that spraying is complaint driven
They recommend that you get rid of any standing water on your property that you can.
Urged everyone to call Town Hall if they have mosquito issues so that they can spray
Spraying is complaint based, so keep the calls coming!

---

News from Town of Holden Beach – The town sends out emails of events, news, agendas, notifications and emergency information.  If you would like to be added to their mailing list, please go to their web site to complete your subscription to the Holden Beach E-Newsletter.
For more information » click here
Pets
Chapter 90 / Animals / 90.20
Effective September 10th
.     a) Pets allowed back on the beach strand during the hours of 9:00am through 5:00pm
.     b) Dog's need to be on a leash
.     c) Owner's need to clean up after their animals
Solid Waste Collection Schedule    
Solid waste was being collected by Waste Industries on Tuesdays and Saturdays.
Waste Industries change in service, trash pickup will be once a week
This year September 9th was the last Saturday trash pick-up until June
Trash collection went back to Tuesdays only
Please note:
.         • Trash carts must be at the street by 6:00 a.m. on the pickup day.
.         • Carts on OCEAN BOULEVARD ONLY will be rolled back to the front of the house.
.         • BAG the trash before putting it in the cart.
Speed limit
Speed limit seasonal limitations, in accordance with Town Ordinances
Speed limit will change on OBW from 35mph to 45mph west of the general store.
This change will take place on October 1st and be effective through March 31st
Bird Nesting Area
NC Wildlife Commission has posted signs that say –
Bird Nesting Area / Please don't disturb
The signs are posted on the west end beach strand around 1339 OBW.
People and dogs are supposed to stay out of the area from April through November
. 1) It's a Plover nesting area
. 2) Allows migrating birds a place to land and rest without being disturbed
---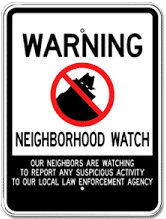 Neighborhood Watch –
• Need to look out for each other
• Call 911 if you see or hear anything suspicious
• Fill out Keep Check Request Form if you will be out of town
• Submit completed Property Registration Form
• Pickup copy of Protecting Your Home
---
Upon Further Review –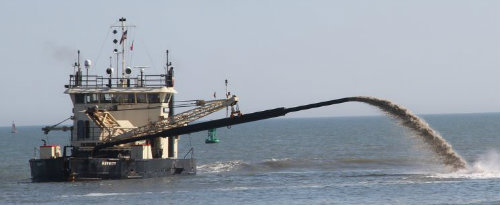 Dredge returns to Lockwood Folly Inlet
The Merritt side-cast dredge has been repaired and is scheduled to return this week to Lockwood Folly Inlet to continue maintenance dredging on or about Wednesday, Aug. 16. The dredge is expected to continue working in the inlet between Holden Beach and Oak Island for 10 to 12 days, said Lisa Parker, spokeswoman for the Wilmington district of the U.S. Army Corps of Engineers.
Read more » click here
Update –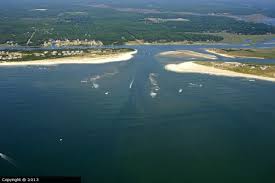 Lockwood Folly Inlet dredging complete
Boaters should once again be able to use the Lockwood Folly Inlet, as the U.S. Army Corps of Engineers wrapped up inlet dredging last week. The corps was authorized to create an 8-foot deep, 150-foot wide navigation channel within the inlet, which flows between Holden Beach and Oak Island. Corps officials will conduct an after-dredge survey of the inlet to determine the achieved depth and width of the channel, according to a news release. The corps has indicated that the inlet needs to be dredged at least three or four times a year to stay open and navigable.
Read more » click here
Latest Lockwood Folly dredge work finished, for now
USACE Wilmington District completed work in the inlet between Holden Beach and Oak Island that resumed in late August. Work by the shallow-draft side-cast Merritt dredge had to be suspended in July after the half-century-old vessel had to be taken up to Manns Harbor near the Outer Banks for repairs to a hole and breach on the dredge boat that had caused it to start taking in water.
The project authorized an eight-foot depth and 150-foot-width, USACE spokesman Hank Heusinkveld said. "Weather permitting, we anticipate acquiring an after-dredge survey of the inlet as soon as possible to determine the achieved depth and width of the navigation channel," Heusinkveld wrote last week. Once the survey is available, information will be relayed to the United States Coast Guard so it "can determine where to mark the dredged navigation channel with buoys to ensure safe passage for mariners and vessels," Heusinkveld wrote.
The final total cost of dredging, surveys and administrative expenses should be available in a few more weeks, he added. The initial estimated cost of the dredge work was $420,000, with the state paying two-thirds of that and Brunswick County and the towns of Oak Island and Holden Beach sharing the remainder.
Read more » click here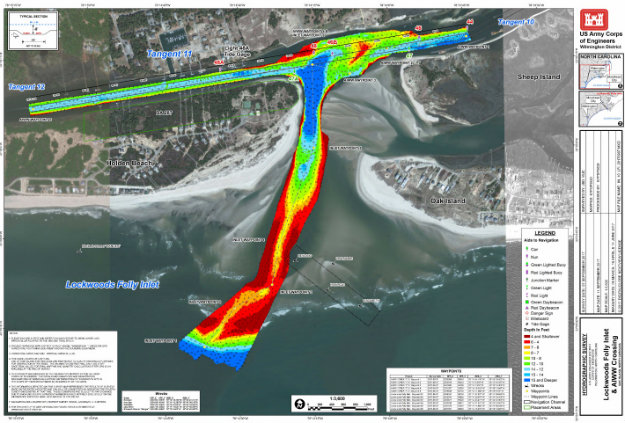 Lockwood Folly Inlet Hydrographic Survey

After-dredge survey of the inlet was done on September 7
Another survey was done after storm event Irma on September 18
Is that all you get for your money?
We just spent $420,000,Town Holden Beach portion was $35,000
At the completion of the project we have a barely navigable channel 
---
Corrections & Amplifications –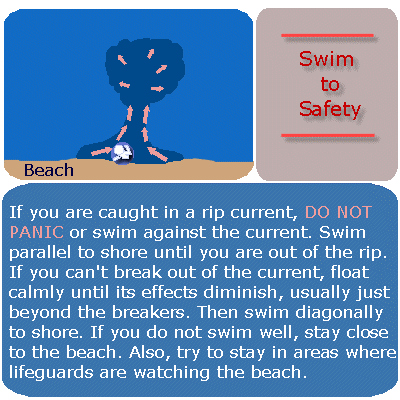 How to Survive a Rip Current: First, Don't Fight It
What is a rip current?
Rip currents are channels of water that form near beaches and run a certain distance out to sea. They are fast-moving and powerful enough to carry swimmers away. In fact, according to the United States Lifesaving Association, rip currents are responsible for more than 80 percent of lifeguard rescues at beaches with breaking waves: a category that includes beaches along the Great Lakes as well as on the ocean.
These currents have a variety of causes, but it is impossible to predict exactly where or when they will form. Though not directly related to tides, they are more dangerous when the water is receding from the shore. They frequently form around features like piers, reefs and sandbars. Wind is a significant risk factor, but it doesn't have to be nearby: A distant storm can lead to rip currents even on sunny beaches.
How many people die from rip currents?
The average annual death toll from rip currents is more than 100 in the United States. This year, June was particularly deadly, with at least four deaths in New Jersey, four in North Carolina and one in Florida.
Can I spot one before I get in the water?
It is often difficult for untrained observers to identify rip currents. However, there are a few signs you can look for:
A gap in the waves: not between one wave and the next, but within the line of the waves, perpendicular to the shore.
A channel of particularly choppy water.
A channel of seaweed or other debris visibly moving away from the shore.
Discolored water, caused by sand and other sediment picked up by the current.
But remember:
These signs are not always present, and their absence is not proof that the water is safe.
How can I avoid getting caught in a rip current?
Check weather and surf forecasts before going in the water. The National Weather Service issues advisories by city, identifying the rip current risk as low, moderate or high. Individual beaches often show the risk level with a colored flag, and lifeguards can tell you the conditions for the day.
What should I do if I'm caught in a rip current?
When being swept out to sea, most people's first instinct will be to fight the current. Don't. Rip currents can move eight feet per second, and you cannot: The fastest human swimmers can typically go only about 5.4 feet per second, and that's at a sprint. If you try to swim against the current, all you will do is exhaust yourself. That would probably be true even for an Olympic swimmer.
So what to do instead?
The key fact to remember is that rip currents, powerful as they are, tend to be narrow. If you are caught in one, swim parallel to the shore until you break out of it. Then follow the waves, at an angle, back to land. If you can't do that, get a lifeguard's attention by waving — and avoid swimming when no lifeguard is on duty.
If you see someone else caught in a rip current, don't attempt a rescue yourself; often, would-be rescuers end up drowning, as in two of the episodes in North Carolina in June. Try throwing a flotation device, and notify a lifeguard right away.
Read more » click here
---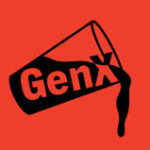 TOXIC TAP WATER FAQs
A chemical replacement for a key ingredient in Teflon linked to cancer and other ailments has been found in the Cape Fear River and Cape Fear Public Utility Authority (CFPUA) public water supply, which cannot filter it. Here's what we know so far — and questions for which we're still seeking answers.
Read more » click here
What's the status of GenX investigations, lawsuits?
Read more » click here
Update –
NC, Chemours strike deal on toxic GenX
Along with no new discharges, company will turn over confidential business information to state regulators
Read more » click here
---
Odds & Ends –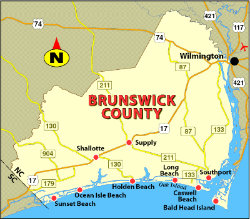 Study rates county in Top 10 for visitor spending
Brunswick County made the Top 10 list for North Carolina counties with the most visitor spending, based on 2016 numbers. The Economic Development Partnership of North Carolina announced spending hit $22.9 billion statewide based on an annual study of visitor spending commissioned by Visit North Carolina and conducted by the U.S. Travel Association. The USTA study looked at sales and tax revenue data, employment figures and other industry and economic data to determine the overall impact of visitor spending in North Carolina.
The study of 2016 data showed visitors spent $544 million in Brunswick County, ranking it ninth best in the state. Visitor spending increased from $508 million in 2015, which was the first year spending hit the $500 million mark. In 2014, the visitor spending number was $496 million. According to the EDP, 97 of the state's 100 counties saw increases in visitor spending in 2016. The study determined Brunswick County had 5,650 employees directly tied to tourism in 2016, which created a $105 million payroll. As a result of visitor spending increasing, state tax receipts neared $1.2 billion in 2016. Local tax revenues from visitor spending totaled more than $693 million. Brunswick County increased in state tax receipts to $25.39 million and local tax revenues totaled 32.96 million.
Read more » click here
Visitors spent $543-million here in 2016
Visit North Carolina has announced that domestic visitors to and within Brunswick County spent $543.55-million in 2016, an increase of 6.8-percent from the previous year. Brunswick County ranks ninth among the state's 100 counties for visitor spending revenues. The county's 6.8-percent increase over 2015 was the fifth-largest percentage increase in the state.
"Tourism is the backbone of Brunswick County's economy, providing much-needed jobs and revenues for our area," said Bonnie Cox, chairman of the Brunswick County Tourism Development Authority in response to the announcement. "We are fortunate to be blessed with beautiful beaches, but the Brunswick County Tourism Development Authority also recognizes that we must continue to work diligently to market and promote Brunswick County in a highly competitive environment."
Tourism impact highlights for 2016:
– The travel and tourism industry directly employees more than 5,650 people in Brunswick County. 
– Total payroll generated by the tourism industry in Brunswick County was $105.20-million.
– State tax revenue generated in Brunswick County totaled $25.39-million through state sales and excise taxes, and taxes on personal and corporate income. About $32.96-million in local taxes was generated from sales and property tax revenue from travel-generated and travel-supported businesses.
Read more » click here
---
This & That –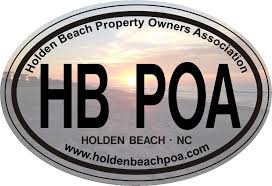 Meet the Candidates Night
The Holden Beach Property Owners Association (HBPOA) will host its "Meet the Candidates Night" on Friday, October 20th in the Town Hall meeting room. The objective of their event is to help you make an informed decision when you vote for Town leaders.
HBPOA invites all property owners to suggest topics and submit questions for the candidates to address.  Please e-mail your questions to: h.b.candidates@gmail.com. They will submit the questions to every candidate and give them plenty of time to compose their written answers. The candidate's responses will be available on the HBPOA website prior to the session and copies will be handed out the night of the event. During the session, each candidate will have time to introduce themselves, describe their qualifications and tell us about their platform. They will also take questions from the floor for the candidates to answer.

---
Factoid That May Interest Only Me –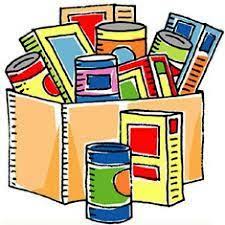 A Second Helping
During this summer's collections, they have collected 12,845 lbs. of food and $1,504 in cash. Their food collections have now exceeded two hundred thousand (200,000) pounds of food since this program began in June of 2005. Hunger exists everywhere in this country; join them in the fight to help end hunger in Brunswick County. Cash donations are gratefully accepted. One hundred percent (100%) of these cash donations are used to buy more food. You can be assured that the money will be very well spent.
Mail Donations to:
A Second Helping % Douglas Cottrell
2939 Alan Trail
Supply, NC 28462                         
Website:
http://www.secondhelping.us/
---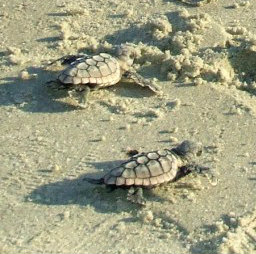 Turtle Watch Program – 2017
1) Current nest count – fifty (50)
• As of 09/23/17
. • Average annual number of nests is 39.5
2) First nest of the season was on May 16th
Members of the patrol started riding the beach every morning on May 1 and will do so through October looking for signs of turtle nests.
For more information » click here

Total number of nests historically –
.       a) 2012: 48
.       b) 2013: 73
.       c) 2014: 19
.       d) 2015: 53
.       e) 2016: 52
.       f) 2017: 50
---
Things I Think I Think –
Eating out is one of the great little joys of life.
Restaurant Review:
Dinner Club visits a new restaurant once a month. Ratings reflect the reviewer's reaction to food, ambience and service, with price taken into consideration.
///// September 2017
Name:              Loco Jo's
Cuisine:           Casual American Grill
Location:        602 North Howe Street, Southport NC
Contact:          910.457.9009 / NA
Food:                Average / Very Good / Excellent / Exceptional
Service:           Efficient / Proficient / Professional / Expert
Ambience:      Drab / Plain / Distinct / Elegant
Cost:                 Inexpensive <=17 / Moderate <=22 / Expensive <=27 / Exorbitant <=40
Rating:            Two Stars
Eclectic menu offers a nice variety of great food for a small bar restaurant. Certainly, not fine dining but it is an excellent place to grab a bite to eat and try one of the sixty (60) plus beer choices offered there. I was pleasantly surprised by the high quality of the food coming out of the kitchen. The fish tacos were some of the best I've ever had. Bottom-line is that I was impressed and I think you will be to. Plan to make it a must lunch stop next time you are in Southport.
---
Book Review:
Read several books from The New York Times best sellers fiction list monthly
Selection represents this month's pick of the litter
/////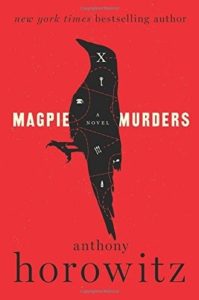 MAGPIE MURDERS by Anthony Horowitz
An Agatha Christie style murder mystery, an ingenious whodunit that both honors and pokes fun at the genre. The story has dual narratives, structured as a novel within a novel, a mystery within a mystery. A London book editor receives the partial manuscript of a murder novel. When the author turns up dead, the editor turns sleuth. Of course, in a good whodunit the murder always gets solved; but you won't be able to figure out who the murderers are until the very end of the book.
---
HBPOIN – Lou's Views
.         • Gather and disseminate information
.          • Identify the issues and determine how they affect you
.          • Act as a watchdog
.          • Grass roots monthly newsletter since 2008