Lou's Views
News & Views / December Edition

Calendar of Events –
Las Vegas Night
The Rotary Club of Shallotte will host its Thirteenth Annual Las Vegas Night on Saturday, January 27th at 349 Whiteville Road, the Planet Fun building in Shallotte.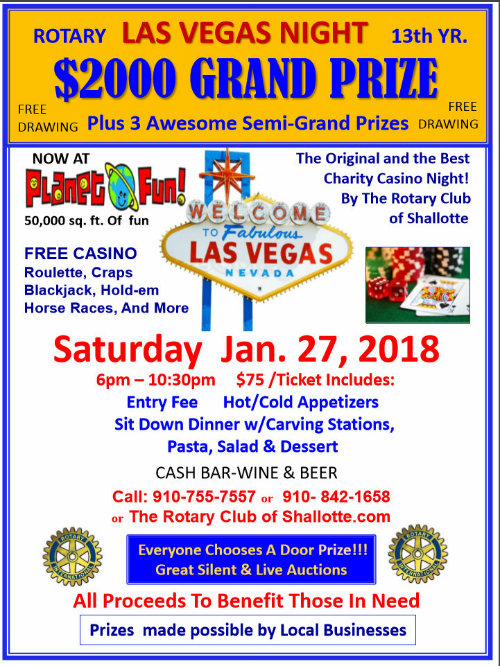 ---

Discover a wide range of things to do in the Brunswick Islands for an experience that goes beyond the beach.
For more information » click here
---
Calendar of Events Island –
---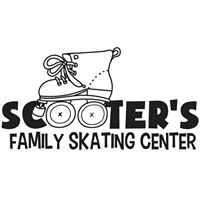 Scooter's Skating Trip
Burn some out-of-school energy with us on December 29th at Scooter's Skating Rink.
---
Parks & Recreation / Programs & Events
For more information » click here
---
Reminders –

---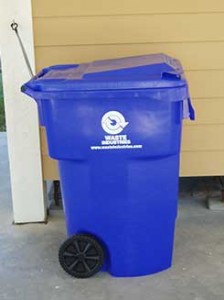 Curbside recycling
Waste Industries is now offering curbside recycling for Town properties that desire to participate in the service. The service cost is $54.00 annually paid in advance to the Town of Holden Beach and consists of a ninety-six (96) gallon cart that is emptied every other week.
Curbside Recycling Application » click here
---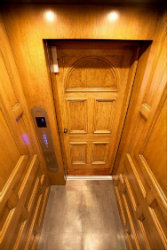 Elevators
Most states mandate that elevator systems be tested and inspected annually. Currently the state of North Carolina does not require annual inspections to be performed on all elevator systems. The use of unsafe and defective lifting devices imposes a substantial probability of serious and preventable injury to your family and guests. It is in the owner's best interest to minimize injuries and liability by scheduling an annual safety inspection to ensure the safe operation of their elevator system.

---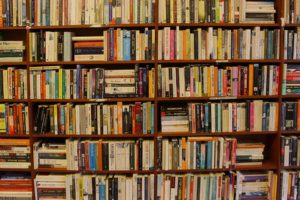 Library
If you need something to keep you busy in this colder weather, make sure to visit the island library. The library is in the upstairs of Holden Beach Town Hall. All the books were donated. Patrons of the library don't have to check out a book; they are on the honor system to return it.

---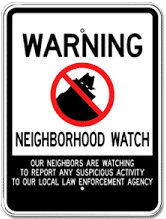 Neighborhood Watch –
• Need to look out for each other
• Call 911 if you see or hear anything suspicious
• Fill out Keep Check Request Form if you will be out of town
• Submit completed Property Registration Form
• Pickup copy of Protecting Your Home
---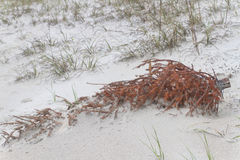 Christmas Trees Recycling

Christmas trees can be recycled to help build sand dunes on the beach. It is a way to build more protection on the shore by using them as a natural and biodegradable sand fencing. The trees are positioned facing downward at a 45-degree angle. Once the trees are laid down, they are left completely exposed except for the tips, which are covered in sand. The needles of the branches catch the sand and it starts to accumulate until gradually the sand will bury the tree and build up the dunes around them. As the tree biodegrades, it provides nutrients to the other plants and organisms around it.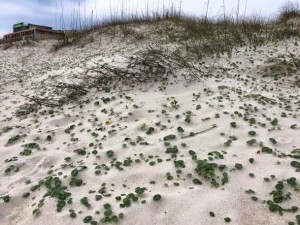 ---
Upon Further Review –
Coastal Companies
This month in the continuing saga of Mark Saunders and the Coastal Companies …

Previously reported – OCTOBER 2014
OIB begin eminent domain action for Causeway Drive property
But the Drapac Group, new owners of Ocean Isle Palms, a development on Ocean Isle Beach Road SW, also began negotiations with the bank to buy the corner property.
Read more » click here

Drapac Group USA was established to invest in the rebounding US property market, and capitalize on the unprecedented real estate opportunities that were created by the credit crunch and global financial crisis. Drapac are recognized for their ability to source undervalued sites and subsequently unlock their true potential value.
 The real story here is that Drapac Group has purchased 236 properties in Ocean Isle Palms, they appear to be the properties Mark Saunders gave back to Bank of America

Australian company thinks
Brunswick County's a good place to invest
An Australian land investment and development company has purchased much of developer Mark Saunders' former Brunswick County empire, creating a buzz as far south as Myrtle Beach. The Drapac Group paid more than $7 million for almost 450 lots in six subdivisions, including 236 in Ocean Isle Palms near Ocean Isle Beach, according to Brunswick County records. The properties were among those where development stopped when Saunders found himself overextended as the housing bubble burst. Drapac purchased them from a trustee for Bank of America, a Saunders financier, which took them in lieu of the money it was owed.
Read more » click here
Update –
Brunswick County approves 827-acre development
An Australian-based investment company was granted approval Monday for an 827-acre planned development near Ocean Isle Beach. Since 2013, Drapac Capital Partners has obtained nine large Brunswick County tracts where planned developments were once platted and approved but fell victim to the economic recession. The projects have sat dormant until now.
The Brunswick County Planning Board approved plans for Ocean Isle Palms, bordered by Ocean Isle Beach Road and Old Georgetown Road. It consists of 2,520 single-family lots, 560 multi-family units and 35 acres of commercial space with an overall density of 3.72 units per acre. Jim Garrigus, vice-president of St. Bourke Group, the land developing arm of Drapac, told the planning board Monday the firm has control of over 22,000 lots in the United States, including 15 tracts in the Asheville and Charlotte communities.  "Each one has a future, but Ocean Isle Palms is the flagship," said Garrigus. "This is the one we're really going to put our name on."
The Ocean Isle Palms property was obtained in 2014 when Drapac purchased much of developer Mark Saunders's former properties in Brunswick County, paying more than $7-million for almost 450 lots in six subdivisions. Drapac purchased the properties from a trustee for Bank of America, which foreclosed when Saunders became overextended as a result of the housing bubble burst.
St. Bourke is proposing 222 acres of open space at Ocean Isle Palms, of which 27 acres will be recreational space. The original plan called for just 149 acres of open space. It will include a village center accessible to the general public with local shops and restaurants, not national retail chains. "It's making a 'place' out of a project and not just a bunch of rows and lots," said Garrigus. The project will be developed in a series of pods connected by miles of walking trails. The project aims for a mixture of home sizes, with more smaller units than the original plan called for, but built to quality, Garrigus said. Amenities will be installed first, including county water and sewer, streets and pools. "We have the resources to see this through," said Garrigus. "It will not be in the state which we found it."
The planning board, which has the final say in conceptual plans, gave unanimous approval to the project. No one opposed the project during a public hearing Monday.
Read more » click here
Developer has grand plans for 800 acres in Brunswick County
Drapac Capital Partners plans to develop the abandoned Ocean Isle Palms near Ocean Isle Beach, as well as other abandoned developments in the county.
Read more » click here 
---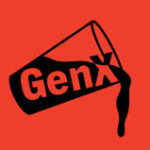 Previously reported –
Holden Beach Newsletter
Chemours has issued a press release announcing that the company will take measures to eliminate byproduct GenX wastewater emissions from its Fayetteville site. Click here to view the release.
In order to keep citizens informed, Brunswick County has established a website to share information about GenX as they learn it. You can find this page at www.brunswickcountync.gov/genx. The website contains a FAQ section that they update as they learn additional information (or receive additional questions), links to all their press releases and links to other resources like information from NCDEQ. There is also a link where citizens can go to sign up to receive email updates on the topic.
---
The Public Information Officer for Brunswick County announced that the County has taken legal action against DuPont and Chemours for contaminating the Cape Fear River.
10.31.2017
Statement from Brunswick County
The filing of formal legal action against Chemours and DuPont represents another crucial step in protecting our public drinking water supply. It sends a clear message that Brunswick County will simply not stand for the discharge of emerging or unregulated chemicals into our public drinking water supply. Let us be clear…we will ensure that any company that threatens this vital resource is held responsible. Furthermore, our litigation team is consulting the nation's leading experts to determine the best long-term water testing and treatment methods for the entire county. As part of that, we will ensure that the costs for doing so do not fall upon the rate payers, but upon those dumping the unregulated chemicals in the water.
For more information » click here
Update –
EPA effort to address GenX
The U.S. Environmental Protection Agency has announced a cross-agency program to address substances such as GenX.
Read more » click here
CFPUA: Costs of GenX treatment surpass $1 million
The latest update from the Cape Fear Public Utility Authority sheds light on the ticket price of GenX so far.
The authority released an update Wednesday saying:
CFPUA continues taking extra steps to ensure our customers receive the highest quality drinking water possible. As our response to unregulated compounds increases, so do our costs. The lack of information surrounding unregulated compounds makes water treatment more complex and associated research costly.
Read more » click here

---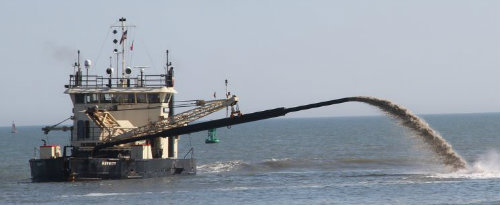 Latest Lockwood Folly dredge work finished, for now
Read more » click here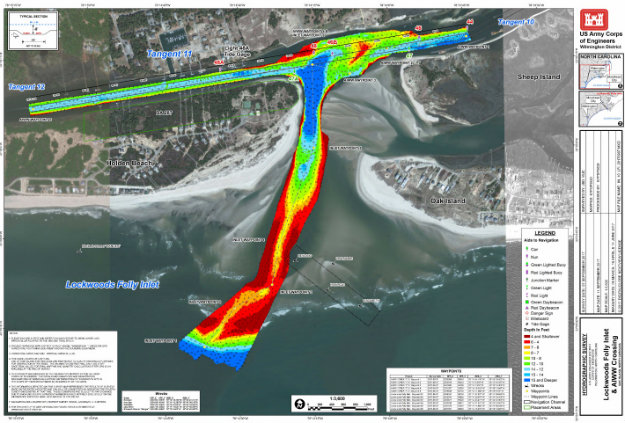 Lockwood Folly Inlet Hydrographic Survey

After-dredge survey of the inlet was done on September 7
Another survey was done after storm event Irma on September 18

The high cost of inlet access
Keeping shallow-draft inlets along the N.C. coast open and navigable is a costly venture — one that is increasingly falling on the shoulders of local communities.
Dredging shallow draft inlets has become a costly and frustrating venture for local communities due to the absence of federal funding. Some have found ways to navigate funding for inlet maintenance needs through cost-sharing, which usually is still not enough to pay for fully opening an inlet.
While Brunswick County and Holden Beach have both committed funds to maintaining Lockwood Folly Inlet in 2017-2018, Oak Island, which contributed funds to the latest dredging event, hasn't committed to long-term inlet maintenance. Jim Medlock, the corps' shallow draft navigation program project manager, said he's working with the county to schedule another dredging event for the inlet within the next three months.
Read more » click here
County looking at longer-lasting fix to Lockwood Folly Inlet shoaling problem
Efforts to dredge Lockwood Folly Inlet could be under way by next spring, but right now, county leaders can't say who will get the sand if the project proceeds.
The Brunswick County Board of Commissioners approved an agreement Monday night that will allow APTIM, an environmental engineering and consulting firm, to assess feasibility and provide initial contract engineering services for a Lockwood Folly Inlet dredging project. But at this point, county officials don't know if it will be Oak Island or Holden Beach that receives the beach-renourishing sand.
The board unanimously approved entering into an agreement with APTIM to determine the feasibility of a Lockwood Folly Inlet dredging project with sand placement on adjoining beaches. It also approved a budget transfer of $9,875 from the shoreline protection reserve.
Read more » click here
Update –
New dredge project on horizon for Lockwood Folly
Brunswick County Commissioners are looking into having Weeks Marine dredge the Lockwood Folly Inlet while they're in town working on projects at Wrightsville Beach and Ocean Isle Beach.
Read more » click here
Lockwood Folly Inlet dredging approved, work expected to begin in January
The United States Army Corps of Engineers has presented a plan to dredge the navigation channel at the Lockwoods Folly Inlet in Brunswick County. The Brunswick County Board of Commissioners yesterday approved a motion to transfer $168,000 to the North Carolina Division of Water resources as part of the required local match to fund the project.
The Commissioners also agree to allow the chairman to write a letter to the Town of Holden Beach requesting $84,000, or 50 percent of the project's local share. According to the Board of Commissioners, other towns will not be asked for financial assistance; they will also not receive any of the dredged sand for beach re-nourishment projects.
"The (United States Army Corps of Engineers) USACE has presented a plan to dredge the navigation channel 10-feet deep and 100-feet wide in a project proposed to begin in late January of 2018. The project will be performed by a 'hopper' dredge, the Currituck, so there will be nearshore placement of beneficial beach quality sand. However, the USACE has advised staff that it is not feasible to share the sand from this project between Holden Beach and Oak Island because of the travel distances involved and the limited time availability of the Currituck, nor is it feasible for all of the sand to be placed nearshore solely on Oak Island because of the same reasons," according to the Board of Commissioners agenda. The total project cost is expected to be $504,000 and two-thirds of the project will be funded through the state's Shallow Draft Navigation Fund.
In April the United States Coast Guard announced its intentions to remove ten of the navigational buoys from the channel. (Coast Guard pulls Lockwoods Folly buoys, tells mariners to sail 'at their own risk') The channel separates Oak Island and Holden Beach and is location where the Lockwoods Folly River meets the Atlantic Ocean. The buoys were removed due to, "extensive shoaling, or deposits of sand that reduce the water depth," according to a previous Port City Daily article.
According to the USACE plans, the dredging will take about two weeks to complete and the material will be placed in the near shore at Holden Beach. The estimated amount of material removed from the inlet is 45,000 cubic yards.
Read more » click here
County approves funding Lockwood Folly Inlet dredge project
Brunswick County Commissioners approved the transfer of a local funds match to allow dredging of the Lockwood Folly Inlet to occur in January.
Read more » click here
Commissioners OK funding Lockwood Folly dredging
Read more » click here
---
Corrections & Amplifications –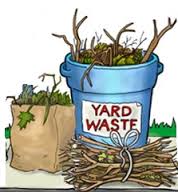 August 2017
Yard Debris Report –
Public Works Director Chris Clemmons
Yard Waste Service
Yard debris needs to be secured in a biodegradable bag or bundled in a maximum length of five (5) feet and fifty (50) pounds in weight. A total of ten (10) items (bundles of brush/ limbs, bags) will be picked up by Waste Industries. Yard waste must be placed at the street for pick-up. No pick-ups will be made on vacant lots or construction sites. Debris needs to be at the curb by Thursday evening in order to be collected on Friday.
Previously reported –
It was decided that this is a basic service and the Town should continue to provide this service. There's just one caveat: it is approved for only one year and the vendor will capture data to get a handle on actual household usage. Coastal Transplants secured the contract with a bid of $14,610 for twelve (12) pickups.
Update –
The vendor has a vested interested in maintaining this service. Coastal Transplants reported actual usage was around fifty (50) households that utilized this service. In addition, another fifty (50) households attempted to use service but were not in compliance.
December 2017
Yard Waste Service
Yard debris pick-up is provided twice a month on the 2ndand 4th Fridays during the months of October, November and December.
October 13                1 pick-up
October 27                8 pick-ups
November 10           14 pick-ups
December 8              7 pick-ups
December22            9 pick-ups        * Projected #, went Wednesday only saw two (2) piles

Following the trust but verify doctrine I collected my own data this fall on six (6) separate occasions. Coastal Transplants reported spring usage was around fifty (50) households that utilized this service on each pick-up date. As it turns out, there wasn't even fifty (50) piles of yard waste on all the fall pick-up dates combined. I do an eighteen-mile bike circuit on the island on Thursday afternoons. I only saw forty-two (42) piles that met the criteria for pick-up. That makes the average number of pick-ups just seven (7).  Granted you have till Friday morning to put up to ten (10) items (bundles of brush/ limbs, bags) at the curb. Also, I did not go up and down every street, but I did look down most of them. That said, it's safe to say this is a huge expense to provide this service for very few properties. Coastal Transplants contract is $14,610 for twelve (12) pickups. Assuming future compliance with the program requirements, for discussion purposes let's say that fifty (50) households will utilize this service. That comes to $292 per household or @$24 per pick-up. Don't see how we can justify that cost and continue to provide this service.

---
 Odds & Ends –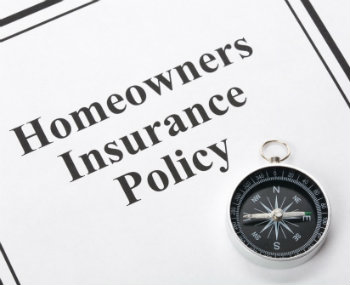 North Carolina Rate Bureau Requests 18.7% Increase for Homeowners Insurance

The North Carolina Rate Bureau has filed notice with the N.C. Department of Insurance request a statewide average increase in homeowners insurance rates of 18.7 percent for 2018, according to Insurance Commissioner Mike Causey. The NC Rate Bureau represents the homeowners insurance companies in the state in asking for this increase.
NCDOI said the rate filing is the first homeowners insurance rate increase request received from the Rate Bureau since 2014. That filing resulted in the first homeowners insurance hearing in over 20 years with the Insurance Commissioner deciding on a "no change" decision on behalf of policyholders.
The last time a homeowners insurance rate increase request from the Rate Bureau resulted in higher rates for homeowners was in 2012. The Rate Bureau asked for a 17.7 percent increase, then after negotiation settled at an overall statewide average of 7 percent.
NCDOI said a public comment period, required by law, to give the public time to address the Rate Bureau's proposed rate increase. There are three ways to provide comment:
A public comment forum will be held to listen to public input on the Rate Bureau's rate increase request at the NC Department of Insurance's Second Floor Hearing Room from 10 a.m. to 4:30 p.m. on Dec. 12, 2017. NCDOI is located in the Albemarle Building, 325 N. Salisbury St., Raleigh, N.C.
Emailed public comments should be sent by Dec. 29, 2017 to:

2017HomeInsurance@ncdoi.gov

Written public comments should be mailed to Tricia Ford to be received by Dec. 29, 2017 and addressed to: 1201 Mail Service Center, Raleigh, N.C. 27699-1201
All public comments will also be shared with the NC Rate Bureau. If NCDOI officials do not agree with the requested rates, they will be negotiated with the NC Rate Bureau. If a settlement cannot be reached within 50 days, a hearing will be called.
Settlements have been reached on rate filings in the past but if the case goes to a hearing, the hearing officer will rule on rates and any appeal would go through the court system. The rates set in these cases represent the highest amount allowable for all companies to charge.
Read more » click here
Bureau seeks 25 percent homeowners insurance rate hike for county beaches
Insurance companies want a 25 percent increase on Brunswick County homeowners insurance rates on or near the coast and 23.7 percent everywhere else. The number increases to a 40 percent rate hike proposed for Brunswick County renters and condominium owners, according to numbers the North Carolina Rate Bureau proposed to the state's Department of Insurance.
Insurance Commissioner Mike Causey announced Nov. 20 that the N.C. Rate Bureau, which represents homeowners insurance companies in the state, filed notice asking for a statewide average increase in homeowners insurance rates for 2018. The statewide average increase was listed as 18.7 percent, but additional information provided by Barry Smith with the Department of Insurance mapped the rate increase proposals for 29 territories across the state.
Causey's notice announced the start of the public comment period on the bureau's rate increase request as required by law.  The DOI accepts written public comments, which should be emailed and delivered via the U.S. Postal Service by Dec. 29, 2017. Emails can be sent to 2017HomeInsurance@ncdoi.gov. Written public comments should be mailed to Tricia Ford at 1201 Mail Service Center, Raleigh, NC 27699-1201. All public comments will also be shared with the bureau. "We are eager to hear your comments," Smith said.
Read more » click here
---
This & That –

Causeway Beautification Project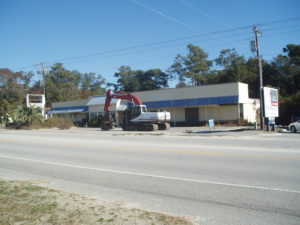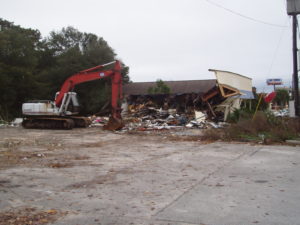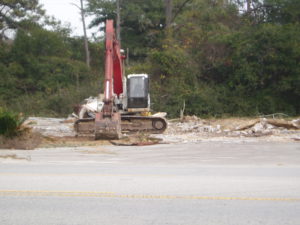 ---
Factoid That May Interest Only Me –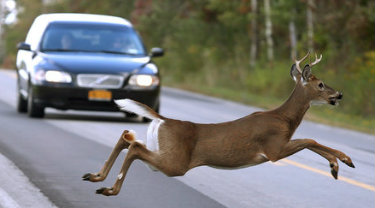 Watch out for deer
NCDOT warns motorists across North Carolina to stay alert for deer now that fall has arrived. Every year during late autumn, auto and body shops across the region brace for a bumper crop of business, comprised of an influx of cars with damage from collisions with deer. Beginning in October, roads across the state become hazardous as North Carolina's deer population fans out, lurking on highway shoulders in search of food and potential mates. It's the deadliest time of the year for deer, which also pose a particular danger to motorists. Nearly half of vehicle accidents involving white-tail deer occur from October to December. Deer accidents typically begin rising in October, peak in November and begin dropping off after December, according to the Insurance Institute for Highway Safety. Deer are crepuscular mammals, meaning they're most active at dawn and dusk – which, following the onset of daylight savings time, places them near roads and byways precisely when large numbers of residents are commuting to and from work.

---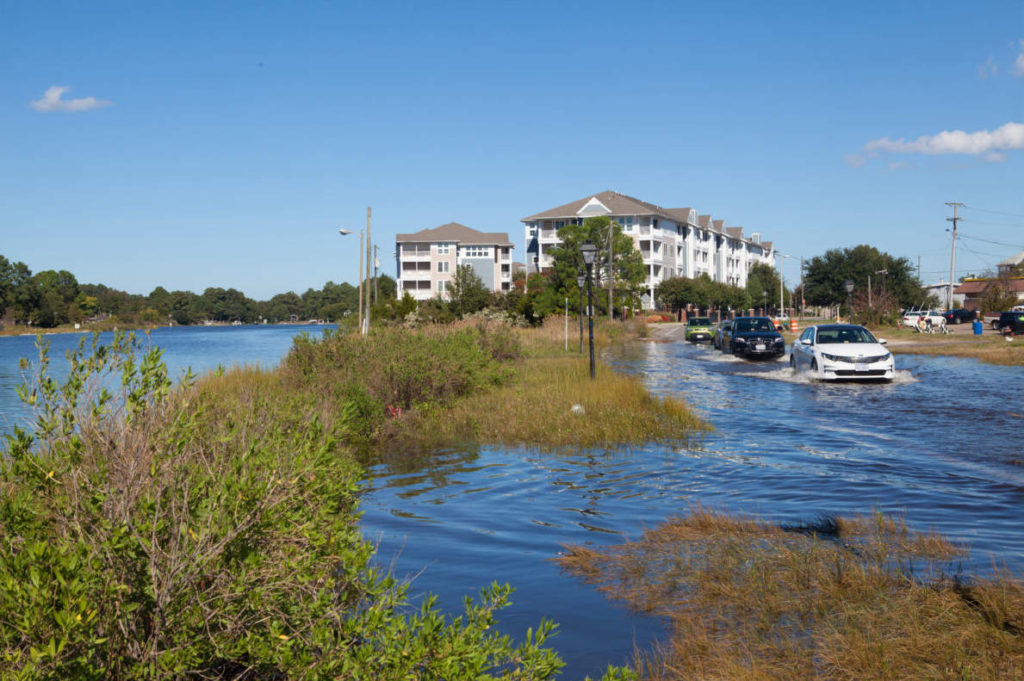 Study: North Carolina's coastal policies among worst in nation on climate change
Days after a federal report issued a harsh warning about climate change, an environmental group said North Carolina's policies leave it among the most ill-prepared on the East Coast to deal with the effects of rising seas.
Read more » click here
How the Wilmington area deals with rising seas and an increasing number of floods
According to research by the National Oceanic and Atmospheric Administration, rising sea levels magnifies tides and can cause damage without a drop of rain. So, add a weather system packing heavy rainfall or powerful storm surge, and those effects are magnified.
A much-maligned 2012 law in North Carolina essentially blocked state-level agencies from using predictive methods to determine the possible impact of rising sea levels. The initial draft of the law would have essentially gagged local and regional government from officially discussing some of the more pessimistic sea level estimates. However, the final version of the bill was altered and, while it continues to constrain coastal management and the state's Department of Transportation, it does allow counties, towns and cities to pursue their own policies, studies and plans.
Here's how governments and utilities in the Wilmington area are planning for potential increases in sea level…
Read more » click here
Brunswick County eliminated plans to address rising sea levels. Apparently, no one knows why
With 45 miles of shoreline, all of it vulnerable to storm surges and flooding, Brunswick County has a lot to lose from rising sea levels. It's not just the hundreds of millions of dollars spent by tourist coming to Brunswick County beaches, providing millions in tax revenue. Much of the county's population is also located near coastal and tidal river shorelines.
So why were three strategies for dealing with sea level rise eliminated from the county's most recent plan for dealing with large scale disasters? The short answer is: no one seems to know.
But first, back up to the creation of hazard mitigation plans.
Hazard Mitigation
Brunswick County has historically included several strategies in its hazard mitigation plans. These five-year plans became requirements of all counties in the devastating wake of Hurricane Floyd in 1999, and cover a wide range of potential disasters, including those related to sea level rise.
 Brunswick County shares a plan with New Hanover and Pender counties, but each county has a section with its own specific strategies, as do municipalities within the county. Brunswick County's latest plan, approved by the Board of Commissioners in 2016, eliminates three strategies for dealing with sea level rise.
Read more » click here
Fixing the broken National Flood Insurance Program
As expiration of a much-criticized program necessary to coastal development looms, experts and real estate officials are debating how to tweak a system nearly everyone acknowledges is faulty. The National Flood Insurance Program (NFIP) was founded in 1968 to offer coverage to homes in flood areas, ideally allowing the government to incentivize flood plain management. In the ensuing decades, as increasingly inhabited coastal communities have been struck by wetter storms, the program has built up an accumulated debt of about $24.6 billion — an amount that doesn't include the devastation from this year's Hurricanes Harvey, Irma and Maria — as premiums paid into it have proven unable to account for damages paid out. On Dec. 8, the NFIP will expire, unless further action is taken by Congress. While the House has passed its version of a reauthorization bill, the Senate has yet to vote on such a measure. Regardless of reauthorization, the program is widely seen as flawed, with properties that have repeatedly flooded posing exorbitant risk and cost to taxpayers while owners there are incentivized to rebuild rather than elevating their homes or moving out of risky areas.
Read more » click here
The National Flood Insurance Program
The National Flood Insurance Program aims to reduce the impact of flooding on private and public structures. It does so by providing affordable insurance to property owners and by encouraging communities to adopt and enforce floodplain management regulations. These efforts help mitigate the effects of flooding on new and improved structures. Overall, the program reduces the socio-economic impact of disasters by promoting the purchase and retention of general risk insurance, but also of flood insurance, specifically.
Read more » click here
---
Things I Think I Think –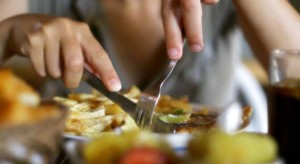 Eating out is one of the great little joys of life.
Restaurant Review:
Dinner Club visits a new restaurant once a month. Ratings reflect the reviewer's reaction to food, ambience and service, with price taken into consideration.
///// June 2015
Name:            Pembroke's
Cuisine:         Southern Comfort
Location:       1125-A Military Cutoff Road, Wilmington NC
Modeled after sister restaurant Rx, Pembroke's farm-to-table venue is bigger and serves an upscale version of Southern comfort food. Pembroke's is everything I want in a restaurant, I already loved Rx before I visited Pembroke's, they could easily become one of my favorite restaurants.
In December Pembroke's ceased operations and is now permanently closed.

True Blue Butcher will bring 'time honored tradition' to old Pembroke's spot
Read more » click here

///// October 2017
Name:              Osteria Cicchetti
Cuisine:           Italian
Location:        1125-K Military Cutoff Road, Wilmington NC
Contact:          910.256.7476 / www.osteria-cicchetti.com
Food:                Average / Very Good / Excellent / Exceptional
Service:           Efficient / Proficient / Professional / Expert
Ambience:      Drab / Plain / Distinct / Elegant
Cost:                 Inexpensive <=17 / Moderate <=22 / Expensive <=27 / Exorbitant <=40
Rating:            Three Stars
Osteria Cicchetti, known to locals as the O.C., was voted the Best Italian restaurant in Wilmington. It is one of six restaurants in The Circa Group all are outstanding. The rustic design of the eatery welcomes diners into what feels like an Italian countryside. We had a wonderful dining experience. The menu offers something for everyone. An exceptional value with large portions and moderate prices for the quality of the food served.  If you haven't been to this restaurant you should put on your list of places to try.
---
Book Review:
Read several books from The New York Times best sellers fiction list monthly
Selection represents this month's pick of the litter
/////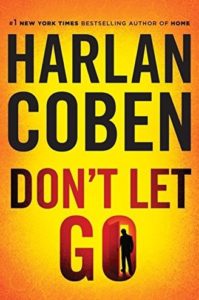 DON'T LET GO by Harlan Coben
New Jersey Detective "Nap" Dumas hasn't been the same since his senior year of high school, when his twin brother and his brother's girlfriend were found dead and his girlfriend disappeared. For fifteen years Nap has been searching, both for his girlfriend and for the real reason behind his brother's death. And now, Det. Dumas investigates a murder and uncovers clues that finally reveals what he's been looking for.
---
Wishing you and yours a Happy Holiday!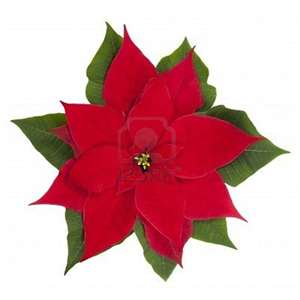 ---
HBPOIN / Lou's Views
.          • Gather and disseminate information
.           • Identify the issues and determine how they affect you
.           • Act as a watchdog
.           • Grass roots monthly newsletter since 2008