Hurricane Season

National Oceanic and Atmospheric Administration (NOAA)
The National Oceanic and Atmospheric Administration (NOAA) defines a hurricane as "an intense tropical weather system with a well-defined circulation and maximum sustained winds of 74 mph (64 knots) or higher."
Be prepared – have a plan!
For assistance with making an emergency plan read more here »
. 1) FEMA Ready
. 2) American Red Cross Disaster and Safety Library
. 3) ReadyNC
. 4) Town Emergency Information
. 5) HBPOIN Hurricane Emergency Plan
THB – EVACUATION, CURFEW & VEHICLE DECALS
For more information » click here
If the Town declares a mandatory evacuation, PLEASE LEAVE
General Assembly during the 2012 Session, specifically authorizes both voluntary and mandatory evacuations, and increases the penalty for violating any local emergency restriction or prohibition from a Class 3 to a Class 2 misdemeanor. Given the broad authority granted to the governor and city and county officials under the North Carolina Emergency Management Act (G.S. Chapter 166A) to take measures necessary to protect public health, safety, and welfare during a disaster, it is reasonable to interpret the authority to "direct and compel" evacuations to mean ordering "mandatory" evacuations. Those who choose to not comply with official warnings to get out of harm's way, or are unable to, should prepare themselves to be fully self-sufficient for the first 72 hours after the storm.
---
No matter what a storm outlook is for a given year,
vigilance and preparedness is urged.
---
Previously reported – April 2022
Scientists predict seventh straight above-average hurricane season
Researchers at Colorado State University are calling for 19 named Atlantic storms, including nine hurricanes
Researchers at Colorado State University are calling for the seventh consecutive above-average Atlantic hurricane season. The scientists, who study large-scale features of the atmosphere and the ocean, are already spotting signs that point to a season even busier than that of 2021. It's their 39th year issuing preseason forecasts. Their outlook, published Thursday morning, calls for 19 named storms, compared with a recent average of 14.4. The 2021 Atlantic hurricane season produced 21 named storms, third most on record, exhausting all of the names of the National Hurricane Center's conventional naming list. Although Colorado State is predicting two fewer storms this year, it is calling for a more active season in terms of metrics that take into account storm intensity and duration. "The team predicts that 2022 hurricane activity will be about 130% of the average season from 1991-2020," the outlook states. "By comparison, 2021's hurricane activity was about 120% of the average season." The outlook also calls for a 71 percent chance that a major hurricane will make landfall somewhere on U.S. soil. Major hurricanes are those that reach Category 3 strength or greater, containing maximum sustained winds of 111 mph or more. The risk of a major hurricane along the East and Gulf coasts and in the Caribbean is substantially elevated, compared with the 1990 to 2020 average, the outlook said. Unusually warm sea surface temperatures and the lack of an El Niño pattern are among the factors influencing the university's outlook. The team uses a statistical model based on 25 to 40 years' worth of data.
What to expect
The past five years have featured a slew of landfalling major hurricanes — eight to be exact. Harvey, Irma, and Maria terrorized the United States in 2017, Florence and Category 5 Michael lashed the nation in 2018, Laura and Zeta in 2020 and Ida in 2021. Since 2016, a half-dozen Category 5 hurricanes have roamed the Atlantic. Every year since 2016 has fallen into the anomalously active or hyperactive categories from a standpoint of ACE, or Accumulated Cyclone Energy — a measure of how much energy storms expend on their winds. By the books, hurricane season starts on June 1, but NOAA has considered shifting the advertised start date to May 15 in the face of recent trends and early season tempests.
The Colorado State outlook, headed by researcher Philip Klotzbach, calls for the following:
19 named storms

, including tropical storms and hurricanes. The average for a season is 14.4. It's worth noting that named storms can occur anywhere in the Atlantic basin, and the number has no bearing on how many make landfall — or where.
9 hurricanes, more than the seasonal average of 7.2. Hurricanes have winds of 74 mph or greater.
4 major hurricanes, or those whose winds reach Category 3 strength or greater. That's more than the average of 3.2 major Atlantic hurricanes per season.
A 47 percent chance that the East Coast gets hit by a major hurricane, with a 46 percent chance for the Gulf of Mexico from the Florida Panhandle to Brownsville, Tex. That's more than 1.5 times the average likelihood.
The average ACE for a season is also 132, but this year Klotzbach and his team are predicting hurricanes will rack up 160 units of ACE. That's 21 percent more than a typical season.
Why an active season?
No matter how you slice it, Atlantic hurricane season 2022 is looking to be extra busy. Why? The Colorado State researchers cite a lack of El Niño. Currently, a La Niña is dominating weather patterns across the Western Hemisphere. Characterized by a cooling of water temperatures in the east tropical Pacific, La Niña weakens high-altitude winds from the east in the tropical Atlantic. That reduces wind shear, or a change of wind speed and/or direction with height. Wind shear has a tendency to tear apart fledgling tropical systems, so a lack of wind shear can encourage nascent storms to blossom. A dearth of wind shear is integral in supporting the rapid intensification of tropical systems. Hurricane researcher Kim Wood, an assistant professor in the Department of Geosciences at Mississippi State University, was not surprised by the forecast. In a recent paper, she, Klotzbach and colleagues analyzed hurricane activity over the past 32 years and found conditions have leaned more toward a La Niña state, which has aided active hurricane seasons in recent years in the North Atlantic. La Niña conditions were present in 2020 and 2021, bolstering very active seasons with destructive Category 4 hurricanes such as Iota, which slammed Central America, and Ida, which caused massive destruction along the Gulf Coast of the United States. However, the fact that La Niña could persist for a third year in a row is very rare. In fact, a La Niña three-peat has occurred only twice before in record-keeping back to 1950. Projections call for La Niña to weaken and relax to "ENSO-neutral" conditions during the summertime — but, so long as El Niño doesn't materialize to kick up wind shear, an average or above-average season should prevail. Sea surface temperatures across the Gulf of Mexico and Caribbean are running a general 1 to 5 degrees above average, too, which translates to considerably more "ocean heat content" to fuel tropical systems. Of course, it remains to be seen whether waters remain that unusually warm in the months ahead. Low wind shear and unusually warm waters could later prove a recipe for rapidly intensifying storms. Wood and her colleagues found high-end rapid intensification events, during which tropical cyclones increased by at least 57 mph (50 knots) in 24 hours, have increased significantly in frequency over the past three decades — probably caused in large part by human-induced climate change. Researchers also previously found climate change has caused hurricanes to move slower and drop more rain in a concentrated area, such as the case with Hurricane Florence in North Carolina in 2018 or Harvey in Texas in 2017. Rising sea levels also worsen storm surges, which can cause more flooding and infrastructure damage. "More and more people are living close to the coast, and thus we're just increasing our vulnerability to these storms," Wood said. "Even if there's just one [storm] that makes landfall this year, that's going to be a big one for whoever lives there." AccuWeather, the State College, Pa.-based private forecasting company, has also issued an Atlantic hurricane season outlook and is calling for 16 to 20 named storms and six to eight hurricanes, very much in line with Colorado State. 2022′s first storm, once it's named, will be called Alex. Should all of the 21 names on the National Hurricane Center's list be used, forecasters will turn to a supplemental list set of names. The supplemental list was developed after the record-setting 2020 hurricane season, in which 30 named storms formed, forcing forecasters to use Greek letters after 21 storms had earned names. Colorado State has evaluated the accuracy of its seasonal hurricane forecasts, made in April, since it began issuing them in 1984. Through 2013, the forecasts did not offer much predictive skill. However, it says its forecasts "have shown considerable improvement in recent years."
Read more » click here
---
Know your hurricane risk, FEMA, NOAA encourage
When it comes to hurricanes, it's important to be prepared and know your risk. That was the message federal officials delivered Wednesday during a press conference from the annual National Hurricane Conference taking place this week in Orlando, Florida. Federal Emergency Management Agency Administrator Deanne Criswell and National Oceanic and Atmospheric Administration's National Hurricane Center Director Ken Graham encouraged the public to prepare for more intense storms. The conference is a national forum for federal, state and local officials to work together to improve hurricane preparedness, response, recovery and mitigation in the United States and Caribbean and Pacific tropical islands. Criswell explained that while the conference is an opportunity for emergency management professionals to share lessons learned from the past. More importantly, she said, it's time to start thinking about what is going to be experienced in the future. In recent years, hurricanes have intensified, giving emergency managers less time to warn their constituents to prepare. The storms are stronger, lasting longer at higher durations over land, impacting coastal communities and inland too. This is going to continue, she said. Residents most need to understand their risk, she added. "What is the risk in the area that you are at if you are on the coast or if you are inland? And then do you have a plan to protect your family against that risk? Do you know how you're going to evacuate? Do you know where you're going to go? Do you know how you're going to communicate to your family members that live outside of the area so you can let them know that you're safe," Criswell said. And of course, don't forget pets. Make sure to have the same supplies you'd have for rest of your family. Graham reiterated the need for a plan. "you can't make your plan during the storm. You've got to do it early," he said, because sometimes the timeline of a tropical storm reaching land is short. "have that plan ready to go, ready to implement." Criswell said that if relocating to a new area, learn what the risks are, such as hurricanes or tornadoes. "Individuals need to be deliberate about that. You need to understand what your risk is and if you have not been in that situation before there are a lot of resources out there," she said, and ready.gov has a wealth of information. Graham added that if you don't know what to do when a hurricane comes, then ask. "If you don't know, ask … know that risk," he said. "Because being prepared is everything." Many don't want to evacuate during a hurricane and that mentality is hard to change, Criswell said. "I think that we get the most increase in the level of preparedness and communities immediately after a disaster," she said, but the longer between storms, the more comfortable residents get with the idea that they can withstand the storm. "It worries me because we are seeing right now these natural weather events that are getting more severe, they're stronger, they're lasting longer. They're intensifying more rapidly. And so, where in the past maybe communities and individuals would wait things out," she said. "We as an emergency management profession and a community we have to continue to help people understand what these threats are. We need to provide the resources for them to learn about their threats as well." Graham pointed out the need to communicate. "You can have a perfect forecast, but it doesn't do much good if it's not understood and it's not actionable." His office has different professionals, such as meteorologists and social scientists, to help communicate. Criswell continued that there can't be a one-size-fits-all type of messaging. For the first time last year, FEMA created a culturally specific preparedness campaign for preparedness month focusing on the Hispanic community. Graham said what worries him sometimes are areas that historically have a lot of strong storms and just because it didn't happen in the last couple of years doesn't mean it can't happen this year. So, the complacency part of it is worries me." Criswell echoed Graham, saying it's the complacency that really worries her. "I worry about those communities and our ability again — because of the rapid intensification of these storms — our ability to get messaging out to those communities so they can make timely decisions to either evacuate or stay in place to protect their families," she said. "We've got to be able to communicate to those individuals that aren't necessarily taking it as serious as they could or should" because disasters don't discriminate. "We all have to take it seriously. Storms are getting worse. They're getting worse. They're causing more destruction. They are intensifying more rapidly. We're going to have less time to warn people so they can take appropriate measures. We'll have to take it seriously," she said.
Read more » click here 
Previously reported – April 2022
NOAA predicts above-normal 2022 Atlantic Hurricane Season
Ongoing La Niña, above-average Atlantic temperatures set the stage for busy season ahead
Forecasters at NOAA's Climate Prediction Center, a division of the National Weather Service, are predicting above-average hurricane activity this year — which would make it the seventh consecutive above-average hurricane season. NOAA's outlook for the 2022 Atlantic hurricane season, which extends from June 1 to November 30, predicts a 65% chance of an above-normal season, a 25% chance of a near-normal season and a 10% chance of a below-normal season. For the 2022 hurricane season, NOAA is forecasting a likely range of 14 to 21 named storms (winds of 39 mph or higher), of which 6 to 10 could become hurricanes (winds of 74 mph or higher), including 3 to 6 major hurricanes (category 3, 4 or 5; with winds of 111 mph or higher). NOAA provides these ranges with a 70% confidence.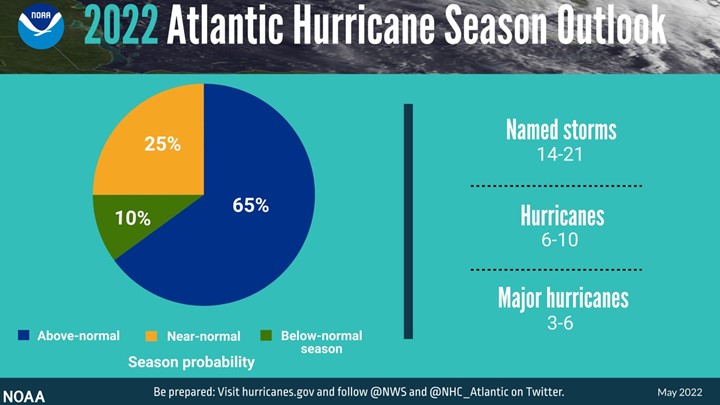 "Early preparation and understanding your risk is key to being hurricane resilient and climate-ready," said Secretary of Commerce Gina M. Raimondo. "Throughout the hurricane season, NOAA experts will work around-the-clock to provide early and accurate forecasts and warnings that communities in the path of storms can depend on to stay informed." The increased activity anticipated this hurricane season is attributed to several climate factors, including the ongoing La Niña that is likely to persist throughout the hurricane season, warmer-than-average sea surface temperatures in the Atlantic Ocean and Caribbean Sea, weaker tropical Atlantic trade winds and an enhanced west African monsoon. An enhanced west African monsoon supports stronger African Easterly Waves, which seed many of the strongest and longest lived hurricanes during most seasons. The way in which climate change impacts the strength and frequency of tropical cyclones is a continuous area of study for NOAA scientists. "As we reflect on another potentially busy hurricane season, past storms — such as Superstorm Sandy, which devastated the New York metro area ten years ago — remind us that the impact of one storm can be felt for years," said NOAA Administrator Rick Spinrad, Ph.D. "Since Sandy, NOAA's forecasting accuracy has continued to improve, allowing us to better predict the impacts of major hurricanes to lives and livelihoods."
Additionally, NOAA has enhanced the following products and services this hurricane season:
"Hurricane Ida spanned nine states, demonstrating that anyone can be in the direct path of a hurricane and in danger from the remnants of a storm system," said FEMA Administrator Deanne Criswell. "It's important for everyone to understand their risk and take proactive steps to get ready now by visiting Ready.gov and Listo.gov for preparedness tips, and by downloading the FEMA App to make sure you are receiving emergency alerts in real-time." NOAA's outlook is for overall seasonal activity and is not a landfall forecast. In addition to the Atlantic seasonal outlook, NOAA has also issued seasonal hurricane outlooks for the eastern Pacific and central Pacific hurricane basins. NOAA's Climate Prediction Center will update the 2022 Atlantic seasonal outlook in early August, just prior to the historical peak of the season.
Read more » click here
NOAA forecasts seventh straight busy Atlantic hurricane season
The agency predicted 14 to 21 named storms, 6 to 10 hurricanes and 3 to 6 major hurricanes
The siege of active Atlantic hurricane seasons will continue for yet another year, the National Oceanic and Atmospheric Administration predicted Tuesday. In its annual seasonal outlook, the agency forecast the seventh straight above-normal Atlantic season, with 14 to 21 named storms — compared with 14 in an average year — and three to six major hurricanes, rated Category 3 or higher. Major hurricanes are of particular concern, as they tend to rapidly intensify, or increase by 35 mph or more in wind strength in 24 hours — leaving coastal residents with little time to prepare. These major storms are responsible for the overwhelming majority of damage because of wind and ocean surge, the rise of water above normally dry land at the coast. Scientists have observed an increase in rapidly intensifying hurricanes over the past few decades, linked to warming ocean waters from human-caused climate change. NOAA's outlook for another busy season follows a devastating period of heightened storm activity in the Atlantic. The 2021 season produced 21 named storms, the third-most on record, exhausting all of the names of the National Hurricane Center's conventional naming list. In 2020, a record 30 named storms formed. The two seasons combined produced the most landfalling storms on record in the United States. The United States saw more Category 4 and 5 hurricane landfalls from 2017 to 2021 than from 1963 to 2016. Every year since 2016 has generated above-average activity in the Atlantic, with five Category 5 storms roaming the basin over that period. A seemingly relentless parade of major hurricanes — including Harvey, Irma, Michael, Laura, Zeta and Ida — lashed the beleaguered Gulf Coast during the six-year window. The effects of Hurricane Ida last year were so severe — from the Gulf Coast to the Northeast — that the World Meteorological Organization retired Ida from the rotating list of hurricane names. The storm caused 96 deaths as it tracked from Louisiana to Connecticut and was blamed for $75 billion in damage, the fifth-costliest hurricane on record in the United States. Ida, which caused catastrophic flooding in the Northeast — including New York City — demonstrated how tropical systems can inundate communities hundreds of miles from where they first come ashore. Inland flooding has become the leading cause of fatalities from tropical weather systems in recent years. Scientists have also found human-caused climate change is intensifying heavy rainfall in these tropical systems. NOAA released its outlook at a news conference in New York, commemorating 10 years since Superstorm Sandy ravaged the region in 2012. Sandy, blamed for $80 billion in damage, is listed as the fourth-costliest tropical system on record. Sandy was transitioning from a hurricane to a "post-tropical cyclone" when it slammed the Northeast with a massive storm surge, torrential rain and huge swath of damaging winds. "As we saw from Sandy, it doesn't even have to be a hurricane to cause such devastation to communities," said Christina Farrell, New York City emergency management first deputy commissioner.
NOAA's forecast and a trend toward better accuracy
Hurricane outlooks made in the spring have shown considerable improvement over the past decade after not exhibiting much accuracy from the 1980s through about 2013, according to researchers at Colorado State University. Here are the numbers from NOAA's outlook:
14 to 21

named storms

, compared with an annual average of 14.4.
Six to 10

hurricanes

, compared with an annual average of 7.2.
Three to six

major hurricanes

, compared with an annual average of 3.2.
NOAA's outlook stated there is a 65 percent chance of an above-normal season, a 25 percent chance of a near-normal season and a 10 percent chance that it will be below normal. NOAA's outlook echoes those made by several research institutions and private companies. Colorado State University, for example, is predicting 19 named storms, with a 71 percent likelihood that the United States will be hit by a major hurricane. Similarly, AccuWeather, the private forecast company based in State College, Pa., is calling for 16 to 20 named storms.
While seasonal hurricane forecasts have improved, predictions of storms once they form have made even greater strides. The National Hurricane Center's track forecasts have steadily improved, and its average storm intensity forecast error is now 40 percent less than it was in 2000. Rick Spinrad, NOAA's administrator, anticipates additional gains. "NOAA will triple operational supercomputing capacity this summer," Spinrad said at Tuesday's news conference. "This upgrade will allow for higher-resolution earth models that can handle larger ensembles of models with more numerous calculations, more advanced physical considerations and more advanced ability to assimilate the data collected out in the storm." To improve its predictions, NOAA is also operating five Saildrones — uncrewed vehicles on the ocean's surface — to probe conditions; extending forecasts for extreme rainfall potential three to five days into the future; and introducing a product to pinpoint where the peak surge will occur when a storm is approaching the coast.
Signs of a busy season
Many indicators point toward the high probability of a busy season. The position of several key atmospheric features are noteworthy, and the ocean appears primed to support significant storms.
Among the elements being monitored are:
Sea surface temperatures. Hurricanes thrive when water temperatures reach the lower to mid-80s. Hurricanes are heat engines, extracting thermal energy from "oceanic heat content." A greater, deeper reservoir of exceptionally mild ocean water translates to more fuel to generate or sustain a hurricane.
Water temperatures throughout the entire Gulf of Mexico and western Atlantic are running 1 to 3 degrees above average. The unusually warm water boosts the "potential intensity," or maximum theoretical strength, a hurricane can achieve.
The loop current. Some researchers say unusually high temperatures in the Gulf of Mexico loop current are an ominous sign for the season ahead. The loop current is a warm-core eddy that meanders north of the Florida Straits and Yucatán Peninsula. The current could give storms an extra boost if they cross over it — but it's one piece in a much larger atmospheric puzzle.
La Niña. La Niña is a dropping of sea surface temperatures in the eastern tropical Pacific. It sets in motion a chain-reaction process that favors increased Atlantic hurricane activity. Specifically, it cools the air over that relative temperature minimum in the eastern Pacific, spurring sinking motion there. That makes it easier for air over the Atlantic to rise and feed big storms.
Wind shear. Wind shear is a change of wind speed or direction with height. Too much shear can disrupt a fledgling storm's circulation and tear it apart before it has the opportunity to organize. Shear can also spell the demise of a strong hurricane.
During La Niña summers, there's typically a reduction in wind shear over the tropical Atlantic. That will make it easier for hurricanes to form and remain stronger for longer.
NOAA's outlook also pointed to "an enhanced African monsoon," which supports more disturbances from Africa entering Atlantic waters, where they can develop into storms.
Hurricane seasons officially begins June 1
The first storm of 2022, once it's named, will be called Alex. Should all 21 names on the National Hurricane Center's list be used, forecasters will turn to a supplemental list set of names. The supplemental list was developed after the record-setting 30 storms in 2020 that led forecasters to use Greek letters after 21 storms had earned names. In recent years, an uptick in early-season storminess has been noted. NOAA has considered moving the "official" start of Atlantic hurricane season from June 1 to May 15, reflecting observed trends in a warming world. That would also match the May 15 start date of hurricane season in the Eastern Pacific. Irrespective of how many storms form, every year forecasters stress that it takes only one storm to have a memorable and potentially devastating impact on a community. In early May, the Hurricane Center led a public awareness campaign to urge preparedness for the upcoming season. "Early preparation and understanding your risk is key to being hurricane-resilient and climate-ready," said Gina Raimondo, secretary of the Commerce Department, which oversees NOAA.
Read more » click here
2022 Atlantic hurricane season to be above average: NOAA
The 2022 Atlantic hurricane season, which begins next week, is predicted to have above-average activity, with a likely range of 14 to 21 named storms. National Oceanic and Atmospheric Administration Administrator Rick Spinrad announced the initial outlook Tuesday during a news conference at New York City Emergency Management Department in Brooklyn, New York. Forecasters at NOAA's Climate Prediction Center, a division of the National Weather Service, made the prediction for the season, June 1 to Nov. 30. Spinrad said the 2022 prediction will make the seventh consecutive year of an above-normal season. "Specifically, there's a 65% chance of an above-normal season, a 25% chance of a near-normal season, a 10% chance of below-normal season." Averages for the Atlantic hurricane season are 14 named storms and seven hurricanes. Of those, the average for major hurricanes at a Category 3, 4 or 5, is three. NOAA's Climate Prediction Center uses 1991 to 2020 as the 30-year period of record to determine averages. For the range of storms expected, Spinrad explained that forecasters call for a 70% probability of 14 to 21 named storms, with top winds of at least 39 miles per hour. Of these, six to 10 will become hurricanes with top winds of at least 74 miles per hour, and of those, three to six major hurricanes will be categories 3, 4 or 5 with top winds of at least 111 miles per hour. NOAA's outlook is for overall seasonal activity and is not a landfall forecast. The Climate Prediction Center will give an update in early August before peak season, officials said. NOAA officials attribute the increase in activity to many factors, such as the ongoing La Niña. La Niña is the cool phase of the Niño-Southern Oscillation, or ENSO, cycle. ENSO is a three-phase recurring climate pattern that has a strong influence on weather across the United States. The other two phases are neutral and El Niño, the warm phase that suppresses hurricane activity in the Atlantic. La Niña enhances it. Other factors officials point to are warmer-than-average sea surface temperatures in the Atlantic Ocean and Caribbean Sea, weaker tropical Atlantic trade winds, and an enhanced west African monsoon, which supports stronger African Easterly Waves that seed many of the strongest and longest-lived hurricanes during most seasons. "The way in which climate change impacts the strength and frequency of tropical cyclones is a continuous area of study for NOAA scientists," according to NOAA. Rick Luettich, director of the University of North Carolina Institute of Marine Sciences based in Morehead City and a coastal physical oceanographer, told Coastal Review Tuesday that he thinks this forecast by NOAA is not a surprise at all. "And I think we have to expect that it's likely to hold true." While the range of 14 to 21 storms is broad, Luettich thinks there will be at least the 14 storms "and whether or not we stop at 21 remains to be seen. But it looks like we'll get through most of the alphabet again this year." He noted that NOAA's predictions are not substantially different from those announced a few months ago by Colorado State University researchers, who predicted 19 named storms this year. Of those, nine are predicted to become hurricanes with four to reach major hurricane strength at sustained winds of 111 miles per hour or greater. North Carolina State University researchers also predicted in April a similar amount of 17 to 21 named storms for this year. Luettich explained that the main thing that keeps storms, which pull heat from the ocean, from fully forming is wind shear, or the variation in wind from the surface up into the atmosphere. "If there's a strong difference between the winds high aloft and the winds closer to the surface then that difference tends to stretch and pull and tear apart the storms," he said. If the wind shear is weak then there's not much to keep the storm from forming. "Wind shear tends to be much stronger in years when we have an El Niño," Luettich said, but this year looks to be a moderate La Niña new year. The ENSO cycle most directly impacts whether or not there are a large number of storms, small number or somewhere in between. "The combination of a warm ocean and limited or little wind shear drives the large numbers of storms in the predictions." The La Niña/El Niño cycle is what allows storms to get fully going and manifest or is what tears them apart. "And from year to year, it changes," he added. He did point out that being in the third consecutive year of a La Niña cycle is unusual. Between plenty of energy in the ocean and weak wind shear, this is likely to be another year of substantial and strong storms. As the storm predictions relate to climate change, "if you look at the long-term temperature records you can see in both the atmosphere and the ocean there is a steady increase in the Earth's temperature," he said. Climate change is causing energy in the ocean to increase and more precipitation, leading to storms traveling slower and allowing more time for rainfall in an area. However, it's a little less clear how the ENSO cycle is affected by climate change. "There are suggestions that in a warming climate the La Niñas and El Niños may be stronger when they occur, but I'm not aware that there's a really good consensus or understanding of whether they're likely to be more frequent," he said, adding it's just not clear how climate change will affect the ENSO cycle.
On the North Carolina coast
Erik Heden, warning coordination meteorologist with the National Weather Service's office in the Newport/Morehead City area, explained in an interview Tuesday that his office doesn't focus on NOAA's initial outlook during any given year because "it doesn't tell us whether or not our area will be impacted by storms. We try to shift the focus toward preparation each and every year since we live in an area that is vulnerable." He urges residents and visitors that if there is a hurricane forecast that impacts their area, don't focus on the category of the storm. "The category is only related to wind speed. It says nothing about how much rain will fall, how long the storm will remain over us, how large the storm is," he said. "Remember Hurricane Florence was 'only' a category 1 storm when it made landfall. Cyclones have multiple threats that include storm surge, flooding, rip currents, tornadoes and wind." Heden urges residents and visitors to follow official resources such as the weather office for your area or the National Hurricane Center. If your area is forecast to be near, not just in, the forecast cone, or cone of uncertainty, you should be preparing for the storm. "The forecast cone only shows the most likely path for just the center of the storm. A storm is not a dot on the map and impacts occur well away from the center," he said. For example, the center of Florence in 2018 hit near Wilmington, "but we all saw major impacts from the storm." Heden explained that preparation has three steps. The first is to determine your risk, based on where you live, from all five tropical cyclone threats: storm surge, flooding, rip currents, winds and tornadoes. Second, have a hurricane plan and determine where you will evacuate if necessary. Don't forget your pets. Third, make a hurricane kit. The kit should contain enough food, water and medicine to last at least three days, but ideally up to a week. If cost is a concern, spread it out and buy a few items each shopping trip. Heden said his office is hosting a series of community forums on hurricanes, the first of which will be held 5-8 p.m. June 14 at Holly Ridge Community Center, 404 Sound Road, Holly Ridge. The next forum will be held 10 a.m. to noon June 21 in Pine Knoll Shores town hall. Two will be offered in late July on the Outer Banks. Locations will be announced.
State urges residents prepare now
Keith Acree, communications officer with North Carolina Emergency Management, told Coastal Review on Tuesday that the state and local governments make sure they are prepared for each hurricane season. "North Carolina Emergency Management recently hosted the statewide hurricane exercise, where the State Emergency Response Team and its federal, state, local government and private-sector partners practiced response coordination and communications," he said. "Helicopter, boat and land search and rescue teams recently held large scale exercises at the coast and in the mountains, in advance of hurricane season." Acree said residents of North Carolina's coastal counties should learn if they're in a predetermined evacuation zone by visiting KnowYourZone.nc.gov. "Remember your zone and listen for it when evacuations are ordered." He said residents should prepare by having an emergency kit with basic supplies included and have a plan to stay with family or friends, or at a hotel if you need to evacuate. "A public shelter should be your last resort, not a primary evacuation option. Offer your home to family or friends as a safe place if they need to evacuate, and you don't," he said.
Acree also recommends having multiple ways to receive weather alerts, watches and warnings. Install a weather alert app on your cell phone or get NOAA Weather Alert Radio for your home. Lastly, remember that hurricanes and tropical storms can affect the entire state. Residents in Haywood and surrounding counties in Western North Carolina are still recovering from the remnants of Tropical Storm Fred, a Gulf Coast storm that moved across the state's mountains last year, causing catastrophic floods along the Pigeon River killing six people, he explained. "It only takes one storm that strikes your community to make a really bad hurricane season for you," Acree said. "Now is the time for North Carolinians to prepare for hurricane season."
Read more » click here 
---
Previously reported – July 2022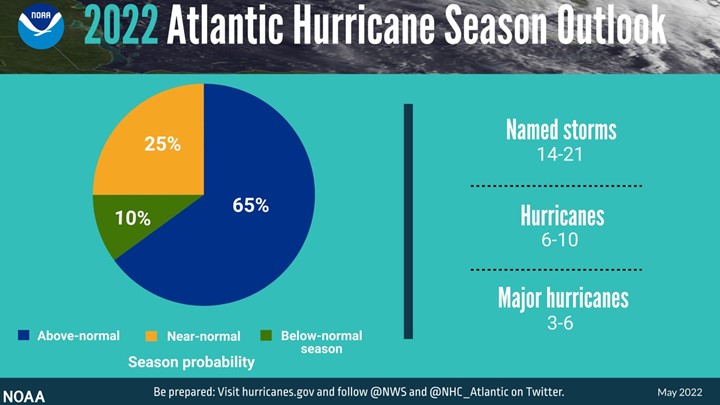 Weather Permitting: Hurricane season has been quiet so far in 2022.
Will it stay that way?
About a month ago, it seemed the 2022 Atlantic hurricane season was off and running. From the Carolinas to Central America, tropical storms were slogging ashore, with a seemingly endless freight train of low-pressure systems chugging across the Atlantic. Fast-forward to early August. No hurricanes, no storms. Not even a promising swirl for Hurricane Hunters to check out over the past month. It's like someone pulled the tropical plug. For only the fourth time in the past 30 years, the stretch from July 4 to Aug. 4 has passed without any named storm activity. The tropics, it seems, are drier than the Baptist state convention. Were all the dire predictions of another hyperactive hurricane season just a lot of hot air? Or have weather enthusiasts just been spoiled by the nonstop tropical spin-ups we've seen over the past couple of years? The answer is probably a little bit of both. This 2022 season is the first in the past five years that got to August without at least one hurricane forming. And in the last 30 years, only four seasons have been storm-free from July 4 through Aug. 4: 1993, 1999, 2000 and 2009. Remember this week two years ago? The Cape Fear region was bracing for the arrival of Hurricane Isaias — the ninth named storm of the season. Another storm, Hanna, had already become the first hurricane of the season, and by the end of the year, the National Hurricane Center was deep into the Greek alphabet of storm names. Last year saw another batch of storms — but oddly there was a four-week breather during July into August as well. That rest was rudely ended when a trio of named storms — Fred, Gracie and Henri — all dropped off the African coast within a few days of each other. The 2021 season went on to feature 21 named storms. So, we've been conditioned over the last couple of years to expect a parade of storms, especially with conditions that are conducive to development. A continuing La Nina, with above-average sea temperatures, would bode well for storm formation. And, as the hurricane season shifts from "homegrown" systems to the long-tracking Cape Verde storms, all eyes turn to the west coast of Africa. What we've seen for the last couple of weeks has been surprising. An extreme layer of bone-dry, dusty Sahara Desert air has cloaked the eastern Atlantic, choking potential storms as they wade off the coast. This dust cloud is a common summer feature, but it has been particularly potent during July. In addition, strong low-level winds have helped rip potential systems apart, and sinking air west of Africa prevents the towering storm clouds we associate with tropical systems. It doesn't matter how warm the water is if the storms can't use it. And right now, conditions in the central Atlantic are downright hostile.
What's next
Will things stay that way? Not likely. Already there are indications that the Sahara Dust Layer is beginning to ease. As sea temperatures continue to creep up, sinking air should become less of an issue. And the wave train off Africa shows no sign of stopping. A few past "slow start" seasons may offer a hint for this year: The 2019 season saw an equally quiet start, with the Atlantic producing only a "C" storm (Chantal) by mid-August. A week later, the gates opened, and 2019 ended up with 18 named storms. In 2010, Tropical Storm Colin didn't arrive until the first week of August, another slow start to the season. However, by the end of the month, two Category 4 storms formed (Danielle and Earl) and the season ended up with 19 named systems. Finally, the "slow start" season of 1999 made its mark on North Carolina. By early August, only one named storm had formed. By the end of the season, five Category 4 storms had formed, and two (Dennis and Floyd) teamed up that September to produce devastating floods in eastern North Carolina. And, for those keeping track, 1999 was another La Nina year. So, while things may seem quiet in the Atlantic, we're actually not that far off the 30-year average for hurricanes. August is the traditional first month for hurricanes to form, with early September the peak of the season. Keep an eye on conditions in the Central Atlantic starting in mid-August. I think we've got a long way to go. Stay tuned!
Read more » click here 
---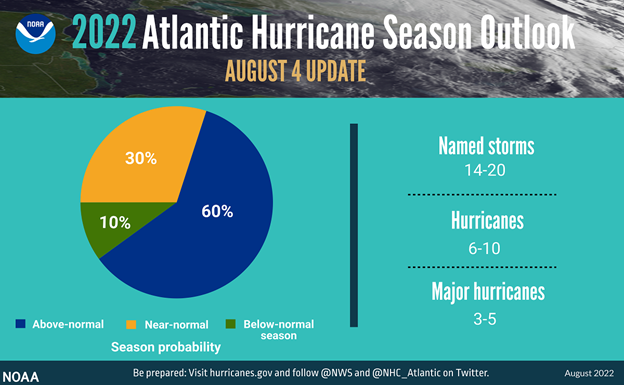 NOAA still expects above-normal Atlantic hurricane season
National Oceanic and Atmospheric Administration weather experts still expect the 2022 Atlantic hurricane season to have above-normal activity. NOAA released Thursday its annual mid-season update to the 2022 outlook issued in May by the Climate Prediction Center, a division of the National Weather Service. Since the May report, which covers the six-month hurricane season that began June 1 and ends Nov. 30, forecasters have slightly decreased the likelihood of an above-normal Atlantic hurricane season from 65% to a 60% chance. Meanwhile, the likelihood of near-normal activity has risen to 30% and the chances remain at 10% for a below-normal season. NOAA's update to the 2022 outlook calls for 14-20 named storms, which have winds of 39 mph or greater. Six to 10 of those named storms could become hurricanes with winds of 74 mph or greater. Of those, three to five could become major hurricanes with winds of 111 mph or greater. NOAA provides these ranges with a 70% confidence. "We're just getting into the peak months of August through October for hurricane development, and we anticipate that more storms are on the way," said NOAA Administrator Rick Spinrad, in a statement. Erik Heden, warning coordination meteorologist with the National Weather Service forecast office for Morehead City, told Coastal Review Monday that the peak of hurricane season is not until around Sept. 10. "Typically, the season really doesn't get going until later in August through October. It's too early to let our guard down, we aren't even close to the typical peak yet," he said. "Lastly, it only takes one storm to make a difference in your lives. Take this quiet time in the season to finish your hurricane kit and plan." He recommended visiting www.weather.gov/MHX/hurricaneprep for help with a hurricane kit and plan. Heden said his office is offering more hurricane talks ahead, including one at 9 a.m. Wednesday in Emerald Isle board meeting room, 7500 Emerald Drive, and 6 p.m. Aug. 16 in North Topsail Beach Town Hall, 2008 Loggerhead Court. Sign up to virtually attend the North Topsail Beach talk. Two talks are planned for later this month on the Outer Banks, as well. "Communities and families should prepare now for the remainder of what is still expected to be an active hurricane season," said Ken Graham, director of the National Weather Service. "Ensure that you are ready to take action if a hurricane threatens your area by developing an evacuation plan and gathering hurricane supplies now, before a storm is bearing down on your community."So far, the season has seen three named storms and no hurricanes in the Atlantic Basin. An average hurricane season produces 14 named storms, of which seven become hurricanes, including three major hurricanes. The outlook is for overall seasonal activity and is not a landfall forecast. Landfalls are largely governed by short-term weather patterns that are currently only predictable within about one week of a storm potentially reaching a coastline, according to NOAA. "I urge everyone to remain vigilant as we enter the peak months of hurricane season," Secretary of Commerce Gina Raimondo said in a statement. "The experts at NOAA will continue to provide the science, data and services needed to help communities become hurricane resilient and climate-ready for the remainder of hurricane season and beyond." There are several atmospheric and oceanic conditions that still favor an active hurricane season. This includes La Niña conditions, which are favored to remain in place for the rest of 2022 and could allow the ongoing high-activity era conditions to dominate, or slightly enhance hurricane activity. In addition to a continued La Niña, weaker tropical Atlantic trade winds, an active west African Monsoon and likely above-normal Atlantic sea-surface temperatures set the stage for an active hurricane season and are reflective of the ongoing high-activity era for Atlantic hurricanes. NOAA's hurricane science and forecasting information is available at Hurricane Season Media Resource Guide and the National Hurricane Center provides the latest on tropical storm and hurricane activity in the Atlantic. "Although it has been a relatively slow start to hurricane season, with no major storms developing in the Atlantic, this is not unusual  and we therefore cannot afford to let our guard down," said FEMA Administrator Deanne Criswell. She recommends being proactive by downloading the FEMA app and visiting Ready.gov or Listo.gov for preparedness tips. "And most importantly, make sure you understand your local risk and follow directions from your state and local officials."
Read more » click here
---
Previously reported – November 2022
How Rare Are November Hurricanes?
November hurricanes and tropical storms such as Nicole are relatively rare, but they can—and do—form
November weather in most of North America is synonymous with chilly breezes rustling through red, yellow and orange leaves as fall edges closer to winter. It's generally not a time people associate with destructive tropical cyclones churning toward the U.S.—but that's exactly what is happening as Tropical Storm Nicole bears down on Florida, where it is expected to make landfall as a hurricane. Though such tropical systems are less common at this time of year, the official Atlantic hurricane season actually lasts through November 30. And storms can form even after that point, as notably happened during the blockbuster 2005 season when Tropical Storm Zeta shockingly formed on December 20 and lasted until January 6. Hurricane season, which begins on June 1, brackets the time of year when atmospheric and ocean conditions are most suitable for storm formation. The season peaks sharply from the end of August through early October, when ocean warmth at end of summer coincides with wind conditions that are generally more favorable to storm formation. Storm activity "starts to decline pretty quickly once November 1 hits," says Jill Trepanier, a hurricane researcher at Louisiana State University. That drop means November is also "the quietest month from the perspective of U.S. landfall activity," says Ryan Truchelut, a meteorologist and co-founder of WeatherTiger, a private weather-forecasting group. Only 10 tropical storms and three hurricanes have struck the U.S. during November going back to 1851, he says, so on average such a landfall would happen about every 10 to 15 years. There are some years that are true outliers. Three November storms, one of them a hurricane, formed in 2005. More recently, "November was crazy in 2020," Truchelut says, thanks to exceptionally warm waters in the Caribbean. Hurricane Eta hit Nicaragua as a category 4 storm, followed two weeks later by another category 4 hurricane, Iota. Any storms that do form in November tend to be weaker for the same reasons they are somewhat rare. As fall progresses, solar energy shifts from the Northern Hemisphere to the Southern Hemisphere and more northerly latitudes rapidly cool down, Trepanier explains. This creates a big contrast with the lingering warmth farther south, strengthening the polar jet stream—which then sends incursions of cold air southward. These incursions increase a feature called wind shear (when winds vary in speed and direction at different levels of the atmosphere), and that in turn disrupts the convection at the core of tropical systems that powers them. Though Nicole will probably be relatively weak in terms of wind speed, its winds cover a large area and are thus expected to bring storm surge to the entire east coast of Florida. This happens to coincide with a period of higher-than-normal high tides, which will amplify surge amounts. Historically, any November storms that do hit the U.S. have tended to strike Florida because they most commonly form in the nearby western Caribbean, Truchelut says. The most recent November hurricane to hit the state was Kate, which struck the Florida panhandle on November 22, 1985, as a category 2 storm. Nicole will set the record for the latest in the season that a storm has hit the state's east coast. The previous record holder was the Yankee Hurricane, which made landfall near Miami Beach on November 4, 1935 (this was before meteorologists began giving official names to hurricanes and tropical storms). Having a late-season threat from Nicole so relatively soon after Eta hit the state as a tropical storm in 2020—twice—raises the question of whether late-season storms will become more frequent as climate change brings warmer ocean waters, Truchelut says. A study he co-authored, published earlier this year in Nature Communications, looked for statistical evidence that the hurricane season might be growing longer at both ends. Though this research found strong evidence that the season is starting earlier, that evidence was weak for the end of the season. It is possible there is a trend that simply cannot yet be detected, he notes, because "it's hard to get a trend for rare events." Nicole also underscores the lesson that people living in hurricane-prone areas need to keep paying attention and be prepared to act on forecasts, even after the peak of the season has passed, Trepanier says. "Driving home that point is important."
Read more » click here
Previously reported – December 2022
Hurricane Season Ends, Marked by Quiet August and Deadly September
The six-month total of 14 named storms was about average. But two late-season hurricanes proved catastrophic in Florida and Puerto Rico.
An erratic North Atlantic hurricane season comes to an end this week, with an average number of storms, a rare quiet spell in August and destructive late-season activity, including the deadliest hurricane to hit the United States in nearly two decades. The six-month season, which officially began on June 1 and ends on Wednesday, had 14 named storms, eight of which strengthened to become hurricanes. Two of these, Fiona and Ian, were major hurricanes, with maximum sustained winds of at least 130 miles an hour. The totals are about average for a hurricane season. Some forecasters had expected an above-average season, although most predicted that the numbers for 2022 would remain below those for 2021, which had 21 named storms, and well below 2020, which set a record with 31. The total of 14 storms was at the low end of predictions by forecasters with the National Oceanic and Atmospheric Administration, who said as late as August that there could be 14 to 20 named storms, including six to 10 hurricanes and three to five major ones. "We were one major hurricane short," said the administration's lead hurricane outlook forecaster, Matthew Rosencrans. They were also off in forecasting that the combined intensity of the entire season's storms, a measure called accumulated cyclone energy, would be higher than it actually was. Mr. Rosencrans said in August that the presence of the climate pattern called La Niña, which is characterized by unusually cool water temperatures in the equatorial Pacific Ocean, could lead to greater hurricane activity. In the Atlantic during a La Niña there is often less wind shear, and that allows tropical storms and hurricanes to grow stronger. But Mr. Rosencrans said Tuesday that it appeared that there was significant wind shear during the season and especially in August, when no storms fully formed. Normally mid-August is the beginning of peak hurricane season, which lasts until mid-October. The quiet August "was the real forecast surprise of the season," he said. A lack of moisture at high altitudes in the tropical Atlantic where storms begin their development may have played a role as well, he said. Recent hurricane seasons have been marked by the development of one or more storms before the official start of the season. But this year, for the first time since 2014, there were no storms before June 1. For two months, the season progressed slowly, with only three named storms by the end of July. This is not unusual; ocean waters are cooler and provide less of the energy that fuels storms. Hurricane activity picks up after the summer sun has warmed the ocean. After the August lull, activity accelerated in September, with four hurricanes, including the two major ones. In mid-September, Fiona slammed into Puerto Rico as a Category 4 storm. It dumped more than 30 inches of rain on parts of the island, leading to at least 25 deaths and further damaging infrastructure that had yet to be fully repaired after being damaged in Hurricane Maria five years before. Two weeks later, Ian, another Category 4 hurricane, struck Florida with winds as high as 150 m.p.h. Together with rain and wind-driven tidal surges, that led to at least 114 deaths, most of them in the southwestern part of the state. It was Florida's deadliest storm in nearly a century, and the deadliest in the United States since Katrina killed more than 1,800 people in southern Louisiana in 2005. The season was notable in several other ways. Two storms crossed from the Atlantic basin to the Pacific, traversing Central America. The last time any storm did this was in 2016. "That is quite a rare phenomenon," Mr. Rosencrans said. And earlier this month, the season's last storm, Hurricane Nicole, became the first to strike Florida in November in nearly four decades. While at Category 1 it was not as strong Fiona or Ian, it hit in some of the areas severely damaged by Ian just six weeks before.
Read more » click here 
Previously reported – June 2022
Here's why this hurricane season could be unusually unpredictable El Niño typically means a quieter hurricane season. As ocean temperatures rise, that could be changing. Under normal circumstances, a quiet Atlantic hurricane season would be a safe bet this year: The global climate pattern known as El Niño is fast developing, and it's known to diminish tropical cyclone activity in the Atlantic basin. But unusually warm waters — in some areas setting records for this time of year — could cancel that out, creating conditions that could instead fuel an active season of revved-up storms. That means the outlook for tropical cyclone risks is significantly more complicated just ahead of this year's season beginning June 1. National Oceanic and Atmospheric Administration scientists are expected to factor that uncertainty heavily into a hurricane season forecast that will be released Thursday. Seasonal forecasting is always difficult, but it's even harder to predict which of the competing influences will win out in the months ahead. "There's not a lot of historic precedence for this," said Philip Klotzbach, lead hurricane researcher at Colorado State University. As the season plays out against the backdrop of global warming — which has driven a flurry of storms that intensify quickly into devastating hurricanes — meteorologists remind people that it only takes one extreme storm to turn even a quiet season catastrophic. Unusual ocean warmth raises storm risks Hurricane season is set to begin with an already established trend of ocean warming that has been building since early March. By the heart of hurricane season in late summer and early fall, waters around the Caribbean, Gulf of Mexico and Southeast U.S. coast are always bathwater-like. That warmth could be especially pronounced this year. "Those warm anomalies should, if anything, get stronger," Klotzbach said. That is bad news for hurricane risks. Warm water is a necessary ingredient for tropical cyclones, and the warmer the water, the greater the potential for extremely strong hurricanes. The warmth translates to increased moisture in the air and greater available energy for a storm to unleash. And the recent ocean warming is grabbing climate scientists' attention because of both its timing and its widespread appearance. It's normal for ocean temperatures to rise along the surface of parts of the central and eastern Pacific when El Niño develops — something scientists have been observing off the western coast of South America in recent months. Those changes in sea surface temperatures and in winds across the Pacific have domino effects around the world and can trigger weather extremes. But the ocean warming observed as of late has developed in areas besides those Pacific hot spots — including parts of the Atlantic key for hurricane development. The deep tropics between the Caribbean and West Africa are significantly warmer than normal, something that could encourage any atmospheric disturbances moving into the Atlantic from Africa to organize and strengthen into tropical cyclones, said Brian McNoldy, senior research associate at the University of Miami and hurricane expert for Capital Weather Gang. "When waves come off of Africa, if they get that kick right away, that might help them form a little quicker," McNoldy said. And though El Niño is known for accelerating planetary warming, the ocean trends are appearing well ahead of the climate pattern shift. Climate scientists don't expect El Niño to arrive in earnest until some time in the coming weeks or months. El Niño's influence adds uncertainty The ocean warmth notwithstanding, El Niño typically brings meteorologists a modicum of confidence in a quieter-than-average Atlantic hurricane season. It's part of the cascade of impacts El Niño can have on weather patterns around the world. El Niño is associated with towering clouds and a rising motion in the lower atmosphere over the central and eastern Pacific, something that changes atmospheric circulation patterns in a way that tends to send dry, sinking air over the central Atlantic. That means diminished activity in the tropical zones is key for cyclone formation and development. The circulation patterns associated with El Niño also tend to bring an increase in wind shear, or a contrast in wind speeds and direction at different altitudes, over the Atlantic. High wind shear makes it difficult for storm systems to organize into classic cyclones with defined eyes surrounded by intense winds. Those factors have prompted some early hurricane season forecasts to call for below-normal storm activity. An average Atlantic hurricane season has about 14 named storms, half of which strengthen into hurricanes, according to data from 1991 through 2020. About three hurricanes a year become "major" storms, with maximum sustained winds of at least 111 mph. Klotzbach's team at Colorado State's Tropical Meteorology Project in April cited a budding El Niño in predicting that this season's tallies would come short of those averages, with 13 named storms, 6 hurricanes and two major hurricanes. But the forecast also noted the outlook contained "more uncertainty than normal." The team will offer an updated forecast June 1. Some forecasters are eyeing chances for increased tropical activity given the unusually warm Atlantic waters. The Weather Company, which owns weather.com and Weather Underground, and weather data company Atmospheric G2 predicted a near-normal season, with average hurricane activity and 15 named storms. They said in a hurricane season forecast released last month that the ocean temperature trend "gives one pause when relying on the potential El Niño event to keep the season quiet." Risks of a damaging season persist That hesitation is especially true given caution from scientists over whether El Niño predictions will pan out. It is notoriously difficult to predict its development and trajectory when evaluating climate conditions during the Northern Hemisphere springtime. Even if El Niño forms as expected, weather forecasting models suggest wind shear may remain relatively limited even through the heart of hurricane season, Klotzbach said. And an active and damaging season could still develop if El Niño arrives later than expected, or in a weaker form, he added. Besides, meteorologists urge coastal residents to remain storm-ready even in quieter-than-average hurricane seasons. They stress that conditions can allow for devastating storms to make landfall despite larger climatic trends. That warning could be especially apt given the atmospheric battles meteorologists predict in the tropics between El Niño-fueled wind shear and a surge of ocean warmth. "There's just no way of knowing which of those is going to be more important in any given week," McNoldy said. Read more » click here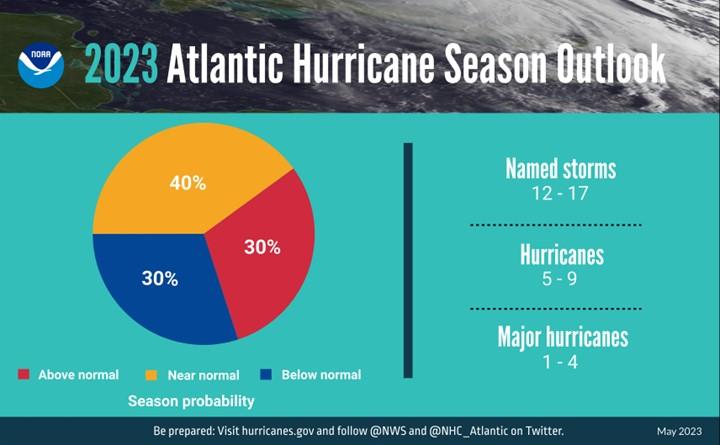 NOAA predicts a near-normal 2023 Atlantic hurricane season El Nino, above-average Atlantic Ocean temperatures set the stage NOAA forecasters with the Climate Prediction Center, a division of the National Weather Service, predict near-normal hurricane activity in the Atlantic this year. NOAA's outlook for the 2023 Atlantic hurricane season, which goes from June 1 to November 30, predicts a 40% chance of a near-normal season, a 30% chance of an above-normal season and a 30% chance of a below-normal season. NOAA is forecasting a range of 12 to 17 total named storms (winds of 39 mph or higher). Of those, 5 to 9 could become hurricanes (winds of 74 mph or higher), including 1 to 4 major hurricanes (category 3, 4 or 5; with winds of 111 mph or higher). NOAA has a 70% confidence in these ranges. The upcoming Atlantic hurricane season is expected to be less active than recent years, due to competing factors — some that suppress storm development and some that fuel it — driving this year's overall forecast for a near-normal season. After three hurricane seasons with La Nina present, NOAA scientists predict a high potential for El Nino to develop this summer, which can suppress Atlantic hurricane activity. El Nino's potential influence on storm development could be offset by favorable conditions local to the tropical Atlantic Basin. Those conditions include the potential for an above-normal west African monsoon, which produces African easterly waves and seeds some of the stronger and longer-lived Atlantic storms, and warmer-than-normal sea surface temperatures in the tropical Atlantic Ocean and Caribbean Sea which creates more energy to fuel storm development. These factors are part of the longer term variability in Atlantic atmospheric and oceanic conditions that are conducive to hurricane development — known as the high-activity era for Atlantic hurricanes — which have been producing more active Atlantic hurricane seasons since 1995. "With a changing climate, the data and expertise NOAA provides to emergency managers and partners to support decision-making before, during and after a hurricane has never been more crucial," said NOAA Administrator Rick Spinrad, Ph.D. "To that end, this year we are operationalizing a new hurricane forecast model and extending the tropical cyclone outlook graphic from five to seven days, which will provide emergency managers and communities with more time to prepare for storms." This summer, NOAA will implement a series of upgrades and improvements. NOAA will expand the capacity of its operational supercomputing system by 20%. This increase in computing capability will enable NOAA to improve and run more complex forecast models, including significant model upgrades this hurricane season:
In late June, the Hurricane Analysis and Forecast System (HAFS) will become operational. HAFS will run this season in tandem with the currently operational Hurricane Weather Research and Forecast Model System and Hurricanes in a Multi-scale Ocean-coupled Non-hydrostatic model, but eventually will become NOAA's primary hurricane model. Retrospective analysis of tropical storms and hurricanes from the 2020-2022 seasons show that this model has a 10-15% improvement in track forecasts over existing operational models. This new model was jointly created by NOAA's Atlantic Oceanographic & Meteorological Laboratory Hurricane Modeling and Prediction Program and NOAA's National Weather Service Environmental Modeling Center.
The Probabilistic Storm Surge model upgrade on May 2, advances storm surge forecasting for the contiguous U.S. and new forecasts for surge, tide and waves for Puerto Rico and the U.S. Virgin Islands. Forecasters now have the ability to run the model for two storms simultaneously. This model provides forecasters with the likelihood, or probability, of various flooding scenarios including a near worst-case scenario to help communities prepare for all potential outcomes.
Additional upgrades or new tools for hurricane analysis and forecasting include:
The National Hurricane Center's Tropical Weather Outlook graphic, which shows tropical cyclone formation potential, has expanded the forecast range from five to seven days.
Over the last 10 years, flooding from tropical storm rainfall was the single deadliest hazard. To give communities more time to prepare, the Weather Prediction Center is extending the Excessive Rainfall Outlook an additional two days, now providing forecasts up to five days in advance. The outlook shows general areas at risk for flash flooding due to excessive rainfall.
The National Weather Service will unveil a new generation of forecast flood inundation mapping for portions of Texas and portions of the Mid-Atlantic and Northeast in September 2023. These forecast maps will extend to the rest of the U.S. by 2026. Forecast flood inundation maps will show the extent of flooding at the street level.
NOAA will continue improving new and current observing systems critical in understanding and forecasting hurricanes. Two projects underway this season include:
"As we saw with Hurricane Ian, it only takes one hurricane to cause widespread devastation and upend lives. So regardless of the number of storms predicted this season, it is critical that everyone understand their risk and heed the warnings of state and local officials. Whether you live on the coast or further inland, hurricanes can cause serious impacts to everybody in their path," said FEMA Administrator Deanne Criswell. "Visit ready.gov or listo.gov for readiness resources and get real time emergency alerts by downloading the FEMA App. Actions taken today can save your life when disaster strikes. The time to prepare is now." NOAA's outlook is for overall seasonal activity and is not a landfall forecast. In addition to the Atlantic seasonal outlook, NOAA also issues seasonal hurricane outlooks for the eastern Pacific and central Pacific hurricane basins. NOAA's Climate Prediction Center will update the 2023 Atlantic seasonal outlook in early August, just prior to the historical peak of the season. Read more » click here