Lou's Views
News & Views / April Edition

---
Calendar of Events –

---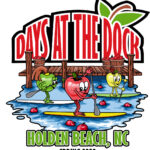 Days at the Docks Festival
April 23rd & 24th
Holden Beach
.
The annual festival occurs in April or May and is sponsored by the Greater Holden Beach Merchants Association. It's the Holden Beach way to kick-off the Spring and start the vacation season. In addition to the food and arts & crafts, enjoy live music & entertainment, a horseshoe tournament and the world famous "Bopple Race". Lots of activities for the entire family!
For more information » click here
---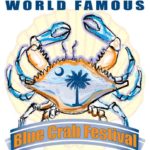 Blue Crab Festival
May 14th & 15th
Little River SC
Little River has been celebrating the World Famous Blue Crab Festival since 1981. It is held on the waterfront in Little River and is one of the largest festivals in the Southeast. The purpose of this festival is one that supports and showcases the fabulous atmosphere of the local communities.
For more information » click here
---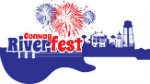 Riverfest Celebration
June 25th
Conway SC

Held along the Waccamaw River in downtown Conway the festival celebrates Independence Day with music and events for the entire family.
For more information » click here 
---
Events


Discover a wide range of things to do in the Brunswick Islands for an experience that goes beyond the beach.
For more information » click here
---
Calendar of Events Island –
---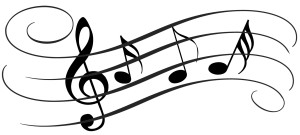 Concerts on the Coast Series
The Town's summer concert series calendar has been released! Live performances featuring local musical groups are held at the pavilion on Sunday evenings from late May to early September.The concerts are free of charge.
For more information » click here
---
Parks & Recreation / Programs & Events
For more information » click here
---
Reminders –
---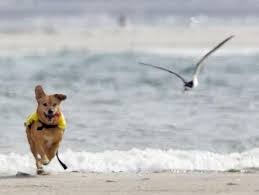 Pets on the Beach Strand
Pets – Chapter 90 / Animals / 90.20
From May 20th through September 10th it is unlawful to have any pet on the beach strand during the hours of 9:00am through 5:00pm.
---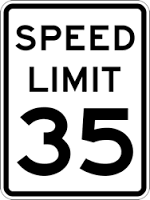 Speed Limit
Please take notice – Speed limit seasonal limitations, in accordance with Town Ordinances. Speed limit will change on OBW from 45mph to 35mph west of the general store. This change will take place on April 1st and be in effect through September 30th
---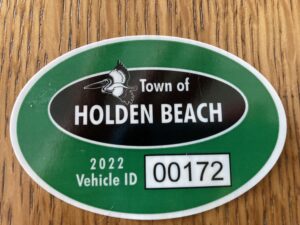 Hurricane Vehicle Decals
Property owners will be provided with four (4) decals which will be included in their water bills. It is important that you place your decals in your vehicle or in a safe place. A $10 fee will be assessed to anyone who needs to obtain either additional or replacement decals. Decals will not be issued in the 24-hour period before an anticipated order of evacuation.
The decals are your passes to get back onto the island to check your property in the event that an emergency would necessitate restricting access to the island. Decals must be displayed in the driver side lower left-hand corner of the windshield, where they are not obstructed by any other items. Officials must be able to clearly read the decal from outside the vehicle.
Property owners without a valid decal will not be allowed on the island during restricted access. No other method of identification is accepted in an emergency situation. Click here to visit the Town website to find out more information regarding decals and emergency situations.
---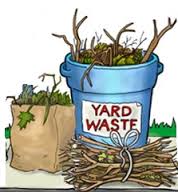 Yard Waste Service
Yard debris pick-up will be provided twice a month on the second and fourth Fridays during the months of April, and May. Please have yard waste placed at the street for pick-up on Thursday night. The first pickup of the season was on March 11th. No pick-ups will be made on vacant lots or construction sites.
Debris must be placed in a biodegradable bag or bundled in a length not to exceed five (5) feet and fifty (50) pounds. Each residence is allowed a total of ten (10) items, which can include a combination of bundles of brush and limbs meeting the required length and weight and/ or biodegradable bags with grass clippings, leaves, etc.
---
---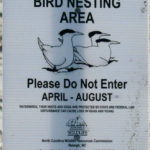 Bird Nesting Area
NC Wildlife Commission has posted signs that say – Bird Nesting Area / Please don't disturb. The signs are posted on the west end beach strand around 1307 OBW.

People and dogs are supposed to stay out of the area from April through November
. 1) It's a Plover nesting area
. 2) Allows migrating birds a place to land and rest without being disturbed

---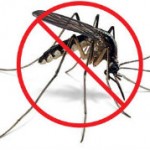 Mosquito Control
Current EPA protocol is that spraying is complaint driven
The Town is unable to just spray as they had in the past
. 1) Complaint based
. 2) Citizen request
. 3) Proactively monitor hot spots
They recommend that you get rid of any standing water on your property that you can
Urged everyone to call Town Hall if they have mosquito issues so that they can spray
Spraying is complaint based, so keep the calls coming!

---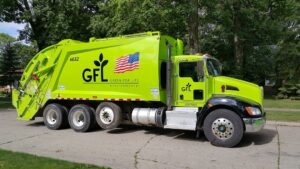 Solid Waste Pick-Up Schedule
GFL Environmental change in service, trash pickup will be once a week. Trash collection goes back to Tuesdays only.
Please note:
. • Trash carts must be at the street by 6:00 a.m. on the pickup day
. • BAG the trash before putting it in the cart
. • Carts will be rolled back to the front of the house

---
Solid Waste Pick-up Schedule –
starting Saturday before Memorial Day twice a week
Recycling –
after Memorial Day weekly
---
Curbside Recycling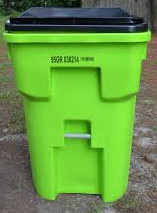 GFL Environmental is now offering curbside recycling for Town properties that desire to participate in the service. The service cost is $86.37 annually paid in advance to the Town of Holden Beach and consists of a ninety-six (96) gallon cart that is emptied every other week.
Curbside Recycling Application » click here
Curbside Recycling Calendar » click here
Recycling renewal form was sent, you should have gotten e-mail letter already
---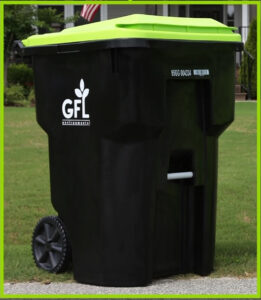 Trash Can Requirements – Rental Properties
GFL Environmental – trash can requirements
Ordinance 07-13, Section 50.08
Rental properties have specific number of trash cans based on number of bedrooms.

* One extra trash can per every 2 bedrooms.
.
§ 50.08 RENTAL HOMES.
(A) Rental homes, as defined in Chapter 157, that are rented as part of the summer rental season, are subject to high numbers of guests, resulting in abnormally large volumes of trash. This type of occupancy use presents a significantly higher impact than homes not used for summer rentals. In interest of public health and sanitation and environmental concerns, all rental home shall have a minimum of one trash can per two bedrooms. Homes with an odd number of bedrooms shall round up (for examples one to two bedrooms – one trash can; three to four bedrooms – two trash cans; five – six bedrooms – three trash cans, and the like).
---
Building Numbers
Ocean front homes are required to have house numbers visible from the beach strand.
Please call Planning and Inspections Department at 910.842.6080 with any questions.
§157.087 BUILDING NUMBERS.
(A) The correct street number shall be clearly visible from the street on all buildings. Numbers shall be block letters, not script, and of a color clearly in contrast with that of the building and shall be a minimum of six inches in height.
(B) Beach front buildings will also have clearly visible house numbers from the strand side meeting the above criteria on size, contrast, etc. Placement shall be on vertical column supporting deck(s) or deck roof on the primary structure. For buildings with a setback of over 300 feet from the first dune line, a vertical post shall be erected aside the walkway with house numbers affixed. In all cases the numbers must be clearly visible from the strand. Other placements may be acceptable with approval of the Building Inspector.
---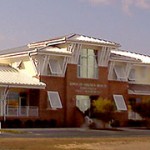 BOC's Meeting
The Board of Commissioners' next Regular Meeting is scheduled on the third Tuesday of the month, May 17th
.

---

News from Town of Holden Beach –
The town sends out emails of events, news, agendas, notifications and emergency information. If you would like to be added to their mailing list, please go to their web site to complete your subscription to the Holden Beach E-Newsletter.
For more information » click here
---
Volunteers needed
The Town is always looking for people to volunteer for their various boards and committees. If you are interested in serving, please fill out a resume form and submit it to heather@hbtownhall.com.
---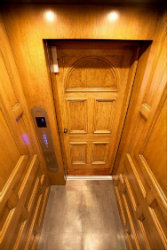 Elevators
Most states mandate that elevator systems be tested and inspected annually. Currently the state of North Carolina does not require annual inspections to be performed on all elevator systems. The use of unsafe and defective lifting devices imposes a substantial probability of serious and preventable injury to your family and guests. It is in the owner's best interest to minimize injuries and liability by scheduling an annual safety inspection to ensure the safe operation of their elevator system.
---
Waupaca Elevator Recalls to Inspect Elevators Due to Injury Hazard
Hazard:
The elevator cab can fall unexpectedly to the bottom of the elevator shaft and abruptly stop, posing an injury hazard to consumers in the elevator cab.
Consumer Contact:
Waupaca Elevator toll-free at 833-850-7981 from 8 a.m. to 4:30 p.m. CT Monday through Friday, e-mail at info@WaupacaElevator.com or online at www.WaupacaElevator.com and click on Recall Information for more information.
---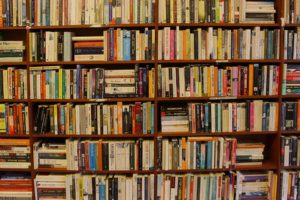 Library
If you need something to keep you busy in this colder weather, make sure to visit the island library. The library is in the upstairs of Holden Beach Town Hall. All the books were donated. Patrons of the library don't have to check out a book; they are on the honor system to return it.
---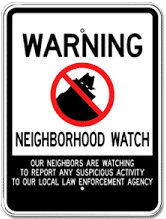 Neighborhood Watch –
• Need to look out for each other
• Call 911 if you see or hear anything suspicious
• Fill out Keep Check Request Form if you will be out of town
• Submit completed Property Registration Form
• Pickup copy of Protecting Your Home
---
Upon Further Review –
---
Bike Lane
Property owners along Ocean Boulevard were sent a CAMA notice from the DOT


.


Key takeaways:
Add 7' asphalt to the south side of existing pavement
Add 3' asphalt to the north side of existing pavement
Recenter the travel lanes
Create two (2) five (5) foot bike lanes on either side of the road
DOT informed us the cost of the has significantly increased by almost 30%
The good news is that our portion is only an additional $23,000 so far
Bike Lane Letters (04/21/22)
Town staff contacted the Department of Transportation after numerous homeowners reached out to us concerned that they had not received a letter with information on the upcoming bike lane/paving project. We were advised that only those property owners whose property is adjacent to the proposed bike lane construction where that construction intersects the Ocean Erodible Area of Environmental Concern (jurisdiction of NC Division of Coastal Management) have been sent the certified letter/attachments. This is only a small portion of the project area (approximately 150 properties) so don't be concerned if you did not receive a letter. Those property owners that have received the certified letter/attachments can follow the instructions in the letter if they would like to contact someone about the project.
Previously reported – March 2021
David provided the Board with a memo summarizing the information that he gathered since the last meeting. That memo was not included in the agenda packet. He reviewed the process, timeline, and financing. DOT informed him that if we are interested that we need to stay engaged with them. The public has said that they are in favor of having bike lanes. The project is an improvement worth the expenditure especially if we can get help with the funding through grants. They decided to give the project a green light and have David work to keep moving the project forward.
Previously reported – February 2021
Engineer's estimate for bike lanes are as follows:
Ocean Boulevard West / 5.00 miles / @$1,208,941
Ocean Boulevard East / 1.15 miles / @$403,972
NCDOT now has adequately funding so the resurfacing program for OBW which is scheduled for the spring of 2022. Bike lanes are being proposed on both sides of the road, which will add five feet on each side. This should be coordinated with resurfacing project that is tentatively scheduled already. Our cost would be $1,612,913 which hopefully at least a portion of would be offset by grants. DOT requested verbal feedback in the next 60 days, indicating whether we want to participate in adding bike lanes to the project.

---
Corrections & Amplifications –

---
Ocean Isle Beach terminal groin
Leaders in Ocean Isle Beach have been working for years to preserve the coastline and stave of beach erosion at the end of the island. They have the necessary federal and state permits to build a 1,050-foot terminal groin, 300 feet of which will be a sheet-pile, shore-anchorage section. After nearly twenty (20) years of legislative work and lawsuits, contractors have begun building a terminal groin. A terminal groin is a wall-like structure built perpendicular to shore, that traps some of the sand to better secure the beachfront. The entire project is expected to cost more than eleven (11) million dollars, which the town is paying for with accommodations tax money.
Terminal Groin Project Updates
Stay up-to-date with the latest progress of the long-awaited Terminal Groin Project at Ocean Isle Beach!
We aim to update this page on a weekly basis with photos and status reports.

Terminal Groin Marine Mattress and Stone Placement Progress Map (Click HERE)
Construction Phases:
• PHASE 1 – Construction of the lower portion of the terminal groin, working from the landward point of the stone structure out into the water and up to elevation +2 ft NAVD88 (basically Mean High Water). During this phase, all of the marine mattress foundation will be installed as well as all of the stone for the lower portion of the structure. As the construction progresses, CDC (Coastal Design and Construction) will place large rubber mats on top of the stone so that the excavator can work from on top of the structure.
• PHASE 2 – Once Phase 1 is complete, CDC will begin placing the top layer of stone at the seaward end of the structure and working back towards shore.
• PHASE 3 – Prior to completing Phase 2, CDC's subcontractor (McLean) will begin the installation of the sheet pile wall and concrete cap, working from North to South.
PROJECT STATUS REPORTS – February 23, 2022
The Marine Mattress installation of the Terminal Groin (Phase 1) was completed on February 14, 2022, two weeks ahead of project schedule. This included the installation of 516 Marine Mattresses for a total of 57,325 square feet. These marine mattresses complete the 750-foot length of the terminal groin rubble mound section. The placement of armor stone on the top of these mattresses will now begin. The contractor has advised that the subcontractor plans to mobilize to the site on February 28, 2022, to begin the sheet pile installation operations (Phase 2) of the project.
PROJECT STATUS REPORTS – March 8, 2022
The Town has made a request to the USACE for additional sand in the amount of 5,000 cy to be stockpiled at Shallotte Blvd for the purpose of filling in areas around the dune crossovers and to cover sandbags. The Town plans to install sand fencing and vegetation following the completion of the USACE CSRM project primarily along the sand bagged portion of the  shoreline.
For more information » click here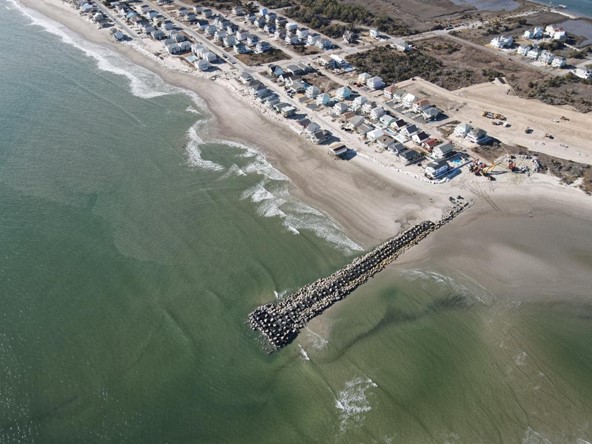 ---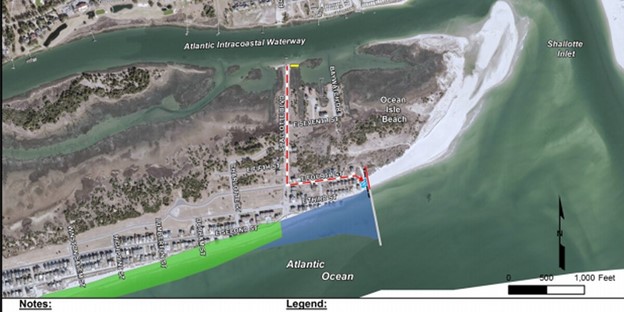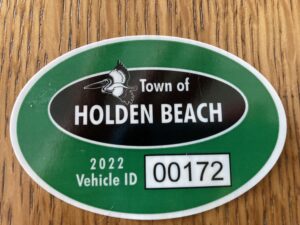 Hurricane Vehicle Decals
Property owners will be provided with four (4) decals which will be included in their water bills. It is important that you place your decals on your vehicles immediately to avoid misplacing them. Decals will not be issued in the 24-hour period before an anticipated order of evacuation.
The decals are your passes to get back onto the island to check your property in the event an emergency would necessitate restricting access to the island. Decals must be displayed in the lower left-hand corner of the windshield, where they are not obstructed by any other items. Officials must be able to clearly read the decal from outside the vehicle. Please note that re-entry will NOT be allowed if a current, intact decal is not affixed to the windshield as designated.
EVACUATION, CURFEW & DECALS
What is a State of Emergency?
A proclamation by the Town which enacts special ordinances and/or prohibitions during emergency situations to protect the public, public health and property. These prohibitions can include limitations on movement, curfews, directing of evacuations, controlling ingress and egress to the emergency area, alcoholic beverages, and more. State of Emergencies are issued in accordance with N.C.G.S. 166A-19.22.
What is a curfew?
A curfew is an order, typically during a State of Emergency, which requires all persons in the affected areas to remain on their own property. During a curfew, you are not free to move about public domain areas or on others' property. Violations of a curfew could lead to arrest in certain situations.
What is a voluntary evacuation?
A voluntary evacuation creates a recommendation for all parties in the affected area to get their affairs in order hastily and evacuated.
What is a mandatory evacuation?
A mandatory evacuation means you must leave the area in which an order has been issued. With recent changes to the laws in North Carolina, you no longer have the option of staying in an area under an order of mandatory evacuation.
Why is the sewer system turned off during a storm/event?
Often the sewer system is turned off during storms which have the potential to create significant flooding on the island. The system is turned off to protect its integrity. If it were left on, it could pose a significant threat to the public health. When the system is manually shut down, it also greatly reduces the time needed to bring it back up after an event which equates to getting residents and guests back on the Island much faster.
Why is there a delay for decal holders to get back on the island once a storm ends?
After a storm, many things must occur before even limited access can be allowed. Some of those things include making sure the streets are passable; the sewer system must be restarted to comply with State laws; the utilities (water, sewer, electricity, propane supplies) must be checked to ensure no safety risk are present; and the post-storm damage assessment team needs to perform an initial assessment.
Where can I get up-to-date information during and after a storm or State of Emergency?
You can sign up for the Town email service by clicking here. The newsletter, along with the Town's website will be the main sources of information during an emergency situation. Links to the Town's official Facebook and Twitter pages can be found on the website. You can also download our app for Apple and Android phones by accessing the app store on your smart phone and searching Holden Beach.
Please refrain from calling Town Hall and Police Department phone lines with general information questions. These lines need to remain open for emergencies, storm management and post-storm mitigation. All updates concerning re-entry, general access, etc. may be found on the Town's website and other media outlets.
Why do I see others moving about the island during a curfew?
If a curfew order is in place, you must stay on your own property. You may see many other vehicles moving about the Island. We often receive assistance from other local, state, federal and contract personnel during events. It is likely these are the personnel you are seeing, and they are involved in the mitigation process for the event. Please do not assume that a curfew order has been lifted and/or you are free to move about the island.
Can I check my friends' property for them?
If a curfew order is in place, you may ONLY travel to your personally owned property. Traveling about the Island to check on others' property is not allowed. is in place, you may ONLY travel to your personally owned property. Traveling about
Who can obtain decals?
Only property owners and businesses who service the island can obtain a decal.
How do I get decals for my vehicle…?
If I am an owner?
Decals will be mailed out in water bills to property owners before the season starts. Those owners who need additional decals can contact Town Hall. A fee may apply, please check the current fee schedule.
If I am a renter?
You must contact the owner of the property to obtain a decal.
If I am a business owner on the Island?
You must contact Town Hall to obtain a decal.
If I am a business owner off the Island that provides services on the Island?
You must contact Town Hall for eligibility and to obtain a decal.
When does my decal expire?
All decals expire on the last day of the calendar year as indicated on the decal.
Where do I put my decal on my car?
Decals must be displayed in the lower left-hand corner of the windshield, where they are not obstructed by any other items to include window tinting, other decals, etc. Officials must be able to clearly read the decal from outside the vehicle. Please note that re-entry will not be allowed if a current, intact decal is not affixed to the windshield as designated.
How do I replace a decal if I get a new vehicle?
If you trade a vehicle or otherwise need a replacement decal, you may obtain them from Town Hall during normal business hours. A fee may apply, check the current fee schedule.
Can I obtain a decal right before an emergency occurs?
While most of the storms we deal with are tropical in nature with some type of advanced warning, we do experience many other types of events that could create a State of Emergency without warning. All eligible parties should obtain decals as early as possible each year to avoid being denied access to the Island. Decals shall not be issued during the 24-hour period prior to an anticipated order of evacuation so staff can concentrate on properly preparing the Town for the storm/event.
Can I use a tax bill or another document for re-entry?
No. You MUST have a decal to re-enter the Island until it is open to the general public.
How does re-entry after a storm during a State of Emergency work?
The bridge is closed to all vehicle access, except for official vehicles. Once those with proper decals are allowed access, they must conform with the current rules in place by the specific State of Emergency Order. After all hazards have been rendered safe, the bridge will be opened to the general public. A curfew could remain in effect however, to ensure the safety and security of the Island and its residents and guests. Please understand this process typically takes days to evolve and could be significantly longer, depending on the amount of damage sustained. Please refrain from calling for times for re-entry, as those are often not set on schedule. Instead, stay tunes to local media outlets and official social media accounts for accurate updates.
How can I check on my property if access is limited to the Island?
Once it is safe, property owners with valid decals will be allowed back on the Island after a storm/event. At this point, you can travel to your property, in accordance with the rules of the specific State of Emergency Order currently in place.
If you live out of the area, please do not travel to the Island until you are certain you will be allowed access. Stay tuned to those media outlets and email services that are of official nature for this information. Also, be certain you have your current, valid decal properly affixed to your vehicle.
It is a good idea to be sure your contact information is current with the Town tax office as this is the location Town officials will use in the event you need to be contacted.
For more information » click here
NC General Statute 166A-19.22
Power of municipalities and counties to enact ordinances to deal with states of emergency.
Synopsis – The governing body may impose by declaration or enacted ordinance, prohibitions, and restrictions during a state of emergency. This includes the prohibition and restriction of movements of people in public places, including imposing a curfew; directing or compelling the voluntary or mandatory evacuation of all or part of the population, controlling ingress and egress of an emergency area, and providing for the closure of streets, roads, highways, bridges, public vehicular areas. All prohibitions and restrictions imposed by declaration or ordinance shall take effect immediately upon publication of the declaration unless the declaration sets a later time. The prohibitions and restrictions shall expire when they are terminated by the official or entity that imposed them, or when the state of emergency terminates.
Violation – Any person who violates any provisions of an ordinance or a declaration enacted or declared pursuant to this section shall be guilty of a Class 2 misdemeanor.
---
Turtle Watch Program –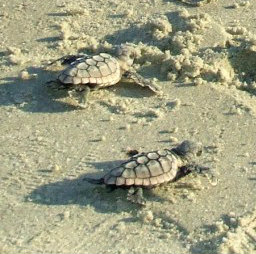 Turtle Watch Program – 2022
The first nest of the 2021season was on May 8th
Average annual number of nests is 39.5
Members of the patrol started riding the beach every morning on May 1 and will do so through October looking for signs of turtle nests.
For more information » click here
---
Holden Beach Turtle Watch meeting launches season
Members of the Holden Beach Turtle Watch Program (HBTWP) held their annual meeting recently at the Holden Beach Chapel. This meeting marked the official beginning of the turtle season for 2022. Members will begin patrolling Holden Beach early mornings in May in search of mother turtle crawls. Last year, the first mother visited Holden Beach on May 8. During the 2021 season, there were 68 turtle nests on Holden Beach with 8,191 known turtle eggs and 6,200 hatchlings went into the ocean. Special guest at this meeting was Jasmine Pier re from Fayetteville. She is this year's recipient of The Judith C. Bryan, Holden Beach Turtle Watch Fellowship in Marine Biology. Pierre has a Bachelor of Science in marine biology and oceanography and is currently working on a master's degree at UNCW. Her master's thesis topic is on diamondback terrapins. This $5,000 fellowship at UNCW was created by the Holden Beach Turtle Watch Program to honor Judith Bryan, the founder of the HBTWP and is intended to assist graduate students in marine biology. Bryan, currently an honorary member of the HBTWP, lives on Holden Beach. Seven new members were welcomed at this meeting. These members completed extensive training last summer with the Turtle Patrol. They are Sharon Binis, John Cain, Kim Crooks, Terre Huffstetler, Bonita McNeil, Sharon Price, and Barb Taylor. Nineteen new trainees will begin this summer. John Cifelli was  reelected president of the board and Nikki Hutchison was re-elected secretary. Other board members include Lois Palermo, member-at-large; MaryK McGinley, treasurer; and Pat Cusack, project coordinator. The HBTWP or Turtle Patrol as it is usually referred to, was founded in 1989 to monitor and protect the sea turtle population on Holden Beach. This all volunteer, nonprofit conservation organization operates under the authority of the NC Wildlife Resources Commission (ES Permit 21ST11).
For more information on the HBTWP, go to http://www.hbturtlewatch.org/
Beacon
Holden Beach Turtle Watch makes a splash with new shirts
The Holden Beach Turtle Watch Program, also known as the "Turtle Patrol," has hatched and released its new 2022 shirts now available for sale. This year's shirt celebrates first recorded Kemp's Ridley nest on Holden Beach. This special nest was laid on May 8, 2021. Not only was this the first Kemp's Ridley nest on Holden Beach, but it was also the first nest to be laid in North Carolina last season. Kemp's Ridley is the smallest of the five kinds of sea turtles that lay nests in North Carolina. This species, which usually nests further north in the Outer Banks, is the most threatened species of sea turtles that nest in North Carolina. The nest hatched on July 14, 2021, with 87 hatchlings. The art on the shir t reproduces a photo taken by turtle patrol member Corki Jar vis as these Kemp's Ridley hatchlings scampered into the ocean. The shirt is 90% cotton and 10% polyester and gray in color. The design is on the back and the HBTWP logo on the front. Shirts are currently available for sale at the Lighthouse Gift Shop on the causeway in Holden Beach. Shirts are also available to purchase by mail through the HBTWP website at http://www.hbturtlewatch.org/. The 2022 turtle season will begin on Holden Beach on May 1 when members will begin patrolling the island each morning looking for signs of a mother turtle. Turtle season runs through October. The HBTWP will be conducting educational programs starting June 29. Children's Turtle Time will be at 4 p.m. each Wednesday through Aug. 3. This program is designed for children 3 to 6 years old. Children must be accompanied by an adult. Turtle Talk will also begin on June 29 at 7 p.m. and will take place each Wednesday through Aug. 17. Turtle Talk is appropriate for all ages. This program focuses on the life cycle of the sea turtle and how the HBTWP aides in the preservation of sea turtles. Several turtle artifacts will be on display for viewing and informational handouts will be available. Both programs are free of charge and will take place at Holden Beach Chapel. The 2002 HBTWP shirt will be on sale at both events. The annual shirt sale is the major fundraising activity for the turtle patrol. Each year, there is a different shirt.
Beacon
---
Odds & Ends –
---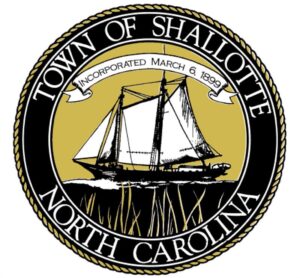 A dozen planned developments could double the population of commercially focused Shallotte
In a growing trend of increased residential development in the town of Shallotte, a 12-building, 366-unit apartment complex will soon be coming to the banks of the Shallotte River. The 112-acre development, The Tides at Shallotte, will be built in two phases on Smith Avenue and Edgewater Drive, just south of the Coastal Walk Marketplace and Shallotte Crossing commercial centers. The area, just off the town's main street, is dotted with chain restaurants and big box outlets anchored by national retailers like Walmart, Home Depot, and Marshalls. The first phase, expected to take three years to complete, will build out the first nine buildings with 294 units, a community clubhouse, and open space recreation like grilling gazebos and fire pits. The second phase will include the final three buildings with 102 units, and a publicly accessible,10-foot-wide multi-use path on the development's western end, which could be connected to the Shallotte Riverwalk park project. The second phase is expected to take an additional year to complete. Originally zoned for Highway Business, the property was partially rezoned and granted a special use permit to allow multifamily housing last year. Part of the west end of the property is zoned for conservation and won't be developed. While Shallotte has typically been a centrally located commercial hub, particularly for beach towns, planning director Robert Waring said the town has seen some major residential developments interest in recent years. The town has 12 residential projects approved or nearing approval that will add 2,200 housing units to Shallotte, doubling its housing stock and population over the next few years. Another 10 projects in the early planning stages could bring 1,300 more units. "At minimum, we're essentially about to double the size of Shallotte," Mayor Walt Eccard said. "It may be even two-and-a-half or three times that, depending on how many people per unit come in."  Eccard said while all of Brunswick County is growing rapidly, the town has particularly benefited from its central location, developed business community, proximity to beaches, and abundance of available land. He said the pandemic has pushed people away from larger cities as well, making a rural town at the crossroads of two metropolitan areas an attractive location. The town was recently named one of the 50 best places to work from home thanks to its location, internet availability and housing affordability. The growth will bring an additional need for emergency responders, town staff, and infrastructure improvements, Eccard said. "In terms of other services, we've just completed our Riverwalk, and we're expanding Mulberry Park, so we're well on the way to adding recreational facilities and keeping up with these new residents," he said. Town officials will discuss how to deal with the potential doubling of the Shallotte at their April annual retreat. One of the biggest challenges will be how to prepare for the anticipated growth before the tax base to support infrastructure improvements and staffing increases has moved in. "It's a huge change and we're delighted with it," Eccard said. "But we've got to be careful in our community and prepare now because if we don't provide good services for the people who come in, that's going to kill growth."
Read more » click here
---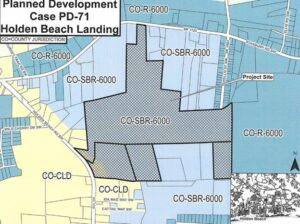 Brunswick County approves Holden Beach mixed-use development owned by Ocean Isle Beach mayor
The Brunswick County Planning Board approved a 109-acre mixed-use planned development that will bring nearly 200 homes to mainland Holden Beach. The development, Holden Beach Landing, is owned by an LLC managed by Ocean Isle Beach Mayor Debbie Sloan Smith. Holden Beach Landing will add 186 single-family housing units to the area off Holden Beach Road and Stanbury Road, across from the Holden Beach Driving Range. According to Brunswick County Senior Planner Marc Pages, the planning board and nearby residents had concerns about the development's stormwater system, a common complaint about planned developments in the county. The approval came with the conditions that the stormwater system will be upgraded to accommodate a 25-year storm event instead of the 10-year storm event requirement. Pages said county staff is in the process of making a 25-year storm event attenuation the new minimum standard, with a 25-year-plus designation for developments in areas prone to flooding. The developer will also reroute the pre-existing ditches and streams on the property — Stanbury Run and Bell Branch — in accordance with regulations. The development includes about 3.3 acres of commercial-zoned space on Holden Beach Road. There are no proposals for what will be done with that area, according to the planning documents. Due to residents' concerns about increased traffic on Holden Beach Road, a traffic impact analysis will be conducted when school is in session. The analysis will take into account a proposed temporary campground adjacent to the development and could lead to adding a turn lane on Holden Beach Road if the N.C. Department of Transportation deems it necessary. According to planning documents, the development is expected to add 1,780 vehicle trips to the area per 24-hour weekday volume.
Read more » click here
---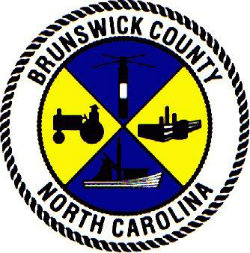 Over 3,000 acres could be rezoned to higher density by Brunswick planning board
The Brunswick County planning board will consider rezoning more than 3,100 acres near Carolina Shores from rural low density residential to medium density residential, potentially paving the way for a planned development. The mostly vacant, forested land just north of Carolina Shores spans roughly from Ash-Little River Road NW east to Gwynn Road NW, and from No. 5 School Road NW north to just south of Etheridge Road NW. The rezoning was originally scheduled for last month but was pulled by the applicant. The newest iteration added 17 acres, bringing the total to 3,124 across 13 parcels. If rezoned, it would allow the developer to build up to 5.8 units per acre rather than the 2.9 units per acre allowed in its current zoning. According to county property records, the land is mostly owned by S Longwood LLC. The owners could not be reached for comment. The meeting is scheduled for 6 p.m. April 11 in the David R. Sandifer Administration Building located at 30 Government Center Drive in Bolivia. If approved, the land could house the largest planned development by acreage in the county, eclipsing the 2,000-acre Compass Pointe development, which brought in nearly 6,000 housing units, and the 1,200-acre Rice Creek development, which is expected to add 3,400 housing units. According to Chad Hicks, Carolina Shores town administrator, despite more developments being proposed in the area in recent years, the town hasn't seen any issues from them so far. "I have heard residents and even the council raise concerns about the traffic on Thomasboro Road, there's a lot of development over there, but the issue is more the actual speed limit," he said. "We hear more about traffic than anything, that's safe to say."  In the past residents have been concerned about stormwater issues within the town, Hicks said, but those have been "mostly straightened out." Hicks said he doesn't expect the new homes to be a problem so long as the density within the planned developments isn't too high. However, some of the largest projects in the area have yet to begin construction. Just last year the county approved the Stone Farm planned development, which will add 1,736 single family lots, 363 townhomes and 45 acres of commercial space just east of Carolina Shores. Located off Thomasboro and Old Georgetown roads, the 1009-acre planned development is less than two miles south of the proposed rezoning site. Another three developments approved in the vicinity last year will bring nearly 500 more homes to western Brunswick County. Together the developments are expected to add more than 3,500 more vehicles trips per 24-hour weekday volume to the area.
Read more » click here
---
This and That –
---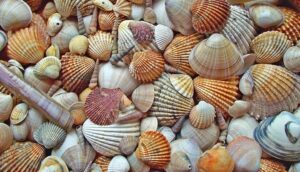 .
How to Collect Seashells
"It helps to have a search image in your mind," says José H. Leal, the science director and curator at the Bailey-Matthews National Shell Museum in Florida. Research ahead of time what kind of mollusks you might encounter so that your eyes are primed to pick out specific shapes and colors. Leal has collected seashells since he was a boy in Rio de Janeiro. On his first trip to New York, in his 20s, he was so shell-focused that he dove to the sidewalk before realizing that what he thought were small, unusual clams were actually pistachio shells. "You get fixated," he says. Consult a tide chart; go out within an hour of low tide when the beach is most exposed. Storms tend to wash more shells ashore in the winter months. In popular shelling destinations such as Sanibel Island, near where Leal lives, collectors often search at night to avoid competition. (If turtles are nesting in the area, avoid using flashlights, which disrupt brooding females and disorient their hatchlings.) If shells are abundant, pick a spot and settle in. Rather than hoard shells, take only the most beautiful specimens of each variety. Make sure the shell is uninhabited. With the spiral-shaped gastropods, you should be able to see the creature. "A shell is usually much heavier when there's an animal inside," Leal says. Know the relevant regulations; many places curtail or outright ban the collection of shells, and the United States has various import restrictions, including a prohibition on queen conch shells from the Caribbean. The urge to beachcomb is natural, however. Humans have been using mollusk exoskeletons as art, adornment, currency, and tools since before we were even human beings. (Scientists recently discovered distinct hash marks on a freshwater mussel shell they believe were engraved by our extinct ancestor Homo erectus.) Still, Leal is worried about the future of marine mollusks, given how vulnerable they are to pollution and ocean acidification. Maybe your urge to collect these unoccupied calcium-carbonate dwellings can serve as a sort of gateway drug. "Once you get a love for shells," Leal says, "I hope you learn to care about the animals that make them."
Read more » click here
---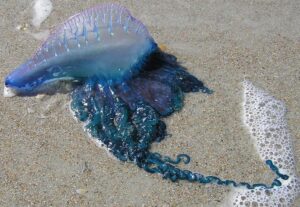 Jellyfish
Jellyfish and Portuguese Man of War have been spotted along the surrounding area beaches already this season and the little floating creatures can pack a punch. Often times beachgoers will spot them washed up on shore and other times they can be spotted in the water, but it is best to avoid them when you can. "While all jellyfish sting, not all contain poison that hurts humans. Be careful of jellies that wash up on shore, as some can still sting if tentacles are wet. NOAA recommends that if you are stung by a jellyfish to first seek a lifeguard to give first aid. If no lifeguards are present, wash the wound with vinegar or rubbing alcohol," NOAA suggests. And what about that … other method of treating stings? Turns out, it's a myth. In fact, urine can actually aggravate the stinging cells of jellyfish, making things worse. These cells, which detach and stick into the skin of prey, can continue to inject venom. Urine, as well as fresh water, can cause an imbalance to the salt solution surrounding the stinging cells, causing them to continue to fire. According to Scientific American, if you don't have vinegar or rubbing alcohol, rinsing with saltwater may be your best bet.
At the beach? Don't pop the 'balloons!'
We've definitely had some windy weather in the past few days. And on the coast, those winds bring with it an interesting sighting! The Cape Lookout National Seashore Park posted on Facebook about some very temptingly poppable-looking things that have been washing up on their beaches. These little "balloons" are gas-filled floats that keep the Man-o-War jellyfish afloat as they drift through the ocean. The winds can pick these floats up and they can wind up on the beach, but the folks at the park caution that no matter how tempting it is, you should not pop these things! "Give them a wide berth," the Facebook post ways. These are carnivorous jellyfish and use their dangling tentacles to kill their prey. Even washed ashore, the tentacles still pack a punch, so don't mess with the balloons! Stepping on it will hurt!
Read more » click here
Portuguese man o' war
The man-of-War are not usually in the area unless pushed to the coast by wind and ocean currents. It is a purple-blue color and can be up to 10 inches long. The Portuguese man o' war (Physalia physalis), is not a jellyfish but related to the species and is highly venomous. It has numerous venomous microscopic nematocysts which deliver a painful sting powerful enough to kill fish. Stings can result in intense joint and muscle pain, headaches, shock, collapse, faintness, hysteria, chills, fever, nausea, and vomiting. Severe stings can occur even when the animal is beached or dead. Although it superficially resembles a jellyfish, the Portuguese man o' war is in fact a siphonophore. Like all siphonophores, it is a colonial organism, made up of many smaller units called zooids. All zooids in a colony are genetically identical, but fulfill specialized functions such as feeding and reproduction, and together allow the colony to operate as a single individual.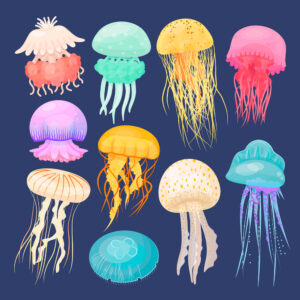 ---

Factoid That May Interest Only Me –
---
There are 6 venomous snakes in North Carolina. Know what they look like.
If it's spring, it's time for us to remind you about some of the slithering neighbors you might encounter when you're outdoors over the next several months. As the weather warms up in North Carolina, snakes start moving around, doing snakey things, and we are more likely to cross paths with them. They generally aren't cause for much concern, but encounters can be a little scary for some (for the snakes as well as the people). It's important to know that of the 38 species of snakes in North Carolina, the majority are nonvenomous and not aggressive toward people unless threatened. Arm yourself with knowledge. Learn about the venomous (sometimes incorrectly referred to as poisonous) snakes in our area, and how to distinguish them from the harmless ones.
How to tell if a snake is venomous
What's the head shape? A commonly shared rule of thumb is that most venomous snakes have a triangular or diamond-shaped head, while nonvenomous snakes have a tapered head.
You can't rely on that, though. Some nonvenomous snakes (such as a rat snake) can mimic the triangular shape of venomous snakes by flattening their heads when threatened (to avoid becoming the prey of another animal), so never go by head shape alone.
Can you see its eyes? Another tricky but often shared tip is to check out the pupil shape. Venomous snakes have been said to have oblong pupils that look like a slit in the center of the eye, whereas nonvenomous snakes will have a round pupil. In fact, according to a document on the NC Wildlife website, a snake's pupils can dilate just like a human's, and can look round.
The best way to know if a snake is venomous is to know which venomous snakes are common in your area and know what they look like.
North Carolina's venomous snakes
There are six venomous snakes found in North Carolina:
The copperhead
The cottonmouth (also called water moccasin)
The Eastern diamondback rattlesnake
The timber rattlesnake
The pigmy rattlesnake
The Eastern coral snake
Copperhead
Copperhead snakes are the most common venomous snakes in North Carolina.
What they look like: They are brownish in color with an hourglass shaped pattern, which resembles a Hershey Kiss. Copperhead babies are born with a yellow or green tail tip, which turns brown or black after they are about a year old. Adult copperheads grow to about 3 feet long.
The bite: The Carolinas Poison Center in Charlotte says it receives about 10 times the number of calls about copperhead bites than all other snakes combined. Copperhead bites can be severe, but about half of copperhead bites result in only mild swelling and pain.
Where are they? Copperheads are found all over North Carolina.
(Source: Carolinas Poison Center)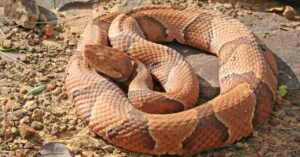 ---
Cottonmouth (water moccasin)
What they look like: Cottonmouth snakes have dark bands on dark or olive skin, but are most well-known for the white, cotton-like interior of their mouths.
Young cottonmouths can be lighter in color and can resemble copperheads. Juvenile cottonmouths have bright yellow or greenish tail tips, and the details of the cross-band pattern are most evident in this age group. Older cottonmouth snakes are often completely dark and with no pattern.
Adult cottonmouths grow to about 3-4 feet in length but have been known to grow to 6 feet.
The bite: The bite severity of a cottonmouth is similar to that of a copperhead.
Where are they? Cottonmouths are found mostly in the eastern part of North Carolina and prefer freshwater environments (but can also be found on land).
(Source: Carolinas Poison Center)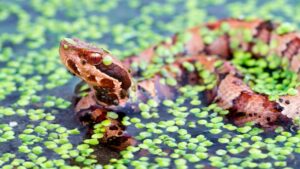 ---
Eastern diamondback rattlesnake
What they look like: The eastern diamondback rattlesnake has gray or yellowish skin with a dark diamond pattern outlined in black. They have large, broad heads with two light lines on the face.
The Eastern diamondback rattlesnake is the heaviest, though not the longest, venomous snake in the Americas, and it is the largest rattlesnake in the world. These snakes can weigh up to four or five pounds and typically grow to about 4-5 feet in length (the largest ever recorded was 8 feet long).
These snakes are known for the bone-chilling rattle sound they make.
The bite: Bites from rattlesnakes are more severe than bites from copperheads or cottonmouths, and are considered a medical emergency.
Where are they? They are found in the southeastern parts of North Carolina, preferring sandy, coastal regions.
(Source: Carolinas Poison Center, Savannah River Ecology Lab)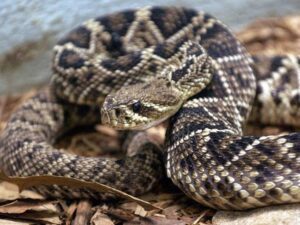 ---
Pigmy rattlesnake
What they look like: Pigmy rattlesnakes have gray, pinkish or red skin with a dark, spotted pattern. They grow only to about 1-2 feet in length.
Pigmy rattlesnakes do rattle, but the rattle sounds more like a buzz.
The bite: Bites from rattlesnakes are more severe than copperheads or cottonmouths and are considered a medical emergency.
Where are they? These snakes are found in the southeastern part of North Carolina, particularly in forests.
(Source: Carolinas Poison Center)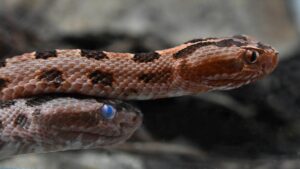 ---
Timber rattlesnake
What they look like: The timber rattlesnake can vary in color but has dark bands on lighter skin with a rattle at the end of its tail. Coastal varieties have what looks like a brown or orange "racing stripe" down the middle of the back.
Timber rattlesnakes grow to about 4 feet in length.
The bite: Bites from rattlesnakes are more severe than copperheads or cottonmouths and are considered a medical emergency.
Where are they? Timber rattlesnakes can be found throughout North Carolina, preferring forests.
(Source: Carolinas Poison Center)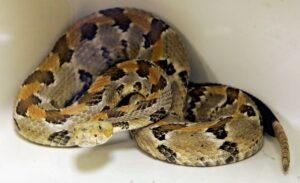 ---
Eastern coral snake
Coral snakes are actually extremely rare in North Carolina and are considered endangered, but they are quite venomous.
What they look like: These snakes are slender with red, yellow, and black rings. The coral snake closely resembles the scarlet kingsnake (which is harmless), but there's an easy way to tell them apart. Just remember this rhyme: "Red touches black, friend of Jack; red touches yellow, kills a fellow."
Another way to tell a scarlet kingsnake from a coral snake is by the color of its snout. A scarlet kingsnake has a red snout, and a coral snake has a black snout.
A coral snake's snout is also blunt shaped, especially compared to most snakes.
The bite: Coral snake venom attacks the central nervous system, and death, if it occurs, is usually the result of respiratory failure.
Where are they? Coral snakes live in sandy areas nearer the South Carolina border and stay underground most of the time.
(Source: Herps of NC)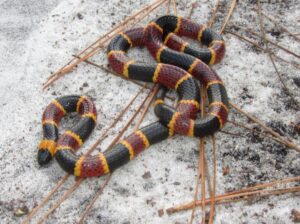 ---
If you have been bitten by a snake, you SHOULD:
▪ Sit down and stay calm.
▪ Gently wash the bite area with warm, soapy water.
▪ Remove any jewelry or tight clothing near the bite site.
▪ Keep the bitten area still, if possible, and raise it to heart level.
▪ Call the Carolinas Poison Center: 1-800-222-1222.
Note: If a snakebite victim is having chest pain, difficulty breathing, face swelling or has lost consciousness, call 911 immediately.
---
If bitten by a snake, you SHOULD NOT:
▪ Cut the bitten area to try to drain the venom. This can worsen the injury.
▪ Ice the area. Icing causes additional tissue damage.
▪ Apply a tourniquet or any tight bandage. It's actually better for the venom to flow through the body than for it to stay in one area.
▪ Suck on the bite or use a suction device to try to remove the venom.
▪ Attempt to catch or kill the snake.
Call Carolinas Poison Center at 1-800-222-1222 for questions about a snake bite or for more information.
(Source: Carolinas Poison Center)
Read more » click here
---
Hot Button Issues –
Subjects that are important to people and about which they have strong opinions
---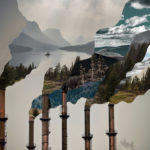 Climate
For more information » click here

There's something happening here
What it is ain't exactly clear.
---
5 Takeaways From the U.N. Report on Limiting Global Warming
Current pledges to cut emissions, even if nations follow through on them, won't stop temperatures from rising to risky new levels.
Nations are not doing nearly enough to prevent global warming from increasing to dangerous levels within the lifetimes of most people on Earth today, according to a new report by the Intergovernmental Panel on Climate Change, a group of researchers convened by the United Nations. Limiting the devastation won't be easy, but it also isn't impossible if countries act now, the report says. The panel produces a comprehensive overview of climate science once every six to eight years. It splits its findings into three reports. The first, on what's driving global warming, came out last August. The second, on climate change's effects on our world and our ability to adapt to them, was released in February. This is No. 3, on how we can cut emissions and limit further warming.
Without swift action, we're headed for trouble.
The report makes it clear: Nations' current pledges to curb greenhouse-gas emissions most likely will not stop global warming from exceeding 1.5 degrees Celsius, or 2.7 degrees Fahrenheit, within the next few decades. And that's assuming countries follow through. If they don't, even more warming is in store. That target — to prevent the average global temperature from increasing by 1.5 degrees Celsius over preindustrial levels — is one many world governments have agreed to pursue. It sounds modest. But that number represents a host of sweeping changes that occur as greenhouse gases trap more heat on the planet's surface, including deadlier storms, more intense heat waves, rising seas and extra strain on crops. Earth has already warmed about 1.1 degrees Celsius on average since the 19th century.
Emissions are tied to economic growth and income.
So far, the world isn't becoming more energy-efficient quickly enough to balance out continued growth in global economic activity, the report says. Carbon dioxide emissions from factories, cities, buildings, farms and vehicles increased in the 2010s, outweighing the benefits from power plants' switching to natural gas from coal and using more renewable sources such as wind and solar. On the whole, it is the richest people and wealthiest nations that are heating up the planet. Worldwide, the richest 10 percent of households are responsible for between a third to nearly half of all greenhouse gas emissions, according to the report. The poorest 50 percent of households contribute around 15 percent of emissions.
Clean energy has become more affordable.
The prices of solar and wind energy, and electric vehicle batteries, have dropped significantly since 2010, the report finds. The result is that it may now be "more expensive" in some cases to maintain highly polluting energy systems than to switch to clean sources, the report says. In 2020, solar and wind provided close to 10 percent of the world's electricity. Average worldwide emissions grew much more slowly in the 2010s than they did in the 2000s, partly because of greater use of green energy. It wasn't obvious to scientists that this would happen so swiftly. In a 2011 report on renewables, the same panel noted that technological advances would probably make green energy cheaper, though it said it was hard to predict how much.
Still, altering the climate path won't be easy or cheap.
The world needs to invest three to six times what it's currently spending on mitigating climate change if it wants to limit global warming to 1.5 or 2 degrees Celsius, the report says. Money is particularly short in poorer countries, which need trillions of dollars of investment each year this decade. As nations drop fossil fuels, some economic disruption is inevitable, the report notes. Resources will be left in the ground unburned; mines and power plants will become financially unviable. The economic impact could be in the trillions of dollars, the report says. Even so, simply keeping planned and existing fossil-fuel infrastructure up and running will pump enough carbon dioxide into the atmosphere to make it impossible to keep warming below 1.5 degrees, the report says.
There are other steps that could help and wouldn't break the bank.
The report looks at a host of other changes to societies that could reduce emissions, including more energy-efficient buildings, more recycling and more white-collar work going remote and virtual. These changes do not have to be economy-dampening chores, the report emphasizes. Some, like better public transit and more walkable urban areas, have benefits for air pollution and overall well-being, said Joyashree Roy, an economist at the Asian Institute of Technology in Bangkok who contributed to the report. "People are demanding more healthy cities and greener cities," she said. In all, steps that would cost less than $100 per ton of carbon dioxide saved could lower global emissions to about half the 2019 level by 2030, the report says. Other steps remain pricier, such as capturing more of the carbon dioxide from the gases that pour from smokestacks at power plants, the report says. The world also needs to remove carbon dioxide that is already in the atmosphere. Planting more trees is pretty much the only way this is being done at large scale right now, the report says. Other methods, like using chemicals to extract atmospheric carbon or adding nutrients to the oceans to stimulate photosynthesis in tiny marine plants, are still in early development. "We cannot ignore how much technology can help," said Joni Jupesta, an author of the report with the Research Institute of Innovative Technology for the Earth in Kyoto, Japan. "Not every country has a lot of natural resources."
Read more » click here 
---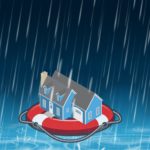 .
Flood Insurance Program
For more information » click here
.
---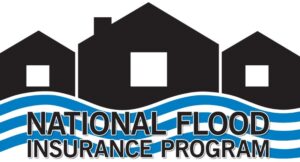 National Flood Insurance Program: Reauthorization
Congress must periodically renew the NFIP's statutory authority to operate. On March 11, 2022, the President signed legislation passed by Congress that extends the National Flood Insurance Program's (NFIP's) authorization to March 15, 2022.
Congress must now reauthorize the NFIP
by no later than 11:59 pm on September 30, 2022
---
The NFIP: Solving Congress's Samaritan's Dilemma
Lawmakers' commitment to a subsidy‐​free system has been imperfect from the beginning, and they have backslid in recent years.
Conclusion
Federal flood insurance arose as a policy device with two purposes: to reduce the use of post‐​disaster congressional appropriations for disaster relief and to impose the cost of rebuilding on the owners through premiums. This has been partially successful. The percentage of pre‐​FIRM structures receiving subsidized coverage has fallen from 75 percent in 1978 to 13 percent in 2018. But some degree of taxpayer subsidy remains and has recently grown. After Hurricane Sandy and subsequent FEMA flood map updating, Congress protected owners from rate increases by grandfathering structures so that they now pay rates that are below actuarially fair levels in relation to the specifics of their flood zones and the degree to which they are elevated above the floodplain. Moreover, enforcement of the elevation requirement is spotty at best. The appearance in recent years of private flood insurance may seem to be a hopeful sign that federal flood policy is moving toward something more consistent with the nation's ethos. However, these insurers' entry into the market appears to be the product of cross subsidies within the federal program, not an overall move to replace government protection with private insurance coverage. Once the overcharged properties have largely been moved out of the NFIP and in to private coverage, the remaining policies will likely be explicitly subsidized—either with direct aid following a disaster or with government subsidies to purchase private insurance. It is unclear whether that would be better than the current system. The existence of private flood reinsurance suggests that claims about the impossibility of private provision of flood insurance are incorrect. But even if that's true, there is still the question of whether property owners who currently receive cross subsidies for their waterfront properties are willing to pay actuarially fair rates—and what happens if they do not and then are struck by floodwaters. The NFIP raises other important policy questions. Is the 50 percent "substantially damaged and substantially improved" trigger the right threshold to require property owners to elevate their buildings above BFE? What should be done about the poor enforcement of the BFE requirement? There is also the question of what—if anything—to do about structures that predate federal flood insurance, do not have mortgages, and do not purchase federal flood insurance. Ideally, these structures should present no policy problems at all: their owners are neither asking for nor receiving subsidy and are bearing the cost of their risk taking; moreover, the emergence of a private flood insurance market may provide them with products that they do find attractive. If neither they nor policymakers are time‐​inconsistent on this arrangement, these property owners should be allowed to continue to choose and bear flood risks. But even they receive indirect subsidy through federal grants for local infrastructure following disasters. In short, the NFIP was an important decision by Congress to move away from providing ad hoc disaster aid to flood victims at taxpayer expense. But lawmakers' commitment to a subsidy‐​free system has been imperfect from the beginning, and they have backslid further from that in recent years. The NFIP needs to reembrace the goal of insureds paying actuarially fair premiums. Hopefully, the recent appearance of private flood insurers in the marketplace will help with this and not merely cherry‐​pick cross subsidies in the current system. More hopefully, these private insurers will not suffer the financial wipeout that felled their predecessors a century ago.
Read more » click here
---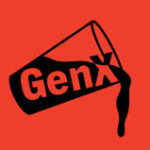 GenX
For more information » click here
..
.Chemours to further limit GenX emissions, add more testing
Chemours has agreed to further limit GenX emissions, conduct additional testing and pay the six-figure penalty assessed last year by the North Carolina Department of Environmental Quality's Division of Air Quality. The Division of Air Quality and Chemours signed a settlement agreement Tuesday requiring Chemours to reduce GenX emissions from the carbon adsorber unit, an emissions control device, in the vinyl ethers north manufacturing area to no more than an average of 1 pound per month between May and September of this year. Fugitive emissions from the vinyl ethers north area are primarily controlled by the carbon adsorber unit, which is a separate system from the onsite thermal oxidizer.  Chemours' facility-wide emissions are limited to 23.027 pounds per year under the current air permit. Chemours also is required to take additional actions this year to reduce emissions, including installing new process and emission control equipment. The company must follow a rigorous schedule of stack tests to measure how well the carbon adsorber unit at vinyl ethers north is controlling emissions. Chemours will also pay in full the $305,000 penalty, which the Division of Air Quality assessed last year after finding Chemours was in violation of the stringent GenX emission requirements of its air permit, which requires Chemours to limit its total GenX emissions to 23.027 pounds per year, using a rolling 12-month calculation. This limit equates to a 99% reduction from GenX emissions in 2017. Excess GenX emissions in March 2021 resulted in noncompliance with the rolling 12-month limits from March through September of last year. In October 2021, the division issued a written Notice of Violation and Notice of Recommendation for Enforcement to Chemours. DAQ noted the Carbon Adsorber Unit was not properly operated or maintained for 26 days following its March 9, 2021, stack test. Chemours filed a Petition for a Contested Case Hearing in response to DAQ's civil assessment. Today's settlement resolves DAQ's civil penalty and Chemours' petition. Lisa Randall, regional communications lead for Chemours provided Coastal Review with the following statement: "Chemours has reached an agreement with NCDEQ regarding the agency's 2021 notice of violation (NOV) for exceeding the 12-month rolling average for Fayetteville Works' site HFPO-DA air emissions. Chemours has agreed to pay the $305,000 civil penalty assessed by the agency and will also dismiss its administrative appeal of the NOV. Chemours has also agreed to take additional steps toward reducing air emissions. NCDEQ has agreed to not issue additional NOVs related to the rolling calculation for the remainder of the 12-month period as long as agreed-to-emission limits are met. Chemours continues to make progress on all requirements of the Consent Order agreement with NCDEQ and Cape Fear River Watch and remains committed to being a leader in reducing PFAS emissions."
Read more » click here 
---
Homeowners Insurance
For more information » click here
---

Hurricane Season
For more information »

click here




.

.
---
Scientists predict seventh straight above-average hurricane season
Researchers at Colorado State University are calling for 19 named Atlantic storms, including nine hurricanes
Researchers at Colorado State University are calling for the seventh consecutive above-average Atlantic hurricane season. The scientists, who study large-scale features of the atmosphere and the ocean, are already spotting signs that point to a season even busier than that of 2021. It's their 39th year issuing preseason forecasts. Their outlook, published Thursday morning, calls for 19 named storms, compared with a recent average of 14.4. The 2021 Atlantic hurricane season produced 21 named storms, third most on record, exhausting all of the names of the National Hurricane Center's conventional naming list. Although Colorado State is predicting two fewer storms this year, it is calling for a more active season in terms of metrics that take into account storm intensity and duration. "The team predicts that 2022 hurricane activity will be about 130% of the average season from 1991-2020," the outlook states. "By comparison, 2021's hurricane activity was about 120% of the average season." The outlook also calls for a 71 percent chance that a major hurricane will make landfall somewhere on U.S. soil. Major hurricanes are those that reach Category 3 strength or greater, containing maximum sustained winds of 111 mph or more. The risk of a major hurricane along the East and Gulf coasts and in the Caribbean is substantially elevated, compared with the 1990 to 2020 average, the outlook said. Unusually warm sea surface temperatures and the lack of an El Niño pattern are among the factors influencing the university's outlook. The team uses a statistical model based on 25 to 40 years' worth of data.
What to expect
The past five years have featured a slew of landfalling major hurricanes — eight to be exact. Harvey, Irma, and Maria terrorized the United States in 2017, Florence and Category 5 Michael lashed the nation in 2018, Laura and Zeta in 2020 and Ida in 2021. Since 2016, a half-dozen Category 5 hurricanes have roamed the Atlantic. Every year since 2016 has fallen into the anomalously active or hyperactive categories from a standpoint of ACE, or Accumulated Cyclone Energy — a measure of how much energy storms expend on their winds. By the books, hurricane season starts on June 1, but NOAA has considered shifting the advertised start date to May 15 in the face of recent trends and early season tempests.
The Colorado State outlook, headed by researcher Philip Klotzbach, calls for the following:
19 named storms

, including tropical storms and hurricanes. The average for a season is 14.4. It's worth noting that named storms can occur anywhere in the Atlantic basin, and the number has no bearing on how many make landfall — or where.
9 hurricanes, more than the seasonal average of 7.2. Hurricanes have winds of 74 mph or greater.
4 major hurricanes, or those whose winds reach Category 3 strength or greater. That's more than the average of 3.2 major Atlantic hurricanes per season.
A 47 percent chance that the East Coast gets hit by a major hurricane, with a 46 percent chance for the Gulf of Mexico from the Florida Panhandle to Brownsville, Tex. That's more than 1.5 times the average likelihood.
The average ACE for a season is also 132, but this year Klotzbach and his team are predicting hurricanes will rack up 160 units of ACE. That's 21 percent more than a typical season.
Why an active season?
No matter how you slice it, Atlantic hurricane season 2022 is looking to be extra busy. Why? The Colorado State researchers cite a lack of El Niño. Currently, a La Niña is dominating weather patterns across the Western Hemisphere. Characterized by a cooling of water temperatures in the east tropical Pacific, La Niña weakens high-altitude winds from the east in the tropical Atlantic. That reduces wind shear, or a change of wind speed and/or direction with height. Wind shear has a tendency to tear apart fledgling tropical systems, so a lack of wind shear can encourage nascent storms to blossom. A dearth of wind shear is integral in supporting the rapid intensification of tropical systems. Hurricane researcher Kim Wood, an assistant professor in the Department of Geosciences at Mississippi State University, was not surprised by the forecast. In a recent paper, she, Klotzbach and colleagues analyzed hurricane activity over the past 32 years and found conditions have leaned more toward a La Niña state, which has aided active hurricane seasons in recent years in the North Atlantic. La Niña conditions were present in 2020 and 2021, bolstering very active seasons with destructive Category 4 hurricanes such as Iota, which slammed Central America, and Ida, which caused massive destruction along the Gulf Coast of the United States. However, the fact that La Niña could persist for a third year in a row is very rare. In fact, a La Niña three-peat has occurred only twice before in record-keeping back to 1950. Projections call for La Niña to weaken and relax to "ENSO-neutral" conditions during the summertime — but, so long as El Niño doesn't materialize to kick up wind shear, an average or above-average season should prevail. Sea surface temperatures across the Gulf of Mexico and Caribbean are running a general 1 to 5 degrees above average, too, which translates to considerably more "ocean heat content" to fuel tropical systems. Of course, it remains to be seen whether waters remain that unusually warm in the months ahead. Low wind shear and unusually warm waters could later prove a recipe for rapidly intensifying storms. Wood and her colleagues found high-end rapid intensification events, during which tropical cyclones increased by at least 57 mph (50 knots) in 24 hours, have increased significantly in frequency over the past three decades — probably caused in large part by human-induced climate change. Researchers also previously found climate change has caused hurricanes to move slower and drop more rain in a concentrated area, such as the case with Hurricane Florence in North Carolina in 2018 or Harvey in Texas in 2017. Rising sea levels also worsen storm surges, which can cause more flooding and infrastructure damage. "More and more people are living close to the coast, and thus we're just increasing our vulnerability to these storms," Wood said. "Even if there's just one [storm] that makes landfall this year, that's going to be a big one for whoever lives there." AccuWeather, the State College, Pa.-based private forecasting company, has also issued an Atlantic hurricane season outlook and is calling for 16 to 20 named storms and six to eight hurricanes, very much in line with Colorado State. 2022′s first storm, once it's named, will be called Alex. Should all of the 21 names on the National Hurricane Center's list be used, forecasters will turn to a supplemental list set of names. The supplemental list was developed after the record-setting 2020 hurricane season, in which 30 named storms formed, forcing forecasters to use Greek letters after 21 storms had earned names. Colorado State has evaluated the accuracy of its seasonal hurricane forecasts, made in April, since it began issuing them in 1984. Through 2013, the forecasts did not offer much predictive skill. However, it says its forecasts "have shown considerable improvement in recent years."
Read more » click here
---
Know your hurricane risk, FEMA, NOAA encourage
When it comes to hurricanes, it's important to be prepared and know your risk. That was the message federal officials delivered Wednesday during a press conference from the annual National Hurricane Conference taking place this week in Orlando, Florida. Federal Emergency Management Agency Administrator Deanne Criswell and National Oceanic and Atmospheric Administration's National Hurricane Center Director Ken Graham encouraged the public to prepare for more intense storms. The conference is a national forum for federal, state and local officials to work together to improve hurricane preparedness, response, recovery and mitigation in the United States and Caribbean and Pacific tropical islands. Criswell explained that while the conference is an opportunity for emergency management professionals to share lessons learned from the past. More importantly, she said, it's time to start thinking about what is going to be experienced in the future. In recent years, hurricanes have intensified, giving emergency managers less time to warn their constituents to prepare. The storms are stronger, lasting longer at higher durations over land, impacting coastal communities and inland too. This is going to continue, she said. Residents most need to understand their risk, she added. "What is the risk in the area that you are at if you are on the coast or if you are inland? And then do you have a plan to protect your family against that risk? Do you know how you're going to evacuate? Do you know where you're going to go? Do you know how you're going to communicate to your family members that live outside of the area so you can let them know that you're safe," Criswell said. And of course, don't forget pets. Make sure to have the same supplies you'd have for rest of your family. Graham reiterated the need for a plan. "you can't make your plan during the storm. You've got to do it early," he said, because sometimes the timeline of a tropical storm reaching land is short. "have that plan ready to go, ready to implement." Criswell said that if relocating to a new area, learn what the risks are, such as hurricanes or tornadoes. "Individuals need to be deliberate about that. You need to understand what your risk is and if you have not been in that situation before there are a lot of resources out there," she said, and ready.gov has a wealth of information. Graham added that if you don't know what to do when a hurricane comes, then ask. "If you don't know, ask … know that risk," he said. "Because being prepared is everything." Many don't want to evacuate during a hurricane and that mentality is hard to change, Criswell said. "I think that we get the most increase in the level of preparedness and communities immediately after a disaster," she said, but the longer between storms, the more comfortable residents get with the idea that they can withstand the storm. "It worries me because we are seeing right now these natural weather events that are getting more severe, they're stronger, they're lasting longer. They're intensifying more rapidly. And so, where in the past maybe communities and individuals would wait things out," she said. "We as an emergency management profession and a community we have to continue to help people understand what these threats are. We need to provide the resources for them to learn about their threats as well." Graham pointed out the need to communicate. "You can have a perfect forecast, but it doesn't do much good if it's not understood and it's not actionable." His office has different professionals, such as meteorologists and social scientists, to help communicate. Criswell continued that there can't be a one-size-fits-all type of messaging. For the first time last year, FEMA created a culturally specific preparedness campaign for preparedness month focusing on the Hispanic community. Graham said what worries him sometimes are areas that historically have a lot of strong storms and just because it didn't happen in the last couple of years doesn't mean it can't happen this year. So, the complacency part of it is worries me." Criswell echoed Graham, saying it's the complacency that really worries her. "I worry about those communities and our ability again — because of the rapid intensification of these storms — our ability to get messaging out to those communities so they can make timely decisions to either evacuate or stay in place to protect their families," she said. "We've got to be able to communicate to those individuals that aren't necessarily taking it as serious as they could or should" because disasters don't discriminate. "We all have to take it seriously. Storms are getting worse. They're getting worse. They're causing more destruction. They are intensifying more rapidly. We're going to have less time to warn people so they can take appropriate measures. We'll have to take it seriously," she said.
Read more » click here 
---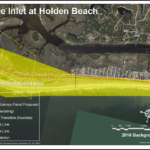 Inlet Hazard Areas
For more information » click here.
.
---
.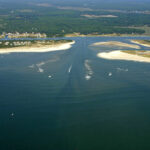 Lockwood Folly Inlet
For more information » click here
.
---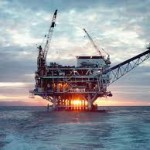 .

Seismic Testing / Offshore Drilling
For more information » click here
.
---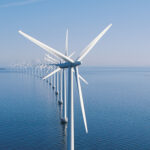 .

Offshore Wind Farms
For more information » click here
.

---
Coalition answers wind turbine questions
For more information » click here
---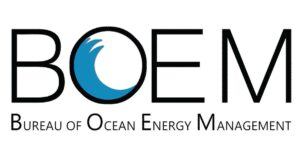 Biden-Harris Administration Announces Wind Energy Lease Sale Offshore the Carolinas
The Department of the Interior announced today that the Bureau of Ocean Energy Management (BOEM) has completed its environmental review and will hold a wind energy auction for two lease areas offshore the Carolinas on May 11. The lease areas cover 110,091 acres in the Carolina Long Bay area that, if developed, could result in at least 1.3 gigawatts of offshore wind energy, enough to power nearly 500,000 homes. The announcement is part of President Biden's agenda to grow a clean energy economy that harnesses offshore wind projects to strengthen U.S. energy independence, create good-paying jobs, and lower energy bills for consumers. "The Biden-Harris administration is committed to supporting a robust clean energy economy, and the upcoming Carolina Long Bay offshore wind energy auction provides yet another excellent opportunity to strengthen the clean energy industry while creating good-paying union jobs," said Secretary Deb Haaland. "This is an historic time for domestic offshore wind energy development. We will continue using every tool in our toolbox to tackle the climate crisis, reduce our emissions to reach the President's bold goals, and advance environmental justice." President Biden catalyzed the offshore wind energy industry by announcing the first-ever national offshore wind energy goal, creating a clear vision for the future of this innovative industry. This goal is reinforced by President Biden's Bipartisan Infrastructure Law, which will make historic investments to build a better America with clean energy, resilient infrastructure, and strong domestic manufacturing and supply chains. The Carolina Long Bay offshore wind energy auction will allow offshore wind developers to bid on one or both of the lease areas within the Wilmington East Wind Energy Area (WEA), as described in BOEM's Final Sale Notice (FSN), which is available today in the Federal Register Reading Room. The two lease areas include similar acreage, distance to shore, and wind resource potential. The FSN includes several lease stipulations designed to promote the development of a robust domestic U.S. supply chain, advance flexibility in transmission planning, and encourage project labor agreements. Among the stipulations announced today, BOEM will offer a 20 percent credit to bidders if they commit to invest in programs that will advance U.S. offshore wind energy workforce training or supply chain development. To advance BOEM's communication and environmental justice goals, the leases will also require lessees to identify Tribal Nations, underserved communities, agencies, ocean users and other interested stakeholders, and report on their communication and engagement activities with these parties. These stipulations are intended to promote offshore wind energy development in a way that coexists with other ocean uses and protects the ocean environment, while also facilitating our nation's energy future for generations to come. These innovative stipulations were embraced in the Department's recent lease sale for the New York Bight, which set a record as the nation's highest-grossing competitive offshore energy lease sale in history, including oil and gas lease sales. "BOEM is focused on ensuring that any development offshore North Carolina is done responsibly, in a way that avoids or minimizes potential impacts to the ocean and ocean users in the region," said BOEM Director Amanda Lefton. "The milestones announced today mark significant progress in achieving this Administration's goal for deploying 30 gigawatts of offshore wind energy by 2030, while creating jobs and strengthening a sustainable domestic supply chain." In November 2021, BOEM published a Proposed Sale Notice (PSN) and requested public comments on the proposed leasing of nearly 128,000 acres in the Wilmington East WEA. Based on the bureau's review of scientific data and extensive input from the commercial fishing industry, Tribes, partnering agencies, key stakeholders, and the public, BOEM reduced the acreage available for leasing in the FSN by 14 percent from the areas proposed in the PSN to avoid conflicts with ocean users and minimize environmental impacts. BOEM will continue to engage with its partners and stakeholders as the process unfolds. In addition, this past fall the Administration announced a new leasing path forward, which identified up to seven potential lease sales by 2025, including the upcoming Carolina Long Bay lease sale and last month's New York Bight lease sale. Lease sales offshore California and Oregon, as well as in the Central Atlantic, Gulf of Maine, and the Gulf of Mexico are expected to follow. A recent report indicates that the United States' growing offshore wind energy industry presents a $109 billion revenue opportunity to businesses in the supply chain over the next decade. More information about the FSN, lease stipulations, the list of qualified bidders for the auction, and auction procedures can be found on BOEM's Carolina Long Bay website.
Read more » click here
---
Things I Think I Think –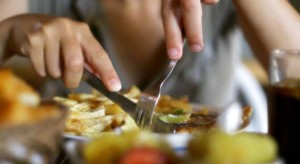 Eating out is one of the great little joys of life.
Restaurant Review:
Dinner Club visits a new restaurant once a month. Ratings reflect the reviewer's reaction to food, ambience and service, with price taken into consideration.
///// March 2022
Name:             Brent's Bistro            
Cuisine:          American Grille
Location:       7110 Wrightsville Avenue, Wilmington NC
Contact:         910.839.3131 /  http://brentsbistro.com/
Food:              Average / Very Good / Excellent / Exceptional
Service:          Efficient / Proficient / Professional / Expert
Ambience:     Drab / Plain / Distinct / Elegant
Cost:                Inexpensive <=17 / Moderate <=22 / Expensive <=27 / Exorbitant <=40
Rating:           Three Stars
Brent's is a small restaurant that is very unassuming from the street, the exterior store front look gives no indication of the type of restaurant inside. They have a limited menu that only offers about a dozen entrée choices. The menu changes weekly and is posted on their Facebook page. It's a little pricey, but the food was excellent and well worth the price, so not your any-night-of-the-week restaurant. This is one of the better restaurant offerings in the area. I'd recommend that you put it on your list of places to try.
---
7 seasonal Brunswick County restaurants to check out as warmer weather returns
Warmer weather brings many things to our coastal community, from tourists to beach days. But a local favorite, undoubtedly, is the return of seasonal restaurants.
Here are a few such places in Brunswick County.
Provision Company, Southport
This iconic seaside seafood restaurant in Southport may be the first one that comes to mind when places start opening for the season. As of March 17, they've started serving peel-and-eat shrimp and cheeseburgers for the 2022 season at 130 Yacht Basin Drive.
The Boat Landing, Sunset Beach
StarNews readers can't be wrong. Last year, this restaurant was named a favorite new addition to the food scene. Now, they've reopened for dinner for the 2022 season, and lunch service will resume in April at 102 Sunset Boulevard North. Have some fish tacos or fried tomatoes while taking in views of the Intracoastal waterway.
Waterfront Seafood Shack, Calabash
This is a seafood market, but also an eatery at the right time of the year — with local, wild-caught seafood that comes from their boats to your plate. They resumed their dine-in and carry-out service on March 15. Stop by for fresh fish plates and sandwiches and a serving of grilled pound cake at 9945 Nance St.
Jinks Creek Waterfront Grille, Ocean Isle Beach
Upper deck with sunset views? Waterfront gazebo? Indoor dining? You have a choice at this restaurant at 14 Causeway Dr. They started their pre-season on March 16, and will be open Wednesday through Sundays for dinner, adding more opening hours as the season progresses.
KoKo Cabana, Oak Island
Beginning in February, this restaurant has been serving up ahi nachos, bowls, burgers, cocktails, wine, and beer. It's on the beach at 705 Ocean Drive, by the Oak Island pier.
Dock House Seafood & More, Holden Beach
The eateries on this list do boast great views, like this one on the Intracoastal where you can watch the boats come and go, but this restaurant also likes to say it has a unique menu with a little something for everyone. They re-opened for limited dinner service on March 16 and will be adding more hours soon.
Inlet View, Shallotte
At Hughes Marina, 1800 Village Point Road SW you can find this tiki bar and restaurant. They reopened for 2022 in February where you can take in the view from the top deck while you enjoy some crab cakes or fried seafood. 
Read more » click here
---
Book Review:
Read several books from The New York Times best sellers fiction list monthly
Selection represents this month's pick of the litter
/////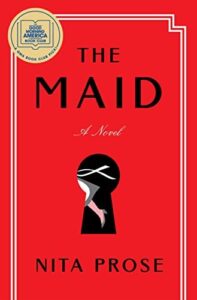 THE MAID by Nita Prose
A charmingly eccentric hotel maid in a five-star boutique hotel discovers a guest murdered in his bed. She becomes the prime murder suspect, turning her once orderly world upside down and inspiring a motley crew of unexpected allies to band together to solve the mystery. A twist-and-turn atypical whodunit, told from the perspective of the maid, an unusual protagonist. Florence Pugh is set to star in Universal's screen adaptation of the book. This book will appeal to fans of Eleanor Oliphant and other sympathetic heroines.

---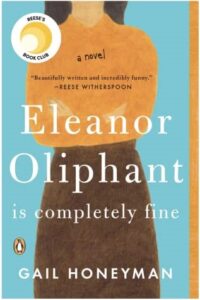 Eleanor Oliphant Is Completely Fine
by Gail Honeyman
Eleanor Oliphant has built an utterly solitary life that almost works. No one's ever told Eleanor that life should be better than fine. This is a story of a 30-year-old office-worker with a scarred face and a troubled history who learns to overcome her habitually solitary lifestyle. It's a story about the importance of friendship and human connection. The novel charts Eleanor's journey from her traumatized past to a future where she might "have a life, not just an existence". Soon to be a major motion picture produced by Reese Witherspoon.
---

.That's it for this newsletter

See you next month

---

Lou's Views . HBPOIN


.                            • Gather and disseminate information
.                         • Identify the issues and determine how they affect you
.                         • Act as a watchdog
.                         • Grass roots monthly newsletter since 2008