Lou's Views
"Unofficial" Minutes & Comments
---
BOC's Regular Meeting 11/21/23
Board of Commissioners' Agenda Packet click here

Audio Recording » click here

---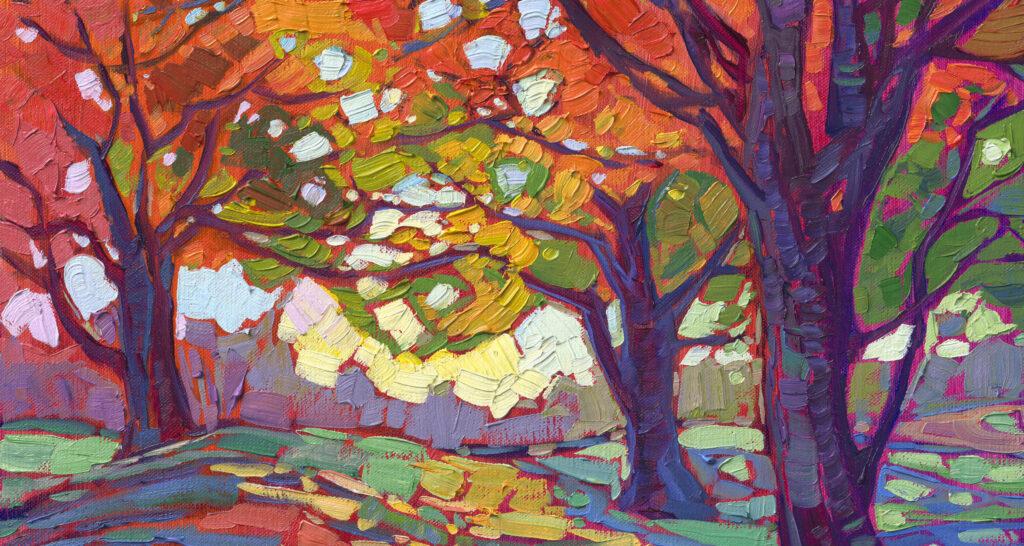 ---
1.   Public Comments on Agenda Items
For almost thirty-five (35) minutes comments were made either for or against the proposed plans for Block Q. The three (3) recently elected candidates made comments asking the BOC's to defer the decision on the Block Q paving contract until after a public information session can be conducted. Basically, their position was that important information has not been shared or discussed with the public.
For more information » click here

Nothing for nothing, but I try to stay informed, and I do not recall any previous discussion that the plan is to pave Block Q which requires a retention pond reducing the options on how to use the property. Since there will be three (3) new commissioners sworn in next month it would seem prudent to defer this decision to the next scheduled meeting.

---
2. Presentation of Fiscal Year 2022 – 2023 Audit Results – Elsa Swenson, Martin Starnes and Associates – (Finance Officer McRainey)
Agenda Packet – page 8, plus separate packet
Audit Report » click here
Audit Presentation » click here
Financial Highlights
The assets and deferred outflows of resources of the Town of Holden Beach exceeded its liabilities and deferred inflows of resources at the close of the fiscal year by $37,534,036 (net position).

The government's total net position increased by $3,832,825, primarily due to an increase in the governmental activities of $3,694,770 and increases in the business-type activities of $138,055.

As of the close of the current fiscal year, the Town of Holden Beach's governmental funds reported combined ending fund balances of $15,006,628, a decrease of $25,479,755 in comparison with the prior year. Of this amount, $4,727,031 is available for spending at the government's discretion.

At the end of the current fiscal year, unassigned fund balance for the General Fund was $4,727,031, or 78%, of total General Fund expenditures for the fiscal year.
Several particular aspects of the Town's financial operations positively influenced the total governmental net position:
Continued diligence in the collection of property taxes provided for a tax collection percentage of almost 100%.

Cooling of local construction decreased building permit related revenues by 23% over prior year

Large numbers of beach visitors occupying rental homes longer, extension of the "beach" season

earlier in the calendar year and later into the fall, remote work and learning have all have contributed

to occupancy tax revenues collections increasing to an all-time high in excess of $3.9 million.

First full year of paid parking revenues exceeded $500k
Fund Balance
Available fund balance as defined by the Local Government Commission (LGC) is calculated as follows:
Total Fund Balance

Less: Non spendable (not in cash form, not available)

Less: Stabilization by State Statute (by state law, not available)

Available Fund Balance
This is the calculation utilized as the basis for comparing the Town to other units and calculating the fund balance percentages.
Fund Balance Position – General Fund
Total Fund Balance – 2023                             $5,596,041
Stabilization by State Statute                        (437,070)
Available Fund Balance                                 $5,158,971
Available Fund Balance – 2022                     $3,944,992
Increase in available Fund Balance            $1,213,979
Audit Committee Written Opinion
The Town's financial department is to be commended for its great work and timeliness in their successful completion of the audit work for the fiscal year ending June 30, 2023. The auditor's reports state that Holden Beach has received an unmodified opinion, with no findings of concern in the financial statements, compliance and internal controls.
Editor's Note –
§30.26 AUDIT COMMITTEE OF THE BOC
Appointment terms. The Chairman of the BOC Audit Committee shall be elected by the BOC at the first regular meeting in January.
The Audit Committee is comprised of a member of the Board of Commissioners, the commissioner shall be appointed to the Audit Committee by the Board. Commissioner Kwiatkowski was the Chairman, but she resigned in March. We are required to have a Chairman of the Audit Committee and it is time to fill the vacant spot. Not only have they not selected a member of the Board to serve as Audit Committee Chairman they haven't even bothered to discuss the matter yet.
 Update –
Auditor's report for fiscal year 2022 – 2023 audit was presented by Elsa the project manager. The audit was submitted to the Local Government Commission timely and approved with no changes. The auditor Martin Starnes was able to render an unmodified/clean opinion; which is the best possible opinion that you can receive.
---
3.   End of Season Parking Update – Jim Varner, Otto Connect (Town Manager Hewett)
Agenda Packet – pages 9 – 14
Otto Paid Parking Presentation » click here
Number of Vehicles Parked:
79,572
Total Net Revenue:
2022:  $455,841
2023:  $682,933
Tickets Issued:
Violations paid            2045    $45,758
Violations unpaid        462      $0
Violation Payment Rate:
82% the remainder sent to Collections after 30 days
Update –
Jim gave a slide presentation giving an overview of year two (2) of the paid parking program. The good news is that the revenue is up significantly to the tune of an additional $227,092. He also made some recommendations for possible changes to the program for 2024.
---
4.   Police Report – Chief Jeremy Dixon
Agenda Packet – pages 15 – 20

Police Report » click here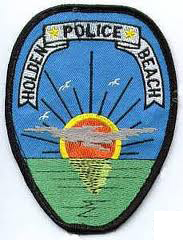 Business as usual for this time of the year

The departments annual in-service training has already been completed

Public Service Announcement –
Scams – be on guard, you need to protect yourself from scammers
Please do not send money when contacted via phone calls
---
What he did not say –
It's that time of year, rental season ends, and break-in season officially starts
Requested that we all serve as the eyes and ears for law enforcement.
Hunting season is underway, it is not allowed on the island
The police department currently has only nine (9) officers of the ten (10) they are budgeted to have. 
They are down officer Preston Conley who is out on long-term medical disability
So, we still only have eight (8) officers out there
---
If you know something, hear something, or see something –
call 911 and let the police deal with it.
---
Some local police departments need more staff to face growth
Although growth continues throughout Brunswick County, local law enforcement is already facing the mental and physical toll it takes to protect current residents with the staff they have. Not all safety and law enforcement departments consider themselves "short staffed," however, a few local police chiefs have voiced their concerning experiences with not being fully staffed and its impact on officers. "The impact of staffing shortages is strenuous on the entire department," Holden Beach Police Chief Jeremy Dixon told The Brunswick Beacon. "First and foremost, it creates a dangerous scenario for patrol officers who are often responding to calls alone." Dixon explained that his department has 10 officers when fully staffed and that they would have two officers per shift if fully staffed. Normal shifts include holidays, weekends and nights shifts, he added. "However, patrol is not the only consideration in staffing levels," he said. "One must consider vacation leave, sick leave, family leave, training assignments, festivals, concerts, races and other special events as well." Unlike Holden Beach, the Shallotte and Oak Island police departments have a larger staff of police officers to work with when it comes to patrolling and handling special events. Shallotte Police Chief Adam Stanley told The Beacon that the Shallotte Police Department currently has 18 full time police officers. The department has 19 full time police officers when fully staffed. He recently told the Shallotte Board of Alderman at a meeting that his department was about to be fully staffed with two new officers entering the team, however, he told The Brunswick Beacon on Friday, Nov. 3, that an officer had recently given their two-week's notice and that they will be back to looking to fill another officer position again. Asked what has been the longest recruitment time to fill an empty police officer position during his time as chief, Stanley said three to five months. The Village of Bald Head Island handles their resident safety a little differently compared to other municipalities. The Village has a public safety department to protect their residents, not a police department. Village of Bald Head Island Public Information Officer Carin Faulkner explained that their staff consists of public safety officers (PSO) that are trained in law enforcement, fire, paramedic/EMT and water rescue. She said the village has a total of 24 PSO positions and that they currently have 23 filled, noting that they run a schedule of four shifts with six officers working each shift. The Oak Island Police Department is also down one officer out of their 32 police officers, which includes both full time and part time officers. "The Oak Island Police Department is considered 'fully staffed' at 48 employees, consisting of 28 full-time officers, four part-time officers, two administrative staff, 10 (seasonal) Beach Services Unit staff, three department volunteers and one chaplain," Oak Island Chief of Police Charlie Morris told The Beacon. "The Department currently has one vacancy for full-time officer." Morris, who joined the department in April 2022, said the Oak Island Police Department launched an aggressive recruitment campaign from late 2022 to early 2023 to increase recruitment efforts and officer pay. He said it was successful and included a new Paid Recruit Training program. "This program provides pay and benefits to future officers as they go through the [Basic Law Enforcement Training (B.L.E.T.)] program," he said. "As of September, the four officers originally recruited through this program have begun their work as full-time officers." Although he said his team is not understaffed at the moment, they could become understaffed quickly. "… In a small-to-medium sized department it only takes a few retirements or transfers to become understaffed again," he said. Asked what kind of impact not having a full staff of police officers has on their team, Dixon, Morris and Stanley all told The Beacon it is challenging. "It can have a mental, physical and emotional impact because the extra workload can be exhausting," Stanley said. Morris told The Beacon that public safety and having adequate jurisdiction coverage is the department's top priority, however, like Stanley said, doing so without a full staff can impact officers' well-being. "Beyond that however is a host of other concerns, including officer health, mutual aid response, and preventing "burnout" from overworked," Morris said. "Ensuring officers are physically and mentally prepared to serve the public at the start of each shift can become difficult when there are not enough officers to meet a department's needs." Dixon said the Holden Beach Police Department has maintained between eight to ten officers for the last two to three years. He noted that they have consistently looked to hire and retain a full staff during that time. "Because of current staffing levels, and rotating shifts, our officers work alone about 50% of the time," he said. "This means officers are responding to domestic disturbances, fight calls, irate subjects, intoxicated subjects, mental health patients and every other call by themselves." He explained that having a lack of additional responding officers is a danger to the officers and to the public. In addition to the low number of officers on duty at a given time, the department does not have a detective position. So, incident reports are being left on the back burner. "In addition to being short staffed on patrol, our department has not been allotted a detective position," he said. "Therefore, we have no dedicated investigator to follow-up on incident reports. This in itself is a disservice to the town." He said officers will take a report of an incident, like a house break-in, but the report goes nowhere and there is no follow-up. "Trying to explain to our community that we cannot do our job because we do not have the resources is very stressful," he added. Dixon said that these are just a few of the challenges that his staff face from not having a full staff and that officers often worry about the entire staff when sick or in need of a day off. Vacations and sick days are spent worried about another officer working overtime to cover their shift and the absent officers shift, he noted. "When an officer calls out sick, it places a burden on the entire staff because we're already short," he said. "This makes officers feel guilty for getting sick because they know the burden it creates on everyone else." Asked what kind of toll an incomplete staff can cause on themselves as chiefs, Dixon and Stanley said it can be rough and mentally straining. "It is mentally exhausting for sure because I want my staff to be happy, both mentally and physically," Stanley said. Dixon told The Beacon that anything could happen with a full staff and 10 additional officers on a scene, however, knowing an officer is hurt and alone is "unacceptable." "The impact on me as the chief is hard to explain," Dixon said. "I spend my days and nights worried to death that I'm going to get a phone call that one of our officers got hurt and no one was there to back them up." Chiefs and department representatives were asked if they felt like they needed more officers, even if they were fully staffed. "In an ideal world, to be fully staffed, the town would budget for and approve the police department to employee 13 officers," Dixon responded. "This would include eight patrol officers, two patrol sergeants, one detective, one lieutenant, and one chief. With 13 officers on staff, patrol shifts could be adequately covered, and investigations would be more thoroughly conducted." Stanley said they too need more police officers — especially as the town continues to grow. "Yes, with the planned growth of several residential properties in town and the surrounding area, plus additional businesses, we will need to add staffing," Stanley said. Morris said the Oak Island Police Department could need more officers in the future if the town's population increases, however, he said they maintain their duties well with the current staffing level and do not see a need for more officers at this time. Faulkner said the Village of Bald Head Island is looking to hire one PSO, a public safety director and one captain position, and that two of those positions were posted over a month ago. She said they do not need more officers at this time, but that potential need is assessed annually. She did not answer the questions about the impacts officers and the lead officer can face from not having a full staff of officers. Asked what residents could do to help their local police departments, local chiefs said there are volunteer programs that folks can be a part of. "We currently have a volunteer service program," Stanley said. "Some functions of the volunteer program are working [administration] duties such as answering the phone, meeting the public in the lobby and clerical work." He said the community can also help the Shallotte Police Department with special events. "We will also be starting a citizen patrol which will help with traffic control duties, working special events and property and business checks," he said. "This will aid our staff so they can continue to answer calls for service and enforcement actions." "Many police departments have local volunteer programs that residents can be involved with," Dixon said. "Residents can also speak to their elected officials to encourage them to apply tax dollars towards their police departments." Morris said the Oak Island Police Department maintains a community-oriented approach to policing, noting that they do community activities, like "Coffee with a Cop" and "National Night Out," to keep the community and police staff connected. "Basically, to support your local Police Department, get to know your local police department," he said. "Attend their events and start a conversation." The Beacon also reached out to Southport Police Chief Coring, Boiling Spring Lakes Police Chief Keven Smith, Ocean Isle Beach Chief of Police Ken Bellamy and the Northwest City Clerk. No other responses were given to the questions sent at the time of this publication's deadline.
Read more » click here

---
5.   Inspections Department Report – Inspections Director Evans

Agenda Packet – pages 21 – 23

Inspections Report » click here 

Update –
Timbo briefly reviewed department activity last month, the department still remains very busy.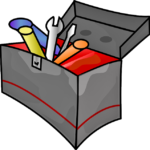 Contractors Information Seminar
The Planning & Inspections Department, supported by the town staff, hosted the twelfth annual Contractors Information Seminar on Thursday, November 9th. Contractors and electricians were able to earn two (2) hours of continuing education credits.
---
6.   Discussion and Possible Selection of Lowest Apparent Bidder for Block Q and Associated Paperwork – Town Manager Hewett
a. Ordinance 23-14, An Ordinance Amending Ordinance 23-11, The Revenues and Appropriations Ordinance or Fiscal Year 2023 – 2024 (Amendment No. 2)
b. Letter of Intent
c. Ordinance 23-15, Order to Close
Agenda Packet – pages 24 – 30
The Town received two bids at the second scheduled bid opening for Block Q Phase I stormwater work, J.P. Russ and Sons and Wells Brothers Construction Co. The most responsive bid appears to be Wells Brothers Construction Co. at $325,831.91. This has been certified by the architect (Attachment 1). If the commissioners want to move forward with awarding the contract to Wells Brothers Construction Co. there will need to be a budget amendment (Attachment 2). The Letter of Intent (Attachment 3) and the Order to Close Carolina Avenue (Attachment 4) will also need to be adopted.
If the Board elects to move forward with the selection of Wells Brother Construction Co, the suggested motion is to approve Ordinances 23-14 and 23-15 and to instruct the town manager to complete the associated contract documents.
ORDINANCE 23-15 / TOWN OF HOLDEN BEACH ORDER TO CLOSE
WHEREAS, pursuant to North Carolina General Statute §160A-299, the Town of Holden Beach Board of Commissioners has proposed to permanently close a portion of Carolina Avenue
WHEREAS, a public hearing on the question of such closing was held on September 20, 2022 at which time the proposed closure was explained, and all persons were given an opportunity to be heard; and
WHEREAS, notice of said closing was given in accordance with the requirements of the law; and
WHEREAS, it has been found to the satisfaction of the Town of Holden Beach Board of Commissioners after the public hearing that closure of the portion of the street is not contrary to the public interest and that no individual owning property in the vicinity of the street would be deprived of reasonable means of ingress or egress to their property.
NOW, THEREFORE, IT IS ORDERED by the Holden Beach Board of Commissioners as follows:
That the portion of Carolina Avenue as described above is hereby closed effective immediately.

That a certified copy of this Order be filed in the office of the Register of Deeds for Brunswick County, North Carolina.

Block Q Drawings » click here
Previously reported – September 2022
Discussion and Possible Action on Ordinance 22-20, An Order Closing Carolina Avenue from its Intersection with Jordan Boulevard to its Intersection with Quinton Street – Town Clerk Finnell
A public hearing on the proposed closure of a portion of Carolina Avenue will be held at the September 20th meeting.
If it is found to the satisfaction of the Board that closure is not contrary to public interest and no individual owning property in the vicinity of the street would be deprived of reasonable ingress or egress to the property, the Board could adopt Ordinance 22-20 (Attachment 1). The ordinance orders that the portion of Carolina Avenue from its intersection with Jordan Boulevard to its intersection with Quinton Street be closed effective immediately and directs that the order be filed in the office of the Register of Deeds.
Commissioner Murdock questioned whether it was necessary for a portion of the street to be closed immediately since we currently do not have a plan in place to utilize the property. The decision was to hold in abeyance until they have a plan in place.
No decision was made – No action taken
Update –
They moved forward with the suggested motion as submitted which is to approve Ordinances 23-14 and 23-15 and to instruct the town manager to complete the associated contract documents. Commissioner Murdock addressed most of the objections from the public comments section as what he described as propaganda. Both Commissioners Smith and Dyer also aggressively defended their position. Timbo addressed the storm water issue and explained why their was some confusion about it.
A decision was made – Approved unanimously

I am a little surprised that they unanimously voted to move forward. The three (3) new commissioners asked  for a deferral, but they passed it anyway.  I support the development of Block Q but not without public input. Sheesh!
Are you sitting down? Communication from the BOC's has been pathetic. Information is guarded and not shared. Public input is only welcome if it aligns with what they plan to do anyway. Even though I knew the pavilion needs to be replaced it was never discussed at any of their meetings. The public comments, although mixed should have given them pause. The request to hold an information session and get public input seemed to be a reasonable approach. But, this board has ignored public input in the past and continue to act like only they know what is best for us.
---
7.   Discussion and Possible Approval of Resolution 23-12, Water Resources Development Grant – Assistant Town Manager Ferguson
Agenda Packet – pages 31 – 32
The Town is applying for grant funding through the NC Division of Water Resources to assist with navigation maintenance dredging of the Harbor Acres entrance canal. To complete the grant process, the granting agency requires a resolution from the BOC. The engineer's estimate for project cost is $343,800 with the grant request being $257,850 and the remaining obligation to the Town totaling $85,950. The local share would be achieved through previous assessments of Harbor Acres lots in the canal dredging fund.
Water Resources Development Grant Resolution 23-12
WHEREAS, the Town of Holden Beach desires to sponsor the Harbor Acres Canal Maintenance Dredging Project in an effort to provide safe, reliable, and efficient transportation for the public.
NOW, THEREFORE, BE IT RESOLVED THAT:
The Board of Commissioners requests the State of North Carolina to provide financial assistance to the Town of Holden Beach for the Habor Acres Canal Maintenance Dredging in the amount of $257,850.00 or 75 percent of project construction cost, whichever is the lesser amount;

The Town of Holden Beach assumes full obligation for payment of the balance of project costs via the Canal Dredging Maintenance Fund;

The Town of Holden Beach will obtain all necessary State and Federal permits;

The Town of Holden Beach will comply with all applicable laws governing the award of contracts and the expenditure of public funds by local governments;

The Town of Holden Beach will supervise construction of the project to assure compliance with permit conditions and to assure safe and proper construction according to approved plans and specifications;

The Town of Holden Beach will assure that the project is open for use by the public on an equal basis with no restrictions;

The Town of Holden Beach will hold the State harmless from any damages that may result from the construction, operation and maintenance of the project;

The Town of Holden Beach accepts responsibility for the operation and maintenance of the completed
Update –
This is a grant application for the dredging of the Harbor Acres entrance canal which also requires a resolution from the BOC's. The state will be responsible for $257,850.00 or 75 percent of the project construction cost, whichever is the lesser amount. The Harbor Acre homeowners association are responsible to cover all  the additional expenses. 
A decision was made – Approved unanimously
---
8.   Discussion and Possible Approval of Ward and Smith, P.A. Engagement Letter – Mayor Holden
Agenda Packet – pages 33 – 38

FEDERAL ADVOCACY ACCOMPLISHMENTS IN 2022 AND 2023
Throughout the two most recent contract cycles (2022 and 2023), Ward and Smith-with assistance from The Ferguson Group-have helped Holden Beach secure $4,819,867 in appropriations with an estimated $1,350,000 pending between two funding requests that support the Brunswick County Beaches (Holden Beach) General Reevaluation Report. Other successes are more difficult to quantify since they do not come in the form of a federal award but are nonetheless of great value and importance to the Holden Beach community.
Priorities accomplished on behalf of the Town of Holden Beach in 2022 and 2023 include:
$1,050,000 for Lockwood Folly Maintenance Dredging, which was approved in the FY 2022 federal budget (the Consolidated Appropriations Act, 2022) under Energy and Water Development Appropriations (3/15/2022).
$1,000,000 for the Brunswick County Beaches (Holden Beach) General Reevaluation Report, which was approved in the FY 2023 federal budget (the Consolidated Appropriations Act, 2023) under Energy and Water Development Appropriations (12/29/2022).
$2,669,867 for the Greensboro Street Lift Station Hazard Mitigation Upgrade Project, which was approved in the FY 2023 federal budget (the Consolidated Appropriations Act, 2023) under Interior and Environment Appropriations (12/29/2022).
$100,000 for the Ocean Boulevard Stormwater Mitigation Project, which was approved in the FY 2023 federal budget (the Consolidated Appropriations Act, 2023) under Energy and Water Development Appropriations (12/29/2022).
We are still awaiting Congressional approval of FY 2024 appropriations, but we successfully worked on behalf of the Town this year to submit another earmark request for the GRR. Senator Tillis and Congressman Rouzer both submitted Holden Beach's $425,000 earmark request for the GRR, and due to our continued advocacy, the GRR request has been included in both the House and Senate appropriations bills. As a reminder, Senator Tillis only submitted two requests under the Energy and Water Development account for the entire State of North Carolina. Congressman Rouzer submitted only fifteen requests and selected the GRR request as one of the fifteen. We are very optimistic that the Town's GRR request will be included in the final FY 2024 federal budget.
Throughout 2022 and 2023, we stayed in regular contact with Holden Beach's Congressional delegation and the U.S. Army Corps of Engineers regarding Holden Beach's request for funding through Public Law I 16-20, the Additional Supplemental Appropriations for Disaster Relief Act , 20/9 (DRA) to fund the remaining study costs for the Brunswick County Beaches (Holden Beach) General Reevaluation Report. Our collective efforts to maintain regular communication with the Wilmington District of the Corps over the years resulted in their recommendation in 2022 that the Corps use reprogrammed funds approved in the ORA to complete the GRR at 100 percent federal cost. The Town's Congressional delegation fully supported these efforts, and on November 29, 2022, they sent a letter at our urging to the U.S. Anny Corps of Engineers asking that Holden Beach's request for funding through the DRA be promptly approved. We remain optimistic about the ORA request and expect a decision to be made shortly after FY 2024 appropriations are approved, which will hopefully occur in early

Throughout 2022 and 2023, we also stayed in regular contact with Holden Beach's Congressional delegation and the U.S. Anny Corps of Engineers regarding a decision the Corps made in 2017 that disallowed non-federal interests like municipalities and marina owners to dispose of dredge spoil in federally designated dredge spoil disposal sites out of concern that space would run out at these sites for federal projects . However, as you know, this is not a practical concern at many disposal sites. Some designated disposal sites in North Carolina, for example, have never been used. On June 6, 2023, Holden Beach's Congressional delegation jointly submitted a letter we prepared to the Corps of Engineers concerning the disposal sites issue. After several years of advocacy, this is an incredibly encouraging step forward, and we are optimistic that the delegation's involvement will result in increased cooperation from the Corps on this

We continue to advise the Town regarding the application process it must complete to receive the appropriations approved in the FY 2023 federal budget for the Greensboro Street Lift Station Upgrades Project. We understand that the application must be approved as soon as possible for the project to proceed on schedule. At our strong urging, Congressman Rouzer's office reached out to the EPA in July to convey the Town's concerns about needing this project approved as soon as possible.

After several years of persistent advocacy, on September 18, the Wilmington District of the Army Corps of Engineers finally responded to the 103-page "LWFIX Nourishment and Sediment Transport Analysis Engineering and Modeling Report" completed by Applied Technology and Management, Inc. (ATM), which was provided to the Wilmington District in 2019. The Town commissioned the ATM report to provide objective information and data on the most beneficial placement of sand material from Lockwood Folly Inlet Crossing (LWFIX) navigation dredging projects. The ATM report concludes that the most beneficial placement of this dredged material is on the east end of Holden Beach. However, the Wilmington District's 2-page response failed to appropriately acknowledge the findings of the ATM report regarding the beneficial placement of LWFIX dredged    Accordingly,  we  assisted  Manager  Hewett  and  Assistant Manager Ferguson  in  drafting  a  reply  to the Wilmington  District  that discussed  the inadequacies  of the district's response and asked several follow-up questions, which was sent to the Wilmington District on September 22. We are still awaiting a response from the Wilmington District.
As you are aware by reviewing our monthly reports to the Board of Commissioners, these accomplishments are the result of persistent advocacy efforts over several months or years and carried out both with and on behalf of the Town of Holden Beach. We stay in close contact with the Town's Congressional delegation, Congressional committee staff, and relevant administration officials and staff regarding your federal priorities, and we use all available resources at our disposal to support these efforts. Our monthly reports also provide important updates on federal matters that are of interest to Holden Beach, even if they are outside our agreed-upon contractual obligations, such as providing updates on rules and regulations published by federal agencies. We are pleased that our efforts have resulted in so many successes for the Town of Holden Beach over the years and we are confident that our proven approach will result in even more success for the Town in the future.
Retainer and Fees
The retainer for services will be $9,225 per month through June 30, 2024. The retainer will be $9,725 per month effective July 1, 2024, through June 30, 2025.   Unless either of us terminates this engagement, this agreement  will remain in place from January 1, 2024  through June 30, 2025. Out-of-pocket expenses and costs relating to our representation are not included in the monthly fee but will be billed separately as incurred. Our work under this new contract will commence after we receive authorization from you. The monthly retainer in any event will be the minimal fee for our services rendered during any portion of the month for which it is paid .
Update –
Our lobbyist Mike McIntyre with Ward & Smith in conjunction with the Ferguson Group represents the town in advocacy matters at the federal level as it is related to beach nourishment, Lockwood Folly Inlet maintenance, and dredge material disposal sites. The monthly retainer will start at $9,225 per month and go to $9,725 per month , plus out-of-pocket expenses that typically total approximately $2,000 per month for The Ferguson Group. The agreement with Ward and Smith is for an annual total estimated advocacy cost of $137,700.
Alan spoke about the longstanding relationship the town has had with McIntyre. David stated that we are simply updating our existing agreement by extending it out till the end of June of 2025. Both Commissioner's Murdock and Smith congratulated them on bringing millions of dollars to our island that has been a massive help to us. A motion was made for approval of the lobbyist contract/agreement with  the five hundred dollar increase.
A decision was made – Approved unanimously
Editor's Note –
It's painful to say, but I was wrong. It wasn't the first time and likely won't be the last. In 2018 I objected to us hiring McIntyre as our lobbyist, but they really delivered, and it has paid big dividends to the town.
Previously reported – October 2018
McIntyre did a brief recap of presentation that was made earlier in the day on what they can do for us. The consensus appeared to be that we need someone to speak on our behalf and they can make it happen.
Questions that remained to be answered are as follows:
What are we going to get?
How much will it cost?
Mayor Holden remarked that he was "begging the Board to give it their full consideration" he then prodded them into asking for a written proposal from the firm.

Mayor Holden has been selling this consulting gig for at least the last three years. It is his opinion that we are wasting our time, that nothing gets done in government without having people working for you behind the scenes. Ostensibly we are trying to punch above our weight and make sure we are able to impact things in our favor. I'm of the mindset that it doesn't matter how much we spend for a consultant; the bottom-line is that we only have approximately four hundred voters which is not enough to make any impact and get things done. It makes more sense to me to work with the other coastal communities where the cost is shared, and the number of voters does matter. We were a member of the group formally known as the Brunswick Beaches Consortium which rechristened itself as Brunswick Shoreline Protection in the wake of the scandal of Caswell Beach Mayor Harry Simmons' financial dealings while in charge of the group. Holden Beach contributed $143,038 the amount prosecutor's claim Simmons embezzled is $94,418. After the Brunswick Beach Consortium debacle, I can understand their reluctance to go down that path again. Don't disagree that we can use assistance in government relations to get things done. That said, I question the need to hire such a prestigious white-shoe law firm to do that for us.
---
9.   Discussion and Possible Amendment to Quarterly Meeting Dates – Commissioner Dyer
Agenda Packet – page 39
Per the Board of Commissioners' direction at the December meeting, I have established a preliminary calendar for budget and quarterly meetings. It is proposed that the meetings be held at 5:30 p.m. on the suggested dates.
Please review the dates below and be prepared to discuss alternate dates at the meeting if you are not available during the proposed dates.
Thursday, February 23rd                     Goals & Objectives Workshop
Thursday, March 16th                          Budget Meeting #1/Quarterly Meeting
Thursday, April 20th                            Budget Meeting #2
Thursday, June 1st                                Budget Meeting #3
Thursday, June 15th                             Budget Public Hearing/Quarterly Meeting
Thursday, September 21st                  Quarterly Meeting
Thursday, December 21st                   Quarterly Meeting
Update –
They agreed to cancel the Quarterly Workshop scheduled for this December. No motion was made so I'm not really sure if they approved the proposed meeting schedule.
A decision was made – Approved unanimously
---
10.  Town Manager's Report
Coastal Storm Water Damage Reduction Study
Congress recently authorized another $425,000 for the USACE federal portion of the study. David suggested that there might be some additional funds available too.
Previously reported – April 2021
In order for us to become a USACE beach requires a new study be authorized
Three (3) years / Three (3) levels of review / Three (3) million dollars
   * $1.5 million Feds and $1.5 million Town of Holden Beach
Why consider doing a study?
FEMA is not an insurance policy
The rule book is changing
We have to consider risks
Coastal Storm Risk Management Study
This attached draft agreement for a Coastal Storm Risk Management Study (Attachment 1) between the USACE and the Town of Holden Beach represents the inclusion of the study in the Corps work plan for this federal fiscal year. The study was the Town's number one advocacy priority at the federal level as a proposed means of storm damage reduction . The Town will not know if it is economically and environmentally feasible for us to become a federal beach unless the study is conducted. The attached budget amendment (Attachment  2) in the amount of $500,000 represents the town's commitment for the upcoming FY for the Town's share of the total non-federal (Town) study cost of $1,500,000.
If the BOC chooses to pursue the study, a motion will need to be made to authorize the Town Manager to execute the contract document and self-certification of financial capability with the USACE and approve the attached budget amendment.
Previously reported – March 2023
Christy went through a slide presentation briefly reviewing how we got to this point. The abridged version is that FEMA continues to change the rules for engineered beaches maintenance programs. The study with the USACE gives us another option if we can't count on FEMA moving forward. Commissioner Kwiatkowski was prepared as usual and had a number of questions for the USACE representatives that were in attendance at the meeting. The Corps representative walked them through the process. Commissioner Sullivan asked a couple additional questions regarding funding. An important takeaway is the federal government contributes 65% of the costs for initial construction, the cost split is 50% between federal and non-federal funding for maintenance nourishment projects. Of course, the major concern is whether there will be adequate funding for not only the study but for an approved project. The Corps rep made it very clear that there is no guarantee, but he felt confident that they both would be funded. He understands that the Town is looking to obtain the best deal possible. FEMA and USACE organizations are both here to help and each have a place. The difference between them is that the USACE is more of a designed project, build, and maintain whereas FEMA is primarily there to help cover emergencies. The BOC's decided to fund the  $1.5 million study and take the funds from the BPART account instead of the Capital Reserve account.
---
Block Q
The THB received a $420,000 grant award for the development of Block Q
Over $2.8 million was recently awarded to governments in North Carolina to improve public access to coastal beaches and waters.
The N.C. Department of Environmental Quality's Division of Coastal Management awarded the funding, including over $1.6 million for local projects via its Public Beach and Coastal Waterfront Access program. The announcement was made on Monday, Nov. 6. "This funding makes our coasts more accessible to all North Carolina residents and visitors, so everyone has the opportunity to enjoy our natural resources," said Elizabeth S. Biser, Secretary of the Department of Environmental Quality. "We are proud to partner with local governments and communities to support projects that also benefit our coastal economy."
 Per the DEQ, local awardees include:
"Town of Carolina Beach received $600,000 for the acquisition of three adjacent parcels on Canal Drive on the north end of town will provide parking and access to the beach and Freeman Park.
"Town of Holden Beach received $420,000 for the development of Block Q. This project will create new restrooms and parking for beach access, a boat ramp, and public entertainment area. The project also includes landscaping and stormwater improvements.
"Town of Kure Beach received $71,025 for improvements to Public Beach Access #140. This project will replace the existing 8 ft. wide 134 ft. long wooden walkway with a 10 ft. wide ADA-accessible walkway to the beach.
"Town of Kure Beach received $62,700 for improvements to Public Beach Access #99. This project will replace the existing 8 ft. wide 97. ft long wooden walkway with a 10 ft. wide ADA-accessible walkway to the beach.
"The Town of Sunset Beach received $153,578 for the 29th Street Renovations. This project will renovate the existing beach access at 29th Street.
"Town of Sunset Beach received $153,578 for renovations to the existing beach access at 37th Street.
"Town of Sunset Beach received $153,578 for renovations to the existing beach access at 34th Street.
"Town of Surf City received $10,875 for updates to the Broadway Street Access Site. This project will update the existing public restrooms and outdoor showers to meet ADA accessibility standards, pave dedicated handicapped accessible parking spaces and walkways to the restrooms and beach accessway."
Each recipient is required to contribute funding to the project equal to at least 25 percent of the grant received.
Read more » click here

The program has awarded 497 grants totaling more than $53.8 million to improve public waterfront access sites since it began in 1981. For more information about the program, go to the Public Beach and Coastal Waterfront Access website. The Public Beach and Coastal Waterfront Access program provides matching funds to local governments in the 20 coastal counties. Governments that receive grants must match them by contributing at least 25 percent toward the project's cost. Funding for the grant program comes from the North Carolina General Assembly through the state's Parks and Recreation Trust Fund. Access projects may include walkways, dune crossovers, restrooms, parking areas, piers and related projects. Funds also may be used for land acquisition or urban waterfront revitalization. Staff with the state Division of Coastal Management selected the recipients based on criteria set by the N.C. Coastal Resources Commission.
---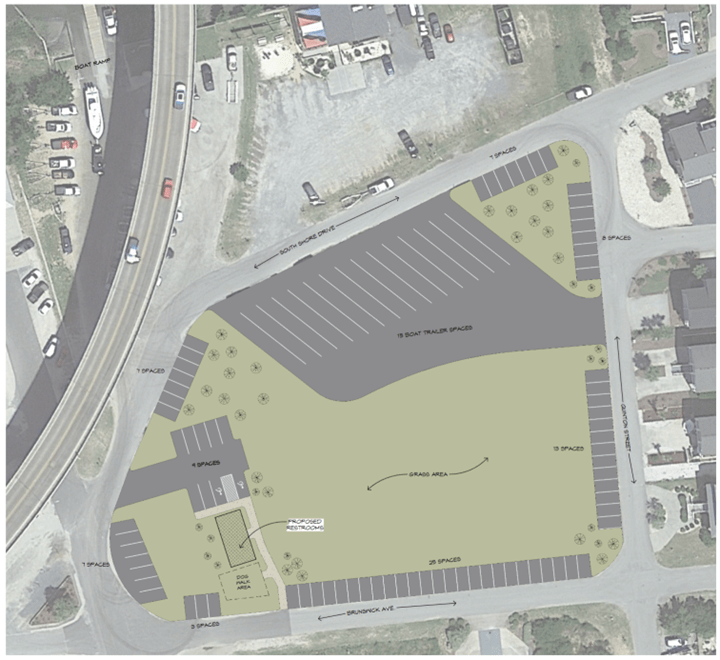 Dubbed Block Q,
this Brunswick town is making big plans to transform an open lot
Plans to transform a 1.79-acre lot in Holden Beach into a public paid parking lot are moving forward. Looking to further its paid parking plan, the town of Holden Beach purchased the 1.79-acre property between Shore Drive and Brunswick Avenue, commonly known as Block Q, for $2 million in early 2022. Well over a year later, the town is moving forward with plans to transform the space and create more than just a parking lot. At its August meeting, the Holden Beach Board of Commissioners held a public hearing regarding the town's application for a $420,000 grant from the North Carolina Department of Environmental Quality.
Here's the latest on the project and what's next.
What is Block Q?
A previously privately owned vacant lot just off N.C. 130 in Holden Beach, Block Q was purchased in 2022 by the town. At the time, Holden Beach had just approved its paid parking plan and acquired the property with plans to add up to 235 parking spaces. Mayor Alan Holden confirmed that, to his knowledge, there is no significance to the name "Block Q," and the property has simply been referred to by that name historically. The property sits across the street from the Intracoastal Waterway and boat ramp and is just one block from the public beach access. The site is currently a vacant lot that the town purchased to "provide additional amenities for residents and visitors" – namely parking. Local residents expressed concern at the time of the sale, noting that while the purchase would increase revenue for the town, they worried about the impact the purchase could have on traffic and, ultimately, the town's character.
What is the plan?
At the time of the purchase, the town indicated the lot would be transformed into a public parking lot. Now, updated plans indicate the town looks to further enhance the space with the addition of a new public restroom facility, boat trailer parking, stormwater improvements and green space, in addition to the previously planned public parking. According to the town, the site will hopefully relieve the stress and demand on the wildlife boat ramp across the street, which has limited parking that is inadequate for the number of patrons who frequent the facility. Current plans indicate the lot will consist of 79 car parking spots and 15 boat trailer spots. The town clarified that it is moving forward with the public car and boat trailer parking independently and is asking for grant assistance with the public restroom facility, associated parking and sidewalks. Plans indicate the restroom facility will be ADA compliant. While no members of the public were physically present to voice their thoughts about the grant application at the August meeting, several residents sent their thoughts to town staff. Repeated concerns include the project's cost and necessity.
What is the North Carolina Public Beach and Coastal Waterfront Access Program?
The town has applied for a grant as part of the North Carolina Public Beach and Coastal Waterfront Access Program. According to the DEQ's Division of Coastal Management, the program looks to provide matching grants to local governments for projects that improve pedestrian access to beaches and waterways in North Carolina. Eligible projects include land acquisition, rehabilitation, maintenance and construction projects, such as parking and restroom facilities. The town of Holden Beach indicated they would match $140,000 for the project – 25% of the grant funds requested. The project is anticipated to cost $560,000.
What's next?
Assistant Town Manager Christy Ferguson said the grant application was due to the state by Aug. 28. The town indicated it will move forward with the parking aspects of the project whether the funding is approved or not. The grant would assist in funding the construction of the public restroom facilities. If the grant is awarded, construction could begin within six months, the application indicates, and the project could be completed within 18 months.
Read more » click here 
---
Sewer Lift Station #2
More knowns! They have been in contact with the EPA Regional Project Representative, and the grant package commitment notice has been finalized. David expects to have it come out of the EPA office headquarters by the end of next month. He said that once we get that squared away we can reengage in the bidding process.
---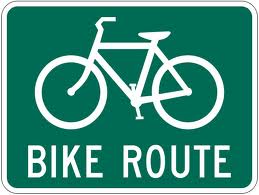 Bike Lane Project
The contractor is on site, and they are making necessary storm water fixes. Once they have completed that part of the project they should start prep work on the paving project.
The Department of Transportation has started stormwater work for the Ocean Boulevard Paving Project. Expect detours in the work area. DOT will be onsite to allow limited access to closed areas.

DOT Bike Lane Report Presentation » click here
The plan includes bike lanes of 5' on each side of Ocean Boulevard. It will be an asymmetrical widening, that is 7' on the south side and only 3' on the north side where the sidewalk is. 
Highland Paving has been awarded the contract and has already met with the town staff
Surveying has already been completed and work on storm water issues will begin in November
Paving prep work will start once that is completed, probably sometime in December
They anticipate that the actual paving project will be done beginning March
Work will be done starting from the west end of the island working east
They are still committing to completing the project before Memorial Day
THB Newsletter (10/20/23)
Ocean Boulevard Resurfacing and Bike Lane Project
Highland Paving met with the Department of Transportation and staff last week to discuss the upcoming project. They communicated that storm water work will begin in November. The subsequent paving prep work, which we are thinking will take place in December, will involve removal of the road shoulders, three feet on the north side of the road and seven feet on the south side of the road. We do not know where the contractor will be at any given point in time. Property owners are responsible for removing any material (landscape timbers/specialty rock, etc.) from the construction area that they don't want hauled off by the contractor. Replacement material will be generic ABC stone. Mailboxes will be moved/reset, but if they fall apart, the contractor will install a generic replacement. We are forecasting the paving won't begin until March/April, with the project being completed by Memorial Day.
---
In Case You Missed It –
---
Veterans Appreciation Luncheon   
The Town held its Veterans Appreciation Luncheon on Monday, November 6th.
---
THB Newsletter (11/11/23)
Thank You to Our Veterans
The Town would like to take a moment to express our gratitude to all the men and women who have served in the armed forces. Veterans Day serves as a special reminder to show appreciation to the past and present members of our military. Thank you for the sacrifices you have made to protect our country and our freedom.
---
Contractors Information Seminar
The Planning & Inspections Department, supported by the town staff, hosted the twelfth annual Contractors Information Seminar on Thursday, November 9th. 
---
National Flood Insurance Program: Reauthorization
Congress must periodically renew the NFIP's statutory authority to operate. On November 17, 2023, the President signed legislation passed by Congress that extends the National Flood Insurance Program's (NFIP's) authorization to February 2, 2024.
---
News from Town of Holden Beach
The town sends out emails of events, news, agendas, notifications and emergency information. If you would like to be added to their mailing list, please go to their web site to complete your subscription to the Holden Beach E-Newsletter.
For more information » click here
---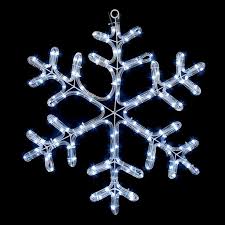 Christmas Lights
Public Works have put up snow flake decorations on the boulevard light poles
Purple street lights are not part of the holiday decorations they are the LED's failing
---
 Upcoming Events –
---
Turkey Trot
The Town of Holden Beach will hold its annual Turkey Trot on Thanksgiving morning, November 23rd at 8:00 a.m. All individuals interested in participating should call 910.842.6488 to register. Please bring a canned food item to donate to the local food pantry.
---
Gingerbread Creation Contest
The Town of Holden Beach will sponsor a gingerbread creation competition to be judged as part of our annual tree lighting event on November 30th. There will be two categories, one for businesses and one for individuals. Note that age will not be a determining factor in judging. The majority of the creation's components must be edible. Judging will be by popular vote of those attending the tree lighting event. All interested parties should register by November 21st by emailing Christy at [email protected]. Creations should be dropped off at the Holden Beach Pavilion between 4:15 p.m. and 4:30 p.m. on November 30th. Participants who wish to have their creations displayed after the event concludes will need to be prepared to move them to Town Hall following the conclusion of the tree lighting event. The staff will not be able to take responsibility for moving them.   
---
Tree Lighting
The Town of Holden Beach will hold its annual tree lighting ceremony on Thursday, November 30th at 6 p.m.
---
Pickleball Classes
Pickleball classes will be held every Monday starting at 10:00 a.m. for beginners/11:00 a.m. for intermediate and every Tuesday starting at 5:30 p.m. for beginners and 6:30 p.m. for intermediate beginning December 4th at Bridgeview Park. Cost is $100 for the season for both residents and non-residents or $180 for two classes per week for the season.
For more information » click here
---
Sandy Paws Dog Parade
Join us on Saturday, December 9th at 10:00 am outside the Town Hall Public Assembly for our annual Sandy Paws Dog Parade. This will be a short walk to the Pavilion where you can have you dog's picture taken with Santa.
---
The Chapel Choir Christmas Musical Performance
The Holden Beach Choir is preparing for its second Christmas concert with a live orchestra. On Sunday December 17th at 7:00 pm, the choir will present the musical The Wonders of His Love, accompanied by a Chamber Orchestra.
---
14.   Mayor's Comments

---
From the Mayor's Desk (10/25/23)
Congratulations to the Town staff on the submittal of another "on time, clean" independent auditor's report to the NC Local Government Commission. I am especially pleased to report that the Town's total net position increased by over 3.8 million dollars with the total combined governmental fund balances (excluding our award winning FEMA project) cumulatively increasing from last year's already strong financial position by 1.8 million dollars.   The General Fund Ratio; which is a prime indicator of the Town's financial condition stands at 151% – the highest it has ever been! Of the governmental funds, the BPART Fund's share of this increase was $1,453,131, nearly double the current year's budgeted appropriated fund balance. The Water/Sewer Proprietary Fund is also in great shape as overall cash and cash equivalents increased by $176,048. These results prove the Town's outstanding stewardship, excellent financial position and will go a long way toward meeting the challenges of the future. 

Congratulations? Great News?! Are you kidding me? THB revenue was underestimated, and expenses were overestimated to the tune of almost a three (3) million dollar variance between the budget and the audit. Why were we taking funds from reserves and reducing fund balances? Why did we have a tax increase? Why were we planning to borrow five (5) million dollars? What do you think would happen to these employees if they worked in the private sector? The staff does a monthly budget update and posts it online. If they are monitoring this how does the financial officer, assistant town manager and the town manager not see and report this variance? Frankly, the bottom line is that they are doing a poor job of monitoring and communicating to both the Board and the public what our financial situation is in real time and how our money is being spent and managed. The 2023-24 budget still has us spending over two (2) million more than we are bringing in and therefore reducing our fund balances by that amount.  Yikes!
---
From the Mayor's Desk (11/01/23)
Town Manager David Hewett just sent me two great announcements!
First off – in addition to the good news contained in the independent auditor's report – we have been made aware that the report has been approved by the NC Local Government Commission. I have never heard of any audit being reviewed and approved so fast in my 20 plus years in local government. Hats off to Daniel and Margaret for their excellence in getting it done.
Secondly – Congressman Rouzer's office advises that the House has passed H.R. 4394, the Energy and Water Development Appropriations Bill for Fiscal Year 2024 which specifically includes $425,000 to support the federal cost share of the Army Corps' work to address Holden Beach's risk of storm damage and coastal erosion due to hurricanes and tropical storms which impact homes and businesses in the community. In addition, we continue to coordinate with our federal advocates to press for a final determination on the Disaster Relief Act (DRA) money which hopefully will provide full funding for the rest of the study.
Holden Beach has been blessed again this year! No major storms have visited us, and the island is overall in good shape!
The election of four town commissioners and a mayor will take place November 7, 2023.
The Festival by the Sea was a tremendous success last weekend. The weather was great, and the crowd was large!
Last year's beach nourishment project has been selected by the American Shore and Beach Preservation Association as one of America's best restored beaches. The beach strand overall remains in good condition as reported by Fran Way, our coastal consultant engineer that continues to monitor the sand along our shore. There is an escarpment line along part of the oceanfront that is temporary.
The bike lanes and resurfacing project preliminary work is ongoing. The project is on schedule to be completed before Memorial Day.
Rest assured the pier and Block Q are being worked on by our engineers and architects behind the scenes even though there isn't much to see to date. Satisfying regulations and due process is a constant struggle. There is a shortage of bids from potential contractors.
Sailfish Park plans are far from being made as more information is still forthcoming from the designers, permitters, etc. It is my opinion that this project has a long way to go before final decisions will be made by the commissioners.
The sewer pump station (#4) located at the corner of Greensboro Street and Ocean Boulevard West continues to be a problem of contract pricing, bidding, etc. There is more work that has to be done to get more competition in the bidding process. Contractors seem to have more work than they can get done.
The Holden Beach causeway is still a hot topic at the local highway committee meetings. It appears the project continues to gain traction. Improvement is still needed more than ever to be more inviting as one approaches our beautiful Holden Beach bridge.
Paving of portions of NC 130 between Shallotte and Holden Beach is still in the planning stages.
Eddie Sweatt passed away last weekend. Many of you will remember that he and his wife Carolyn were the owners of our local newspaper, the Brunswick Beacon for decades. They have been property owners and longtime residents for many years. Mr. Sweatt's funeral service is at the Holden Beach Chapel at 10:00 a.m. tomorrow, November 2, 2023.
Wintertime is almost here. It is time to start preparing your homes for the cold weather.
Happy holidays are coming!!!
---
From the Mayor's Desk (11/07/23)
Today we have been made aware that the Town of Holden Beach has been awarded a $420,000 CAMA Public Beach and Waterfront Access Grant for further improvements to the Block Q properties adjacent to the Wildlife Boat Ramp. This project will create new restrooms and parking for beach/boating access, landscaping and stormwater improvements. Thank you to the North Carolina Division of Coastal Management!
---
From the Mayor's Desk (11/08/23)
Holden Beach Voters Have Spoken!
Thank you to the voters for re-electing me as mayor of Holden Beach. Additionally, Dr. Page Dyer has been re-elected as a commissioner.
Welcome to the newly elected commissioners, Tom Myers, Tracey Thomas and Rick Paarfus. The winners of yesterday's election will be sworn in on December 19th, which is our regular monthly meeting date here at Town Hall.
Commissioner Rick Smith was not up for re-election this cycle. He will remain in his position for two more years.
Thanks to Judge Gerald Arnold and Brian Murdock for their services as commissioners, which will conclude at the December meeting.
I look forward to working together as a board for the good of Holden Beach and continuing to be the best family beach!
---
General Comments –
---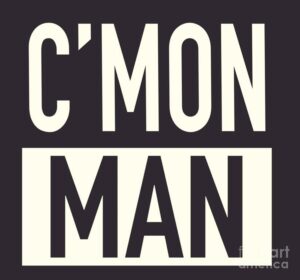 The Town has been live streaming their Board of Commissioners meeting on Facebook and later posting the audio to YouTube. I believe that more people participate in virtual meetings than those that physically attend the meetings. It still is difficult to listen to the meetings on Facebook since the audio is so poor, it's really hard to hear what they are saying. Virtual meeting protocols prescribe them to talk into the microphone, have speakers say their name before commenting, and to take roll call votes, among other suggestions. We should be able to get audio right on the Facebook livestream. It is unacceptable that the audio is so poor. The first few minutes of this meeting there was  no sound at all. The Town needs to do whatever it takes to get this corrected.
---
THB PUBLIC HEARING
The Planning and Zoning Board of the Town of Holden Beach will hold a public hearing on Tuesday November 28, 2023, at 3:30 p.m., at the Town Hall, to consider the following request:
 Revision of Town Ordinance 157.083 definition of Accessory Structures.
 If you have any questions, please contact Town Hall at (910) 842-6080.  
Previously reported – July 2023
Discussion and Possible Action on Holden Beach Code of Ordinances, Section 157: Zoning Code (Accessory Uses) – Mayor Holden
§157.007 ONE PRINCIPAL BUILDING PER LOT
No platted lot shall be occupied by more than one principal building. No part of a yard, court, or other open space provided about any building or structure for the purpose of complying with the provisions of this chapter shall be included as a part of a yard or other open space required under this chapter for another building or structure. A residence shall always constitute a principal use.
Alan introduced the topic, but Timbo explained the issue. Basically, you can't have an accessory structure before you have a primary structure. Property owners are required to have a bulkhead, but you can't have a floating dock or pier without the principal structure which is the house.  Changes in the state law have made piers and docks an accessory structure.  The Board requested that Timbo to come back to them with proposed changes to the ordinance concerning accessory uses for the Board to review.
---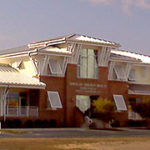 BOC's Meeting
The Board of Commissioners' next Regular Meeting is scheduled on the third Tuesday of the month, December 19th
---
2023 Municipal Elections

Twelve (12) candidates were on the ballot running for five (5) available positions
THB Election Results
Candidate                            Position                    Term                     Votes
Alan Holden                        Mayor                         Ninth                     230
Mike Felmly                           Mayor                         First                      196
Tom Myers                          Commissioner           First                       267
Tracey Thomas                  Commissioner            First                      218
Page Dyer                            Commissioner            Second                  181
Maria Surprise                     Commissioner            First                      164
Brian Murdock                     Commissioner            Second                 148
Gerald Arnold                       Commissioner            Second                 137
Jim Bauer                               Commissioner            First                     86
Rick Paarfus                       Commissioner            First                     193
Sylvia Pate                             Commissioner            First                     141
Richard McInturff                Commissioner            First                     69
Editor's Note –
Off-year elections are often noted for low interest and few voters at the polls. Based on the Mayor's candidates vote count we had four hundred and twenty-seven (427) voters out of eight hundred and forty-seven (847) registered voters or some 50.41% that turned out to vote. I'd say that it was a really good turnout especially for off-year elections. There is much to be said for stability and continuity that comes with serving in office for long periods of time. That said, I think the public wanted change and elected three (3) candidates that had not served in the town government before.
 Holden Beach Election Results / Through the Years …
BOC's distribution list
[email protected]
[email protected]
[email protected]
[email protected]
[email protected]
[email protected]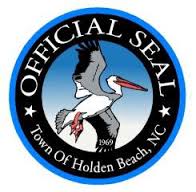 Congratulations and thanks to our elected officials for their service to the community.
---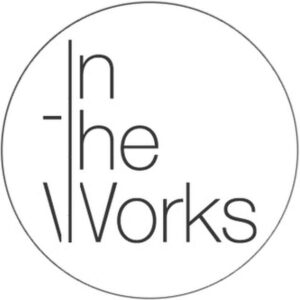 It's not like they don't have anything to work on …
The following twenty-five (25) items are what's In the Works/Loose Ends queue:
796 OBW Project
Accessory Structure
ADA Mediation Agreement
Audit Committee Chair

Beach Mat Plan
Bike Lanes
Block Q Project
Carolina Avenue
Crosswalks OBW
Dog Park
Fire Station Project
Harbor Acres
Hatteras Ramp/Coastal Waterfront Access Grant
ICW/No Wake Zone Enforcement
Inlet Hazard Areas
Parking – 800 Block
Pier Properties Project
Rights-of-Way
Sailfish Park Site Project
Sewer System/Lift station #2
Stormwater Management Project
USACE/Coastal Storm Risk Management Study
Water System Assessment/Water Tower
Waste Ordinance Enforcement Policy
Wetland Delineation/Bulkheading

The definition of loose ends is a fragment of unfinished business or a detail that is not yet settled or explained, which is the current status of these items. All of these items were started and then put on hold, and they were never put back in the queue. This Board needs to continue working on them and move these items to closure.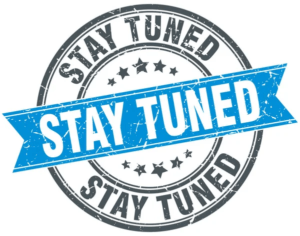 ---
I hope your Thanksgiving was filled with family and friends
and all of the memories that make you thankful!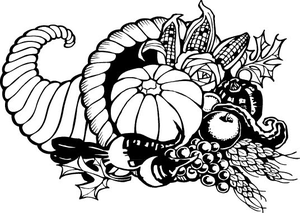 November 23, 2023

---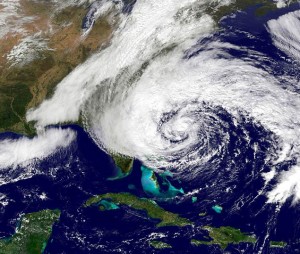 Hurricane Season
For more information » click here.

Be prepared – have a plan! 
---
Hurricanes have always struck the shores of the United States. But in recent decades, the combination of climate change and growing coastal population has made them far more damaging – particularly in one corner of the Atlantic coast. Roughly 150 Atlantic hurricanes have approached or directly hit the United States in the last seven decades. Gulf Coast regions like coastal Louisiana and Florida frequently encounter powerful hurricanes, of course. But some of the most hurricane-prone parts of the country lie further northeast, on the Carolina coast. Between 2016 and 2022, the Carolinas were hit by five hurricanes: Matthew, Florence, Dorian, Isaias and Ian. At the crossroads of these hurricanes lie the metro areas of Myrtle Beach, S.C., and Wilmington, N.C. These two metros, known for their striking coastlines, have been regularly battered by hurricanes this century. They also have something else in common: Both are among the fastest-growing coastal metros in the United States since 2000. Why do so many people decide to move here despite the risks? And what does that mean for everyone else?
A Beautiful Place That Has a Dragon':
Where Hurricane Risk Meets Booming Growth
The hurricanes keep coming, and the people, too: The fastest-growing places along the Atlantic coast this century are also among the most hurricane-prone. Between 2016 and 2022, the five hurricanes that hit the Carolinas cost the two states over $33 billion in damages in current dollars, displaced hundreds of thousands of people and led to the deaths of more than 90. There's every reason to expect more damage in coming years: A warming climate adds moisture to the air, unlocking the potential for wetter and more powerful storms. And rising sea levels make storm surges more damaging and coastal flooding more frequent.  And the newcomers will keep coming: One 2022 study projected that by 2050, population growth will increase the number of Americans exposed to flooding nearly four times as much as climate change will alone. Simply put, there are many more people living along the paths of hurricanes than ever before. And this booming coastal population is, by many accounts, a larger contributor to rising hurricane risks than climate change. "It's always climate change plus something, and we're moving more people into harm's way than out," said Kathie Dello, North Carolina's state climatologist. Local officials say they are struggling to keep up with the growth. They can try to manage the floodplain, communicate the risks, regulate construction and prepare for disasters. But the one thing they can't seem to do is stop people from moving here. Many retirees are drawn to the Carolinas' beaches and waterways, moderate temperatures and low taxes. Between 1990 and 2020, the number of people 65 and older grew by nearly 450 percent combined in Horry County, S.C., and adjoining Brunswick County, N.C. When Gail Hart moved from Arizona to retire in Wilmington, N.C., in 2017, she hadn't considered the hurricane risk. "I wanted to be near a beach," she said. "I wanted a community." The next year, Hurricane Florence made landfall in the Wilmington metro area. Many neighborhoods flooded. In some places, three feet of water entered homes. Emergency officials rescued over a thousand residents. Ms. Hart evacuated. She was fortunate: Her home suffered only minor wind damage. But the experience changed her view of living there. She installed storm shutters and a generator and bought flood insurance. And yet, like so many others, she has stayed despite the storm risks. "I don't let it affect my life unless there's a hurricane coming," she said. Ms. Hart is far from alone. When she arrived, there were about a dozen homes in her retirement community. Today there are over 500. In a retirement community being built across the road, acres of pine forests have been cleared to develop homes along the Cape Fear River. Nearby, marshland with ghost forests of dead trees was up for sale as "riverfront condo land." Wilmington is part of New Hanover County, the most densely populated of the state's coastal counties. Nearly 40 percent of its homes risk being severely affected by flooding in the next 30 years, according to the First Street Foundation. "There's just not a lot of area left," said Steven Still, director of emergency services for the county. "So, you're developing in the fringe areas." The escalating costs of storms raise a difficult question for these growing coastal communities: How do you balance growth with safety? The combination of climate change and development in risky areas is making it "a huge challenge" to keep residents safe, said Amanda Martin, North Carolina's chief resilience officer. It's not just that people are moving to hurricane-prone areas. The growth itself can make flooding worse. Cutting down trees and paving over wetlands takes away open land that would otherwise absorb rainfall. "We just seem to be going through this vicious cycle that is becoming more vicious with the amount of people and infrastructure we put in these areas," Mr. Still said. Federal law permits people to build in flood zones, so long as they meet certain minimum standards. In return, the government offers them flood insurance through a federal program that is over $20 billion in debt — largely due to escalating hurricane damages. While the National Flood Insurance Program was originally intended to discourage floodplain development, in practice it has done the opposite by removing a lot of the financial risk involved, said Jenny Brennan, a climate analyst at the Southern Environmental Law Center. States have a few options to discourage people from building in flood zones. They can create more stringent building requirements, or they can buy up and preserve undeveloped land. But these measures are expensive and rely on political will or the willingness of landowners to sell. One way that states can move residents out of harm's way is by offering to buy out their homes and permanently converting that land to open space. But a study this year found that for every home bought out in North Carolina between 1996 and 2017, more than 10 new ones were built in the state's floodplains. The growth also makes it more difficult to evacuate when storms strike. In these booming coastal counties, residents and local officials say that roads and bridges are not keeping pace with the growth. "Our biggest problem is our infrastructures not being able to keep up," said David McIntire, the deputy director of emergency management for Brunswick County, the fastest-growing coastal county in North Carolina this century and part of the Wilmington metro. The state has undertaken a multiyear project to add two lanes to Highway 211, the main evacuation route for the region. Mr. McIntire said the state and local departments were "having to play catch-up" after years of failing to plan ahead. In neighboring New Hanover County, his counterpart Mr. Still is grappling with a shortage of affordable housing, which he said was making it "exponentially difficult" to shelter people displaced by disasters. After a disaster, the surge in demand for short-term housing drives up already high rents. Poorer residents often rely on the state and local governments for assistance with evacuation and housing. The problem lies in where to house them. "If there is zero housing availability in the community right now," Mr. Still said, "where do you put 100,000 people?" The housing crunch is one of many tensions playing out between wealthy coastal communities and those who live nearby. April O'Leary lives in Conway, S.C., an inland city in Horry County, a half-hour drive from Myrtle Beach. The county makes up the Myrtle Beach metro area, which was the fastest-growing coastal metro nationally between 2000 and 2020 and is one of the fastest-growing places in the country annually. And the growth is projected to continue. Horry County is large and flat: Nearly a quarter of its land lies within a floodplain. After Hurricane Florence made landfall, it took about a week for the rainwater to flow down to Conway. But the water stayed for over a week. "It sits for a while and it just destroys everything," Ms. O'Leary said. Water entered her home, flooding the first floor and a bedroom. Her husband and son evacuated to Myrtle Beach, while she stayed for a few days to document the floods. Afterward, there were large piles of debris lining street after street in her neighborhood, filled with ruined flooring, kitchen cabinets and bathroom fixtures. When her son's elementary school reopened and he saw the devastation in the neighborhood, she said he stopped smiling and became quieter for months. After the flooding, Ms. O'Leary founded Horry County Rising, a political organization that campaigned for the county to adopt stricter regulations for floodplain construction. Much of the flooding in the Carolinas during Hurricane Florence occurred outside of federal flood zones, where few people have flood insurance or homes that are protected from flooding. In 2021, the county expanded its flood zone boundaries to include places that flooded during Hurricane Florence. And it required new homes built there to have their lowest floor three feet above the high water mark. The changes applied to all unincorporated parts of the county. But they faced pushback from local developers because of raised building costs. The county recently voted to lower the height requirements to two feet, after legal pressure from a developer. The flooding and growth also affect rural communities that have been rooted in the Carolinas for generations. In Bucksport, S.C., a small inland town in Horry County, Kevin Mishoe is a third-generation farmer and former chair of the Association for the Betterment of Bucksport. He said the newer building codes would pay dividends in future floods, but they would also make home ownership far more expensive for people in lower-income communities like Bucksport. Bucksport sits between two major rivers, nestled against wetlands and tidal forests. Mr. Mishoe lives with his wife in a mobile home that flooded during Hurricane Matthew in 2016 and Hurricane Florence in 2018. Mr. Mishoe says he believes banks are denying loans to residents because of their location in a floodplain, a phenomenon he called "bluelining." Meanwhile, he said, locals are being "bombarded" with offers from developers and private equity companies to buy their land. "All of a sudden land that you're telling us is almost worthless because you're in a flood zone, everybody's trying to buy," he said. The area is considered prime real estate because of its access to water. This year, the county expressed support for a highway that would connect Myrtle Beach to inland parts of the county. The highway is expected to cut through Bucksport and its adjoining wetlands and bring added development to the region. The town's residents emphatically do not want to sell their land, Mr. Mishoe said. Their ancestors have held on to this land for generations, and they intend to stay. Bucksport's flooding problem began in 2015. But there are coastal Carolina communities that have endured regular hurricanes for over a century. Karen Willis Amspacher lives on Harkers Island in Carteret County, N.C. — one of the most hurricane-prone counties in the country. The island is part of a string of low-lying rural communities near the Outer Banks that locals call Down East. The communities are connected by Highway 70, a dredged road that floods several times a year. Ms. Amspacher is a fifth-generation resident of the island and the director of the Core Sound Waterfowl Museum. There are a lot of newer residents, she said, moving into large houses on stilts, with generators and flood insurance. Some houses are second homes or vacation properties. The construction boom has driven up costs for locals. "The fear and threat of sea level rise or storms doesn't hinder any of it," she said. While the new homes may be safer, Ms. Amspacher said, many of the newcomers are isolated from the emotional trauma that her community experiences during a hurricane. "This is a piece of property to them," she said. "It's not their family inheritance. It's not their home. It's not where they hope their children will stay and grow up." Ms. Amspacher has had to evacuate her home in three past hurricanes. But she's not planning to leave for the next one. She said staying during storms was a way to protect property from damage and was part of her community's cultural identity. "These hurricanes make these communities what we are," she said. Back in Wilmington, Sharon Valentine is also no stranger to hurricanes. She owned a large animal farm near Fayetteville, N.C., which was devastated by Hurricane Fran in 1996. So, when she and her partner decided to retire in Wilmington's Del Webb community in 2017, they knew the risks. Many others have followed since. "There's a mass migration down here," she said. Ms. Valentine organizes annual hurricane training for these newer arrivals. The community members have evacuation plans and look out for one another. She, too, said the local infrastructure hadn't kept up with growth. There are two small bridges on either end of River Road that serve as the main evacuation routes for her community. She is concerned that they may flood in a major storm. "If we really ever have a bad one, we're going to have to get out of here," Ms. Valentine said. Still, when she thinks about all the newcomers, she sympathizes with their reasons for moving here. "It is a beautiful place that has a dragon emerge periodically," she said. "And so, you weigh your risks."
Read more » click here
---
No matter what a storm outlook is for a given year,
vigilance and preparedness is urged.
---
Do you enjoy this newsletter?
Then please forward it to a friend!
---
Lou's Views . HBPOIN
.                                          • Gather and disseminate information
.                               • Identify the issues and determine how they affect you
.                               • Act as a watchdog
.                               • Grass roots monthly newsletter since 2008